Random 5: My Five Favorite Printables
Happy Monday everyone!  I hope you all are having a great start to the week.  Our boys are officially on their Spring Break, which means our home is noisy and busy and I'm loving it!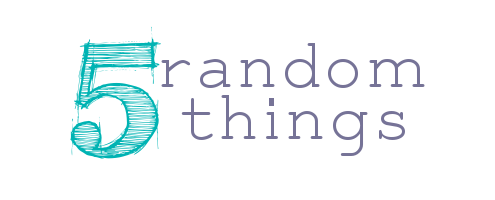 I had planned to share my new office set up with you today.  I've been using it for a few months now and I'm really loving it.  But every time I go to take pictures it's a dreary rainy day, and with the fluorescent lighting in the space it's just does not photograph well.  Of course, when it's sunny outside I'm usually in the middle of a bazillion things and the space is a cluttered mess of productivity.  I'm blaming that Murphy guy and all his stupid laws!  So, I decided to do a Random 5 post, with a bit of a twist.  Instead of sharing five random facts about me, I thought it would be fun to share my current five favorite printables.
In no particular order, here they are!
1. The Yearly Calendar
My Mom gave me a great idea for this.  She told me she uses hers to keep track of special days that way she can see at a glance what is going on a few months ahead of time.  For more details on what is happening on the days she's marked, she just looks at her calendar for that month.  I loved that idea so much I gave it a try, and now I'm wondering why I never did that before!  Thanks Mom!  You always have the BEST ideas!
2. Monthly Calendars
For Christmas this year my parents gave me a half-size arc notebook.  I'm totally in love with it!  I use the 2 page half-size calendar in that as my personal, on the go planner.  I use the full size single page calendar in my main planner as my editorial calendar for the blog.
3. Indoor Home Maintenance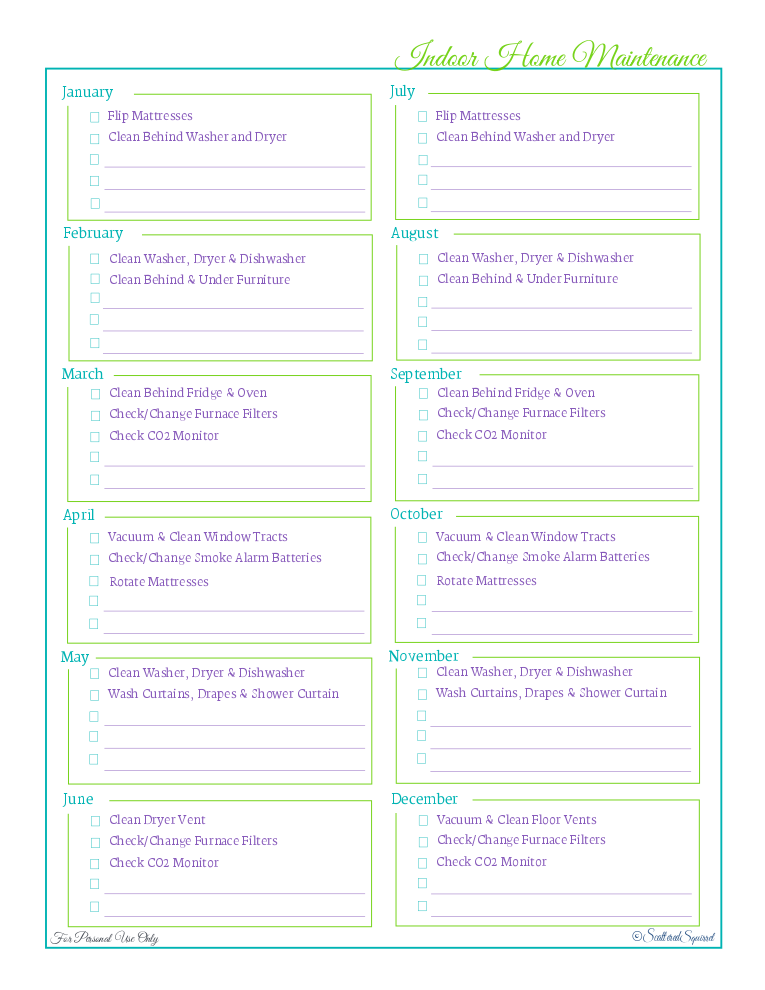 This checklist keeps all those seasonal home tasks in check.  It takes away the guess-work and it's so easy to add these tasks into my monthly plan.
4. Weekly Planner Page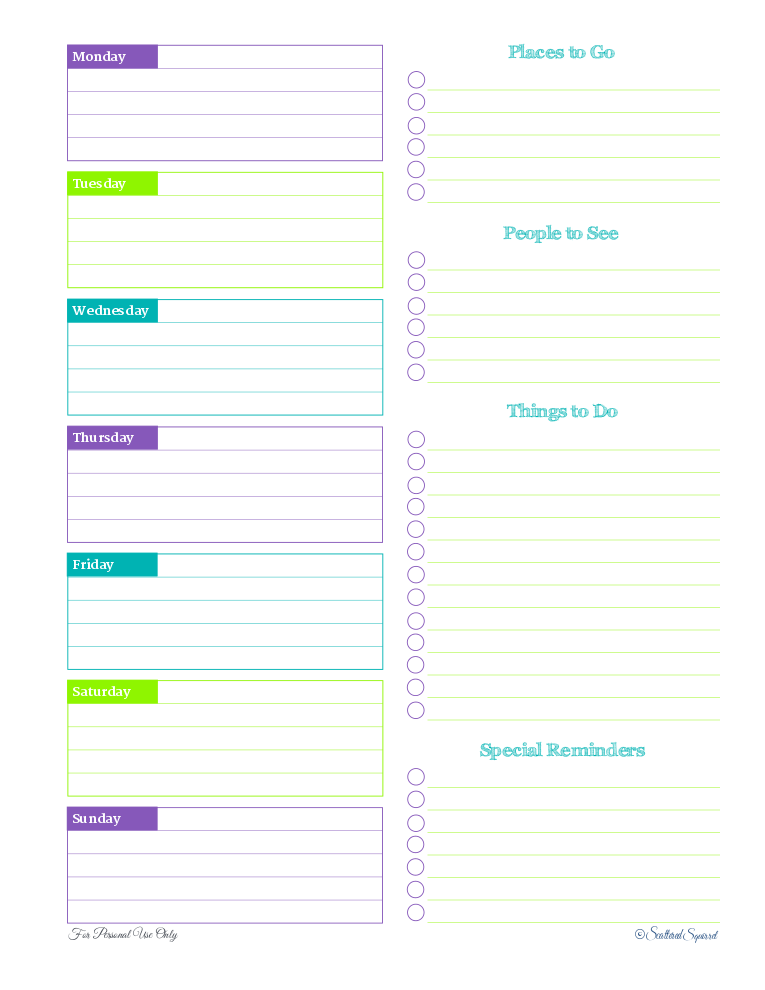 I've been testing out a new weekly planner, which I plan to share soon I just have a couple of tweaks I want to make to it.  But, for an overview of what I have to do each week, I still like this one.  I use it for the general stuff, like planning some extra cleaning tasks, or making note of important dates that week.  Lately, what I've been doing is filling out one for the following week as the week goes by.  In many ways it is acting as a reminder of important, upcoming events, and it's a way to plan for things I might have to skip during the current week.
5.  Spring Cleaning by Task CheckList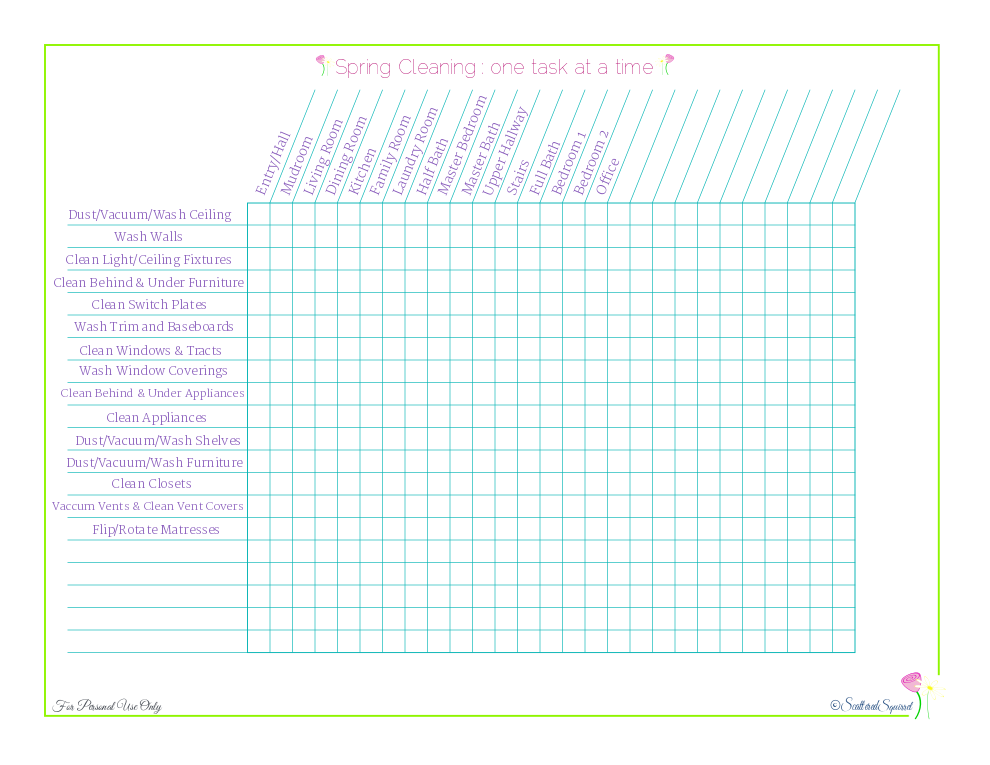 I haven't started spring cleaning yet, but I plan to get a jump-start on it this week.  I've decided to start by task, and once the kids are back in school I can then go room by room if I choose to finish it up.  As a bonus, I can get the boys to help a little here and there and there will be no fighting that one is doing something the other wants to do, everyone will be working on the same thing.
And there you have it, my top five printables that I am using now. I would be lost without many of these.  Not only do the help me stay on track, but they doing the remembering for me.  I don't have to remember to clean the dryer vents, or rotate the mattresses.  The calendars allow me to plan things ahead of time.  And the yearly calendar gives me a great overview of everything that's going on for the year.  All our special days, Travis's days off, non-school days, it's all flows together.
Now it's our turn, which printables are your favorite?
Happy Printing!