Happy Wednesday everyone! I'm running a little late today. It's Spring Break and I've been enjoying just hanging out with the boys and taking advantage of not having to rush anywhere first thing in the morning. I did have plans of getting some Spring Cleaning done, but I haven't actually gotten to any of it yet, I'm always finding reasons not to start. Today I decided to stop the procrastinating and spend the day getting all caught up on the usual stuff. Maybe once that is done, I'll be able to focus on the seasonal cleaning tasks. I think now is a great time to really think about my cleaning schedule and make some changes to it, starting with my least favorite thing: Laundry.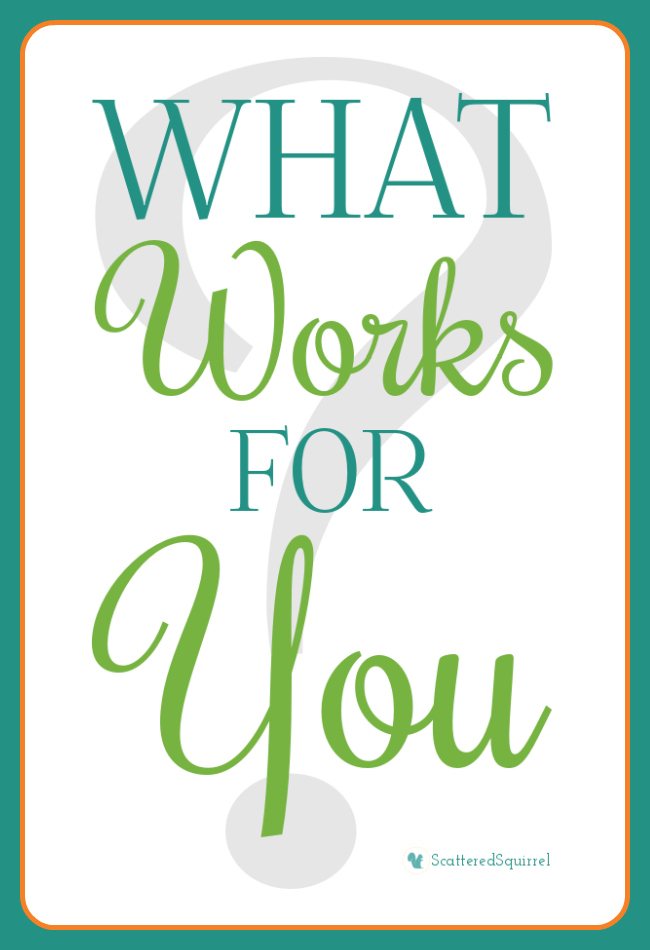 Laundry
As with all household cleaning, there are so many ways to look at and think about Laundry. Everyone has their own way of doing it. From how to sort, to how to pre-treat, to whether you iron or hang dry or whatever else your laundry needs require. For today's post, because it is a post and not a novel, I'm just looking at a couple of different options when it comes to frequency.
Laundry Day:
Dedicating one whole day to laundry every week or two, is a pretty popular option. Aside from personal preference, there are many reasons why this system might work best for you.
maybe you live in an apartment or a rental that doesn't have in suite laundry facilities. Setting aside one day to hit up the laundromat or laundry room of your building might make more sense than making many smaller trips.
maybe you work full-time and would rather not think about laundry during your work week. For many working people doing laundry on a day off is the way to go. I know many people who opt to do laundry and housecleaning all on one of their days off, rather than spread out throughout the week.
your laundry room is in an awkward spot in your home, such as an unfinished basement or out in the garage, especially if you have little ones. Making multiple trips there throughout the day can be a pain.
you have older children who are responsible for laundering their own clothes. It might work best to assign them a day for theirs and you take a day for yours.
No matter the reason, setting aside a whole day for laundry works well for many people. The bonus with laundry, is that even though it takes a while to get everything washed and dried, while the washing and drying are happening you can be doing something else at the same time. And lets face it, at the end of the day, having all laundry items put away and having all hampers empty can be a GREAT feeling.
One Load a Day
This is a popular system for many people. I hear, more and more, from friends and family who have adopted this approach and are loving it. This is a great option for so many reasons.
You only have to worry about ONE load a day.
It helps stay on top of laundry without having to spend a whole day doing it
Even if you work outside the home, you can do this. Toss the clothes in the washer before you leave for work, toss them in the dryer when you get home, and then fold and put away before bed time.
If you get behind, this is a great way to get caught up. Do one load a day during the week and then take a whole day on the weekend to finish it off.
I have been a big fan of this method for a lot of years now. Though, since we've moved I find it harder to keep on top of. In our old home our laundry was in our hallway, so I walked by the machines multiple times a day, it was easy to remember to do the laundry. The laundry in our new home is a little more out-of-the-way, and more out of sight of mind, but I'm working on it. What I like most about this method is that it embraces the never-ending cycle part of laundry. For me, it's bad enough when I spend the day cleaning only to turn around 5 minutes after the boys are home and wonder why I bothered, 🙂 I don't want that feeling with the laundry too. Especially since laundry is my LEAST favorite chore.
As You Need To:
I always say I want to do my laundry this way, but it never works out. The idea actually makes a load of sense. (no pun intended) Empty your hampers every day into the washing machine, or into a laundry sorter, when you have enough for a load, toss it in the wash. Simple! And when you pair it with this great chart from Organize and Decorate Everything, about how often you should wash your clothes, I think this system could cut down on laundry time in a big way.
I'm seriously thinking of giving this one a whirl, or course that means getting all caught up on laundry, which means spending a day doing it, but I figure spring cleaning time is a good time to do it, right?
What's your laundry system? Any tips or tricks you'd like to share for making laundry easier?
What Works For You?