Update Half-Size 2016 Monthly Calendars
Life is all about trial and error.  If we never try, we'll never know for sure, right?  Sometimes though our creativity and craftiness just aren't for everyone.  As is the case with the half-size 2016 monthly calendars that I shared earlier this year.  I experimented with a new layout of them in hopes of providing the ability to print them double-sided.  It didn't exactly go as planned.  Rather than being the help I thought they would be, they've been rather confusing, so today I'm sharing their updated versions – we're heading back to the old layout from the 2015 calendars.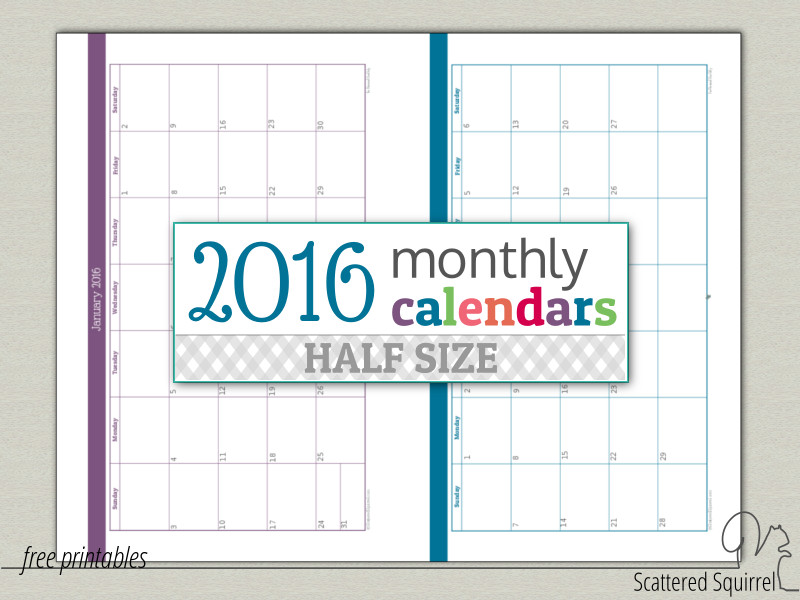 Back in May when I shared the first versions of the half-size calendars I was trying to make it easier for those who like to print their calendars double-sided.  It's a problem I've been trying to address for a couple of years now.  In what I thought was a brilliant aha moment, I opted to change the page size to 5.5 inches by 8.5 inches.  As far as experiments go, it wasn't a total failure, but it has cause a lot of confusion.  So I decided to create a second version of each calendar in the old layout to make it less confusing for those of you who would rather not have the hassle of playing around with printer settings.  (I am so with you on that one!  Even with all the printing I do I still find printer settings to be confusing at times, and I swear that what works one day changes the next lol)
Update Half-Size 2016 Monthly Calendars
I promise not to keep you long, just long enough to give you a quick run down.  Before we get to the downloads I just wanted to mention a couple of things.
These will NOT print double-sided.
Ok, well they will, but not in a way that makes sense.  Here are some of the ways I get around this:
use double-sided tape to glue the pages together;  this has the added bonus of making them a little sturdier
print the monthly planners on the back side
print note paper on the back
leave blank and use for notes or scrap paper
They print two half-size pages on one letter size piece of paper.
I opted to put two months (or a whole month in the two page per month version) on letter size (8.5 inches by 11 inches) sheet of paper.  This way you don't have to do any trimming, just simply cut the pages in half.  This layout is also the reason that they don't print double-sided.
These are the 2015 layout, not the 2015 colour scheme.
It's been on of the most asked questions this year and I have gone back and forth on this a number of times before I finally made up my mind on it.  At this time I have no plans to create a second version of the 2016 monthly calendars in the 2015 colours and design.  For those of you who would like to keep using the same colour and style I do have blank versions all the layout and size options over in the monthly calendar section of the personal planner page.
Optimal Printer Settings
When printing the half-size versions, for best results check your printer settings and make sure to select "Actual Size" in the Page Sizing & Handling section of the print dialog box.  That way the margins shouldn't end up wonky.
And now, on to the good stuff!
First up ….
2016 Monthly Calendars
This one is a 6 page file featuring two half-size monthly calendars per page.  The file will print in portrait orientation, but they calendars are landscape.  Click the pic below to get a copy of your own.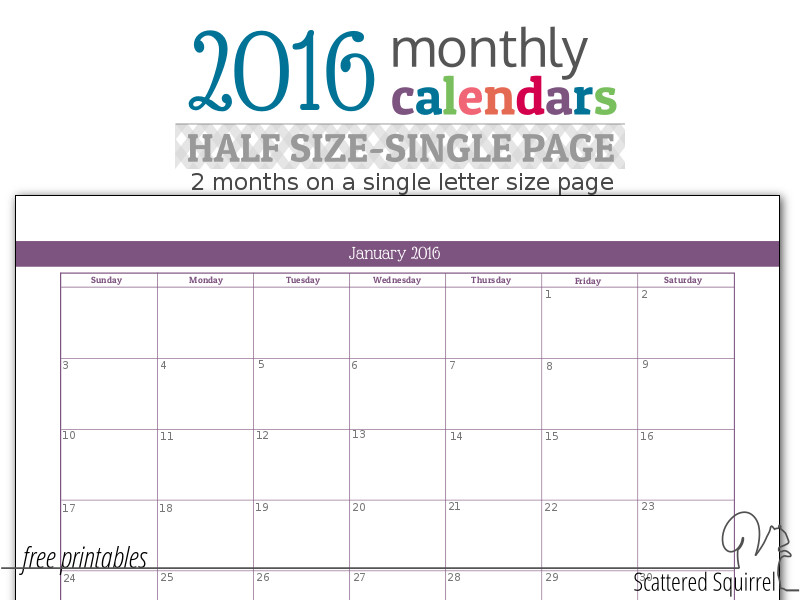 2016 Two Page Per Month Calendar
This one is a 12 page file featuring each month on its own full-size page as you can see in the pic below.  Simply print and cut in half to have your two pages per month.  As always to snag a copy for yourself, just click the pic below!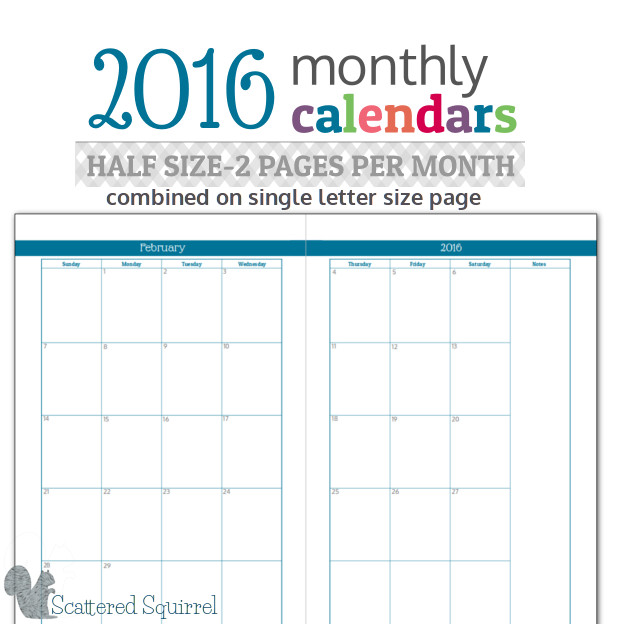 There we have it, the last of the dated 2016 monthly calendars.  For those of you who have been patiently waiting for me to share these, I'm sorry it took so long to get them both up on here.  I was beginning to worry I wouldn't have them done in time for the new year, but done they are.  I hope you enjoy them!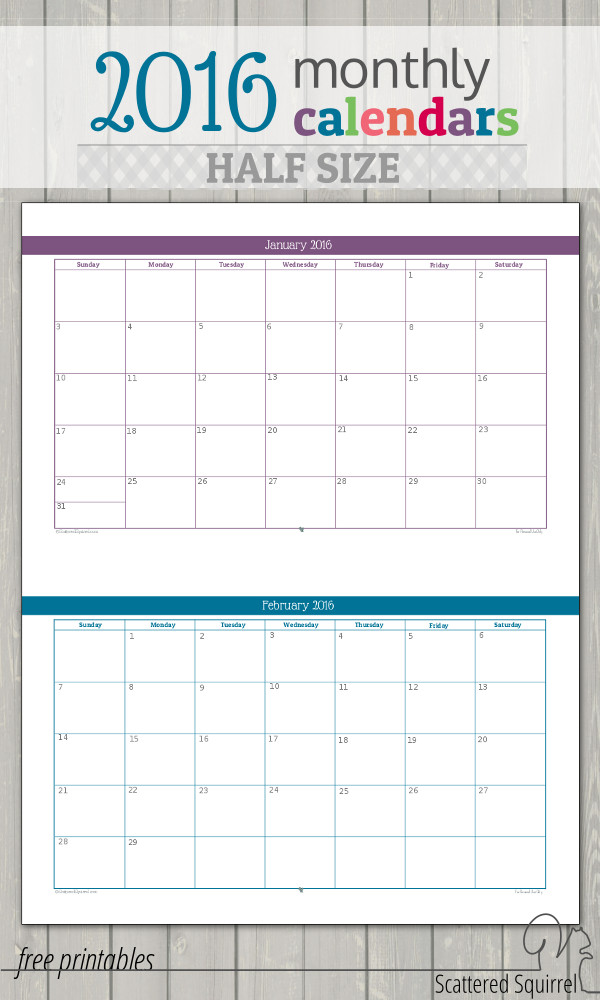 Have you decided what size planner you're going to be using for the new year?  Aside from monthly calendars, what other pages are you including?
~Happy Printing!~