The Secret is Out!!! Welcome to the Ultimate Holiday Bundle of Printables!!!!
Friday is FINALLY here!!! I have been waiting for today to come for what feels like forever. If you follow me on social media, you might have noticed that I've been counting down the days until today, when I could finally reveal the project I've been working on, and oh what a project it is! For those of you who guessed holiday planner printables, you were pretty close, it is, in fact, an entire bundle of holiday printables, and when they named it the Ultimate Holiday Bundle, they weren't kidding. Are you ready to see it?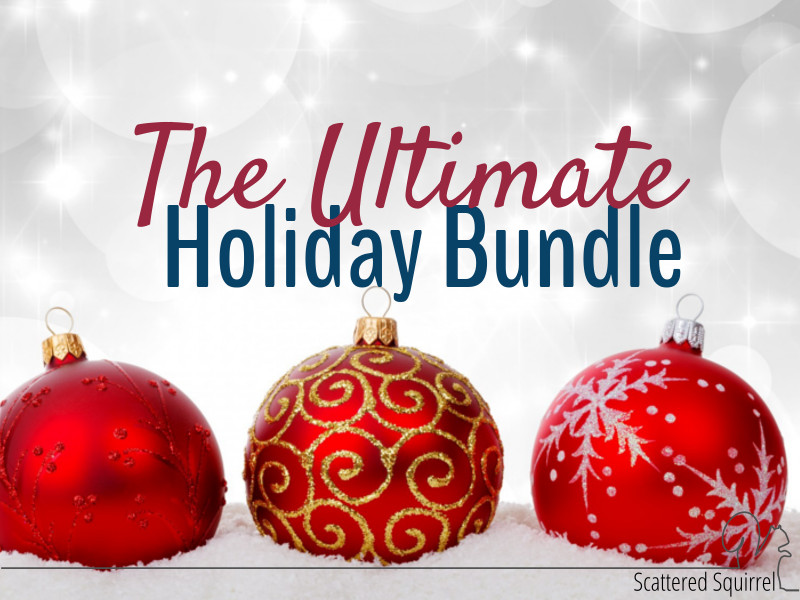 You know I believe in honesty and transparency so before I start sharing all the goodies, I wanted to take a moment to tell you that I am an affiliate with the Ultimate Holiday Bundle sale. This means that if you buy the bundle through one of my links, I earn a commission. This does not affect the price in any way. For more information, please check out my disclosure policy. As always opinions are 100% my own, and I only recommend products we love, use or want to buy for myself or family. I was not paid for my contribution to this bundle, my only earnings will come through bundles sold through my links.
Back at the end of September the lovely ladies from Ink & Wink got in touch asking if I would like to participate in this Ultimate Bundle sale they were putting together for the holidays. I have to say, I was THRILLED that they asked and couldn't wait to get started. At the time, all I knew was that some other bloggers and shop owners would be contributing holiday theme printables to create this sale. I didn't realize at the time how HUGE this bundle was going to be. Seriously, there over 2o0 printables in this bundle – that's just crazy! So in the interest of trying not to write a whole novel about this bundle, I'm going to try to keep this as brief as I can.
The Ultimate Holiday Bundle of Printables
Ok, it's actually just called the Ultimate Holiday Bundle, but almost all of the items in it are printables. As I mentioned above there are over 200 printables in this bundle, created by 35 different designers from around the world. It truly is amazing. I got a chance to sit down and look at everything last night and I'm still slightly awed by some of the amazing items in it. There is something for everyone in this bundle.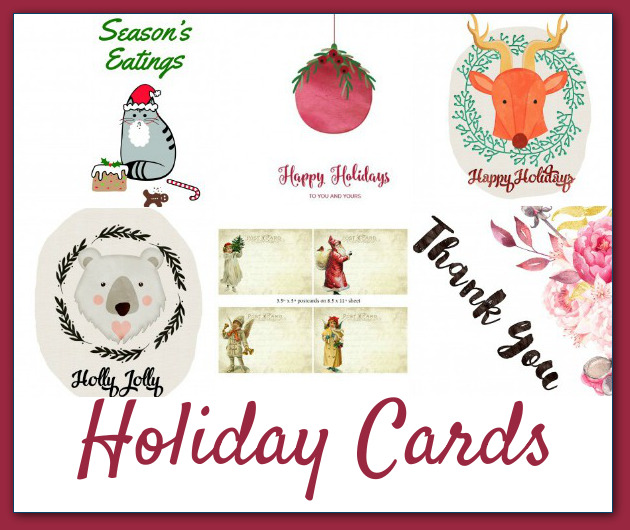 holiday cards – a large variety of holiday cards for you to pick and choose from, and you can print them year after year!
gift tags and stickers – again, a large variety to choose from, you'll never need to buy gift tags again!
advent calendars – for those looking to make their own
holiday garland/bunting – to help deck your halls for the holidays
holiday planners – (c'mon you can't be surprised by this one)
art prints – so many beautiful art prints that you can print and frame or use in your planner
planner inserts – add a dash of pretty and function to your planner
planner stickers – for all you planner lovers who love to decorate their planner pages – TONS for stickers here for you to choose from
2016 yearly calendars – for those who like to keep a yearly calendar for quick reference. These one are gorgeous and would not look out-of-place in a frame on your wall
planner course – for those looking to get a little more out of their planner there is even a planner course included that you can take
digital assets – these are images like vector files that you can use to create your own holiday decorations, greeting cards and more.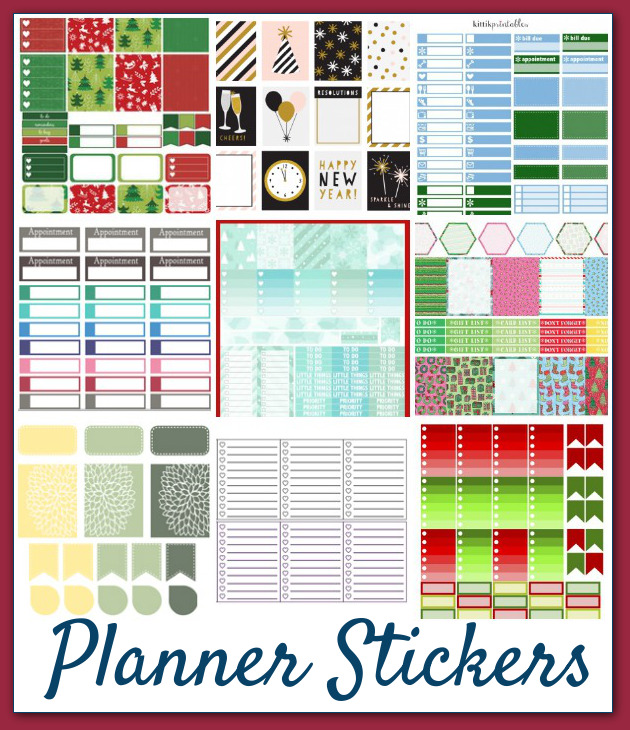 It is quite the collection! You get all 212 items for just $29. I did the math and that works out to about 14 cents per item. It's a crazy good deal! Add in that the total value, if purchases separately would be $1,521.43 and that's a savings of just over 98%. The sale runs from today until November 30th, 2015, so you have a couple of days to think about it and check it out.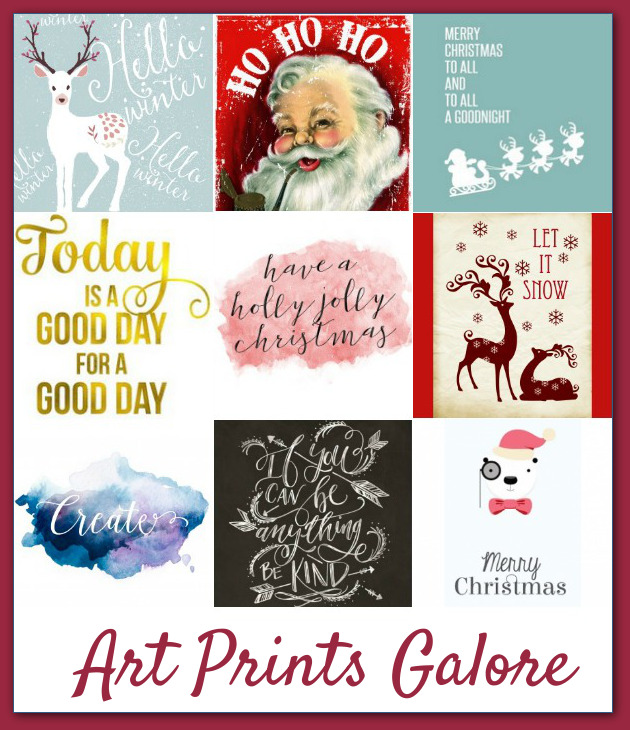 There is so much in the bundle that I can't possible share all of it in this post. You can hop on over to the sales page by clicking any of the photos in this post to check all the items out for yourself. Be sure to come back and check the end of this post for a little something extra! But now I thought I would share with you my contribution this amazing collection.
Holiday Get Together Planner
I agonized over what to contribute to this bundle. I already offer holiday planner printables here, and I didn't want to just make a new version of those. I went back and forth on a different ideas, but in the end I decided to focus on one of my favourite things about the holidays – spending time with family and friends. There is nothing better, in my opinion, then spending time with our nearest and dearest. I also wanted to offer something that would help take a little stress out of the holidays, because if there is any time of year that we should not be stressed, it's this time of year. So I put together a planner set to help organize and plan a holiday get together in the hopes that it would help make entertaining this year a little easier for you.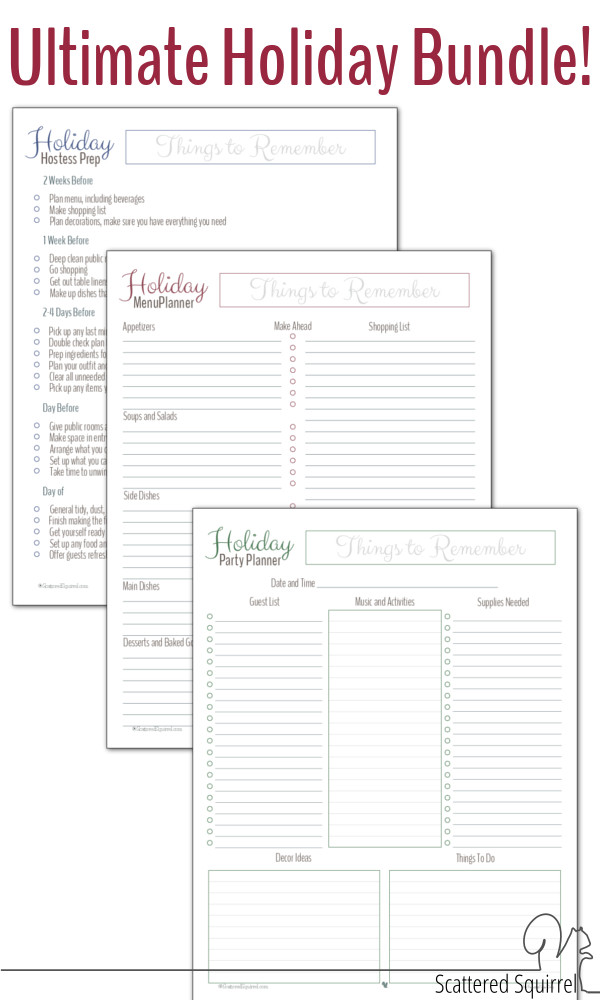 I started by addressing the details that go into planning a get together and came up with three planner pages.
Holiday Party Planner – keep track of guests, supplies, music and activities, decor and your to do list
Holiday Menu Planner – plan what you're making, keep track of what you can make ahead of time, and your shopping list, all on one handy page
Holiday Hostess Prep – a checklist to help you make sure you're on track for your holiday get together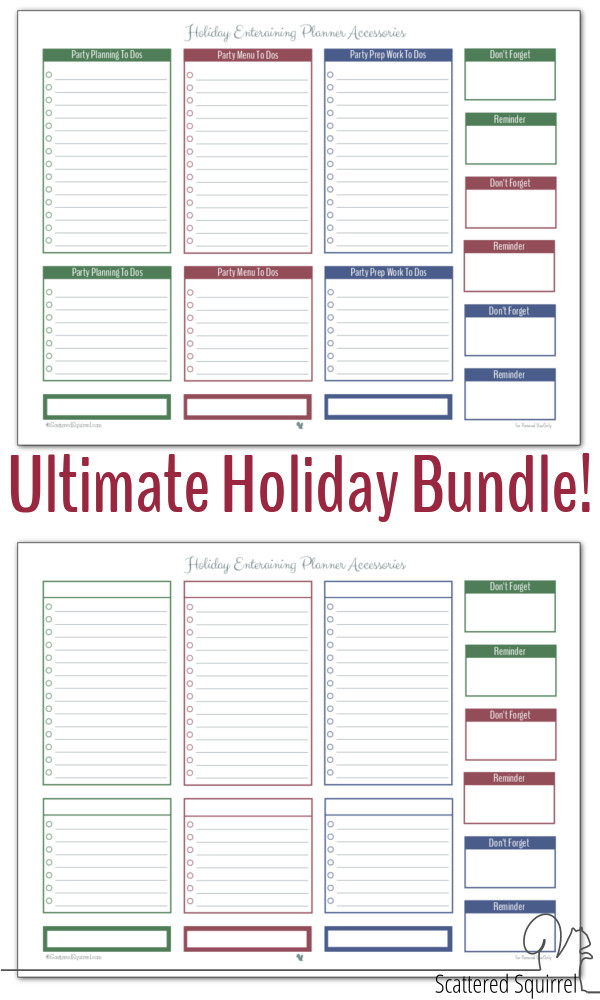 To go along with the planner pages, or be used on their own, I created two pages of planner inserts. These are designed so you can create lists and reminders for your holiday party planning to put in your regular planner. You can print these on sticker paper if you like and stick them into your planner. Or you can do like I do, print them on paper, cut them out and use washi tape, a paperclip, or double-sided tape to attach them to your planner.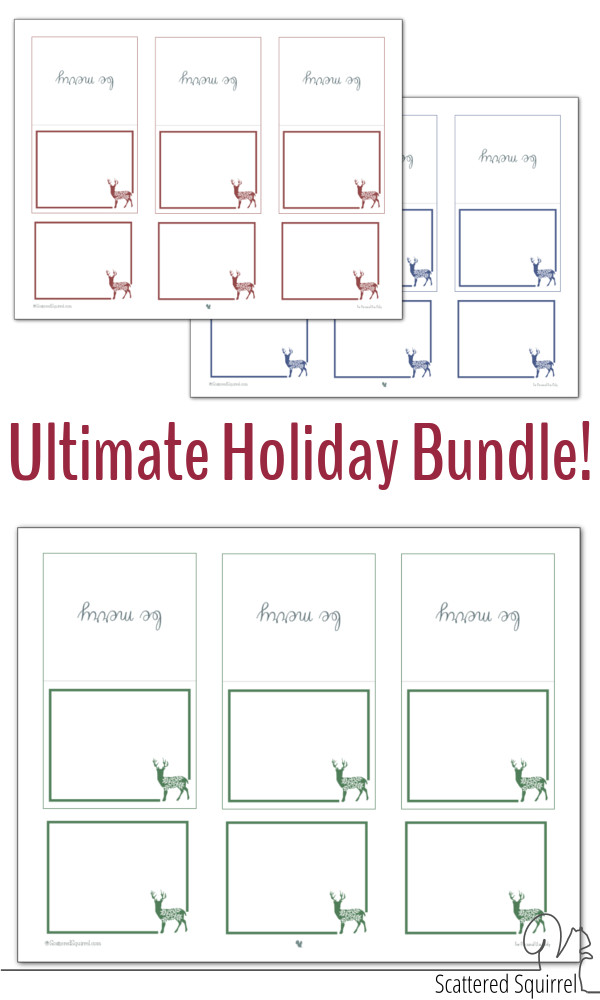 To round out the planner I thought it would fun to include cards you can use to mark place settings, label dishes if you're going buffet style, or you could even use them as gift tags if you want. Each page is a different colour so you can choose the one that works best with your holiday decor or use a combination of all three if you like.
All those planner pages pictured above are included in the Ultimate Holiday Bundle.  Along with a couple hundred other printables lol.  It really is a crazy bundle!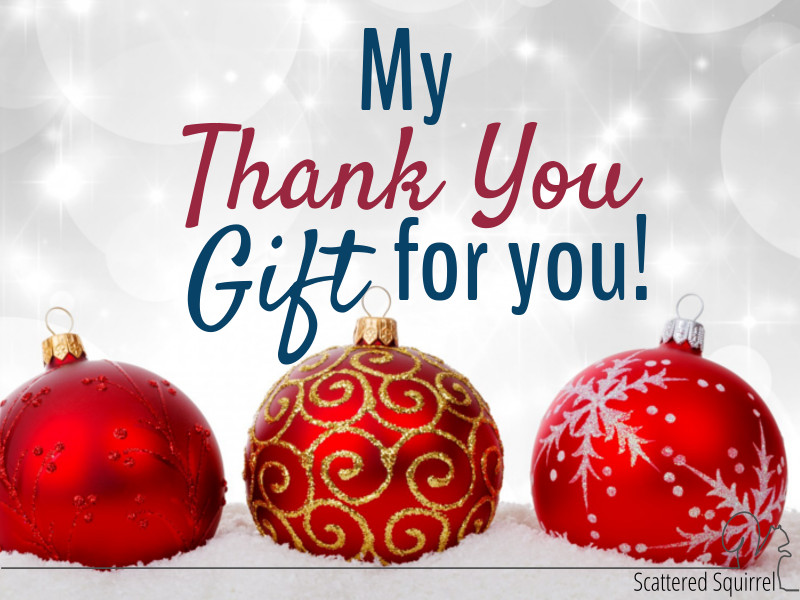 This is the first time I've even been a contributor for something like this, and I'm thrilled beyond measure to be included. And I really wanted to do something to sort of mark the occasion and I thought what better way to do that than by offer a surprise Thank You gift for everyone who purchases the bundle through my link! Honestly, I think I'm just as excited (if not more excited) about this than I am about the bundle itself.
For anyone who purchased a copy of The Ultimate Holiday Bundle from one of my links I'm giving away a personalized copy of the yet-to-be-shared 2016 planner cover page!  That's right, it's a sneak-peak and bonus all in one.   To be fair, I will be sharing a blank version of the planner cover in December, but not until all the personalized ones are finished and emailed out.
To get your personalized copy of the surprise 2016 planner cover all you need to do is:
Purchase The Ultimate Holiday Bundle through one of my links.  (Click on any of the pictures in this post or any of the bold coloured text that says Ultimate Holiday Bundle)
Take a screen shot of the confirmation of your purchase of the bundle or the bundle download links after your purchase
Email the screenshot to alli (at) scatteredsquirrel (dot) com with the subject line "Show Me The Cover"  
I will then send you an email back with pictures of the cover page and your options for personalization.
I take your privacy very seriously! For more information please read my privacy policy. Basically what it says is that I will never, ever sell, give away or in any other way distribute your email, and unless you've signed up to receive posts in your inbox or in your RSS feed I won't save your email address either.
I can't wait for you to check out the Ultimate Holiday Bundle and see all the amazing things everyone has contributed.   And I would dearly love to hear what you think about it, so if you have a moment after checking it out, hop on back and drop me a line in the comments.