Introducing the 2018-2019 Academic Calendars!
Working on the new academic calendars while we were in the middle of finishing up our home school year was a little bizarre.  Part of me did not want to work on these at all.  I've been counting the days until summer vacation for months now, and thinking about the new school year just wasn't topping my list of fun things to do.  Never the less, I did work on them and they are finally ready to be shared with all of you!
Scroll on down to check out the 2018-2019 Academic Calendars!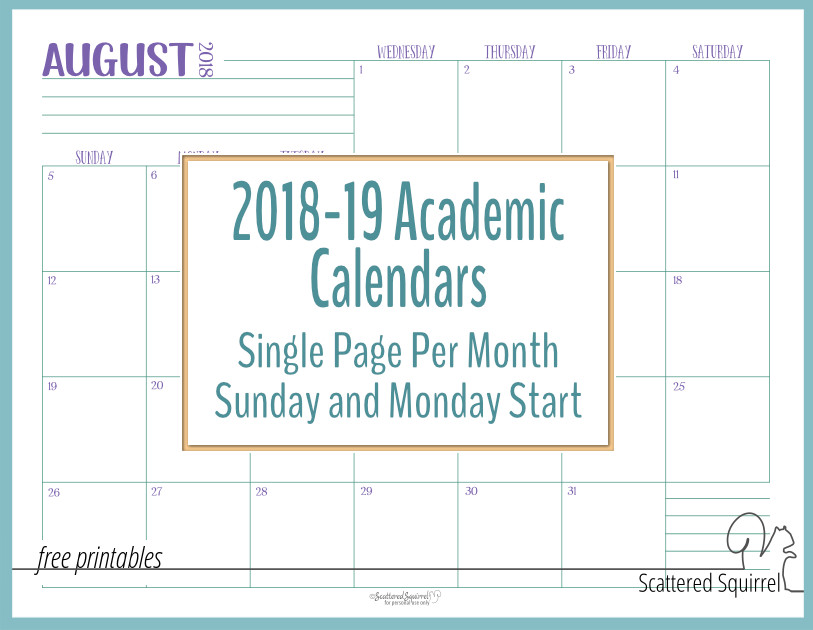 By far the biggest struggle with these calendars was figuring out what months to start and end them in.  Originally I settled on July to July, but that was going to be thirteen months.  I'm not the superstitious type, but I didn't want to put anyone else off.  Plus, 13 months just sounded weird to me.  I finally settled on August to the July, because that seems to be the standard for the academic year.
Single Page Academic Calendars
Just like the 2019 calendars, I made sure to make these ones available in both a Sunday and Monday start.
And, as always, they come in both full and half-size.
In addition to the academic calendars I've also decided to make a few other changes this year.  Normally, I begin releasing updated weekly and daily planning pages in November or December, but this year I'm going to release a few in August.  These will be in the same design as the academic calendars and the 2019 calendars.  In addition, I'm working on a student planner package that will be released around the same time.  If you have any suggestions for what you'd like in the student planning pack please drop me a line the comments below or send me an email and let me know what it is.  I'll do my best to include as many requests as I can.
Tomorrow I'll be sharing the two page per month versions of the academic calendar and I'll be following those with the year on a page calendars for both 2019 and the academic year.  I can't wait to share them all with you.
Now It's Your Turn
Do you use an Academic Calendar for planning?  What do you like most about it?  Drop me a line in the comments below and let me know.
I read every single comment that gets left here on the blog.  It may take me a while to respond, but I promise I read them all.  I love hearing from you.
Pin It For Later