Brand New! Full-Size Horizontal Weekly Planner Printables!
There are so many variations of the weekly planner out there. I think that's one of the reasons I find myself moving back to a weekly layout – the options seem endless. Recently I've fallen in love with the horizontal layouts. I already use one in my personal/family planner, but you know me, I'm always on playing around with things. Today, I'm sharing my newest creations – the full-size horizontal weekly planner printables.

The Full-Size Horizontal Weekly Planner Printables
I honestly can't tell you what it is about the horizontal layout that I really like. It might be that there is extra writing room, or maybe it's just that I've used the vertical ones for so long that just the simple act of using something different makes it more fun. I do know that I'm loving these new printables, though.
One of the first things you'll probably notice is the three habit trackers across the top of the page. I don't know about you, but I love using habit trackers to help keep me – well – on track. I've been using this for my top three daily things and really like having those reminders front and center.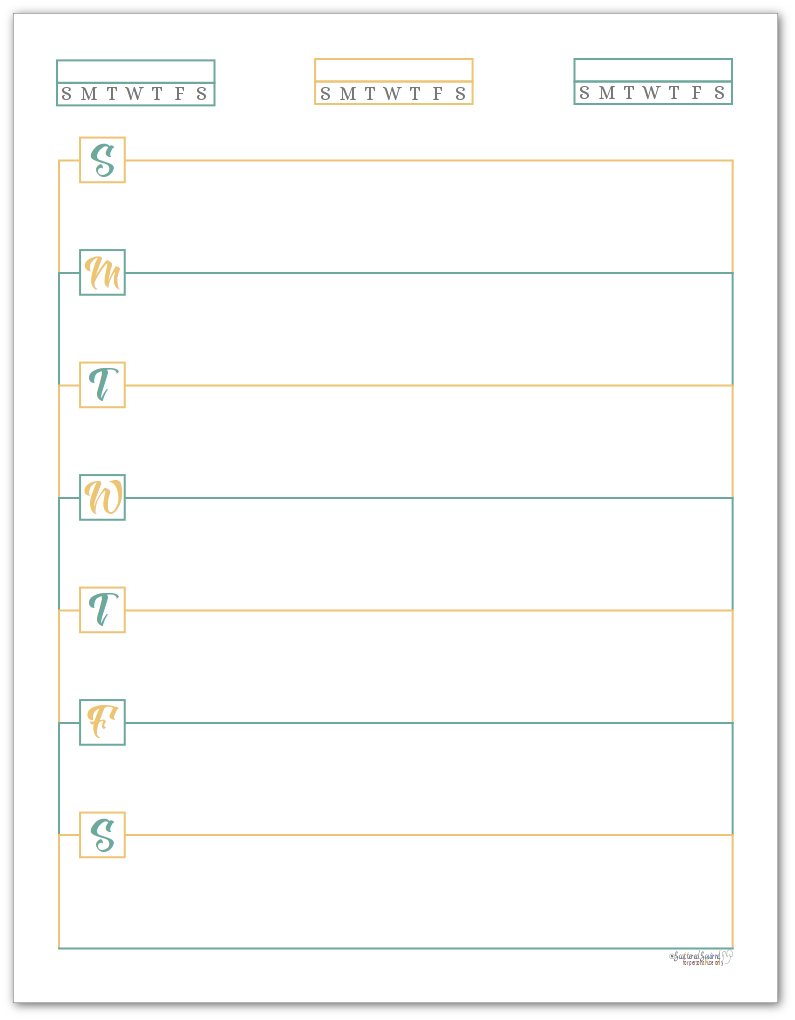 The next thing you might notice is that I started these ones off on Sunday. It's a switch from my normal Monday start for the weekly planners, but I figured a new printable was a great time to test it out. I'm not 100% sold on this yet. I do my planning Sunday evening, so for me, I'm flipping pages when planning. If you prefer the Monday start format, let me know. Maybe I'll make another version of these for the holidays.
There is one other thing I couldn't resist, and that was making some in the 2016 colours.  While I love the Sunshine Skies colour scheme for 2017, I still also love the Understated Rainbow scheme from this year.  It's times like these where I find I'm grateful for needing multiple planners to keep myself on track.  (any excuse reason works right?!?!)
So those are the brand new, full-size horizontal weekly planners. For my fellow half-size planners, I've got you covered too. They're coming out in the next post. They just need a few final finishing touches.
As always, to grab a copy of the printables you like, simply click the pictures of the ones you want and you'll be taken to the PDF. Just a friendly reminder, all printables shared here are free for Personal Use only! If you would like to use the printables in a commercial application, shoot me an email (click the contact button up top there) and we can chat about it.
This is the time when I turn things over to you, and this time I could really use your help! I went back and forth quite a bit trying to decide how these should look. I knew I wanted to keep them simple but a little fun. The biggest challenge was choosing between a single page or a week on two pages format. I'm toying with the idea that two pages might also be a good option. I'd love to hear your opinions on this, so if you'd like a two page per week format in the horizontal layout, please let me know in the comments below.