Half-Size Weekly Planner Printables
Do you ever have one of those evenings where you are counting the minutes until you crawl into bed; bedtime finally rolls around and all of a sudden you are wide awake?  No matter what you try you just can't get to sleep?  
That was my night tonight.  Counting the minutes to bedtime turned out to be a very productive time for me.  I have laundry drying right now because I was trying to keep busy and for whatever reason, my brain thought laundry would be fun.  I cleaned the pet cages, prepped school lunches, and put all the finishing touches on the half-size weekly planner printables.  Whoop!!!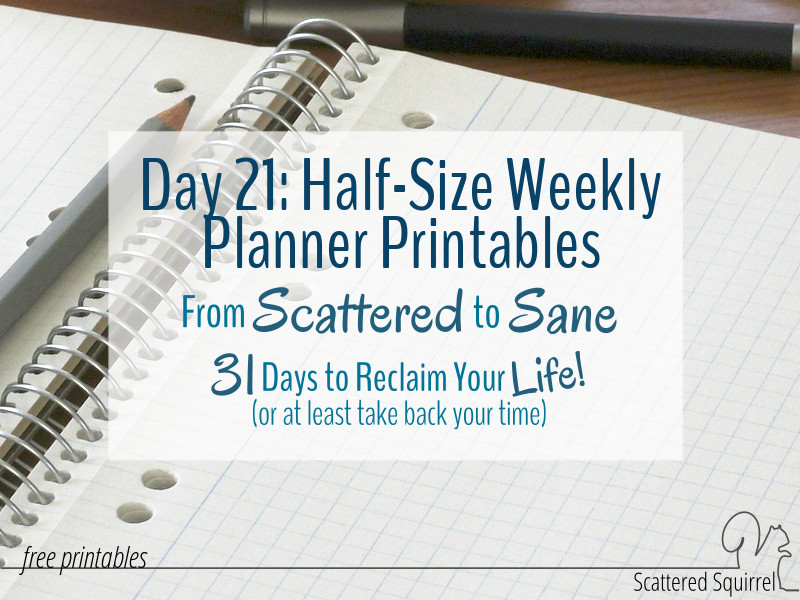 I know most of you are probably sleeping already, but it's 10:30 pm here on the west coast and I'm wide awake so I thought I'd take advantage of the quiet and hop on here to share the new printables.  This way they'll be waiting to greet you in the morning.
Half-Size Weekly Planner Printables
I already explained all about how to use them in the post earlier today, but I'll give a quick recap here just in case you missed it. (click here to read that post)
Like many of the printables I've shared over the years, I opted to keep the new weekly ones fairly simple. They were designed to fit in with the 2016 calendars and so you have your choice of six different colours. Or you can do like me and print all of them and match them up with the monthly ones.
On the left-hand side, there is an area to jot down your top three things for the week, and under that you'll find space to jot down your focus or goal for the week, followed by a space for notes or lists.
In the day columns, I made a section at the top for those who like to plan their meals.  With a quick glance, you can see what's on the menu each day.
Under that, I left it simple and unstructured.  You can easily use washi tape, markers, highlighter, stickers, post-its or other planner supplies to customize these pages to suit your needs.
With these planner printables, I really wanted to try to come up with something that wasn't too structured or confining.  While more structure can be a wonderful thing, sometimes it clutters up a planner.  I find that the half-size printables are more prone to that visual clutter, simply due to their size, so keeping the design clean was a top priority.
Are you ready to check them out?
Just simply click the pic of the one (or ones) you want to snag a copy for yourself.
All in all, I'm really happy with how these ones turned out. Not only do they match the 2016 Calendars, but they fit in nicely with the new daily ones as well.
I'd love to hear what you think about these new half-size weekly planner printables? To simple? Not simple enough?