Printable Updates – As Requested by You!
It's a mini hodge-podge of printables today!  I debated doing two separate posts for these, but then I  thought why not combine them and do an early edition of my Reader Request feature?  By far, some of the most popular requests are for tweaks or updates to existing printables. I try to group similar ones together as I did for the February Reader Request, but this time it just seemed more prudent to share these three now rather than creating two separate posts for them.  So hop on down to check them out.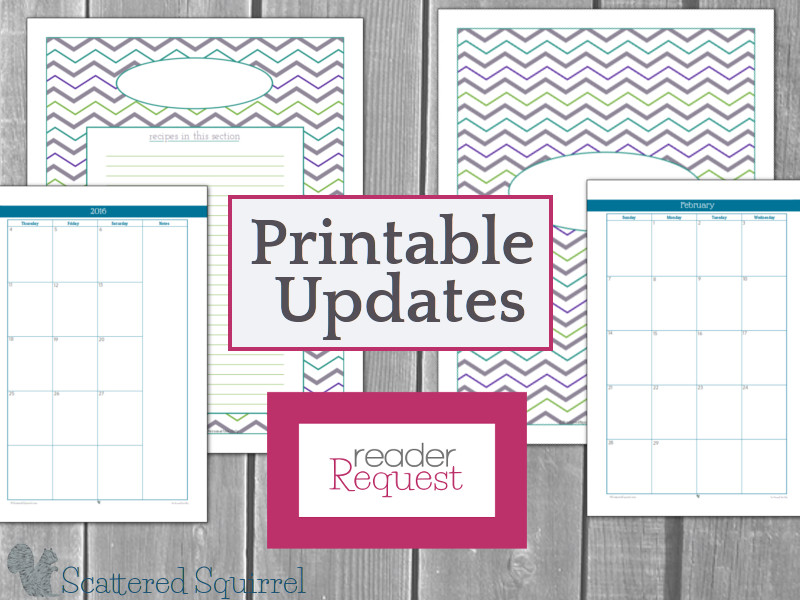 Printable Updates
I keep a running list of the requests I receive so that I (hopefully) don't forget any of them. There are times when I receive similar requests and those items end up with a check mark beside them for each time that a change, update, or printable has been requested.  Today, I'm sharing three of the most popular 'update' requests I've gotten this year so far.
Kitchen Binder Printables
Two years ago I took part in my very first 31 Days challenge.  We had been living in our new home for just over a year and I was still struggling with figuring out a good way to organize our kitchen so I decided to challenge myself in more ways than one – reorganize the kitchen and use that as my topic for the 31 Days Challenge, and so 31 Days to a Clean and Organized Kitchen was born.
As part of that series I set up a kitchen binder and shared all the printables I created here on the blog.  The following two printables are blank versions of the two different dividers that I created.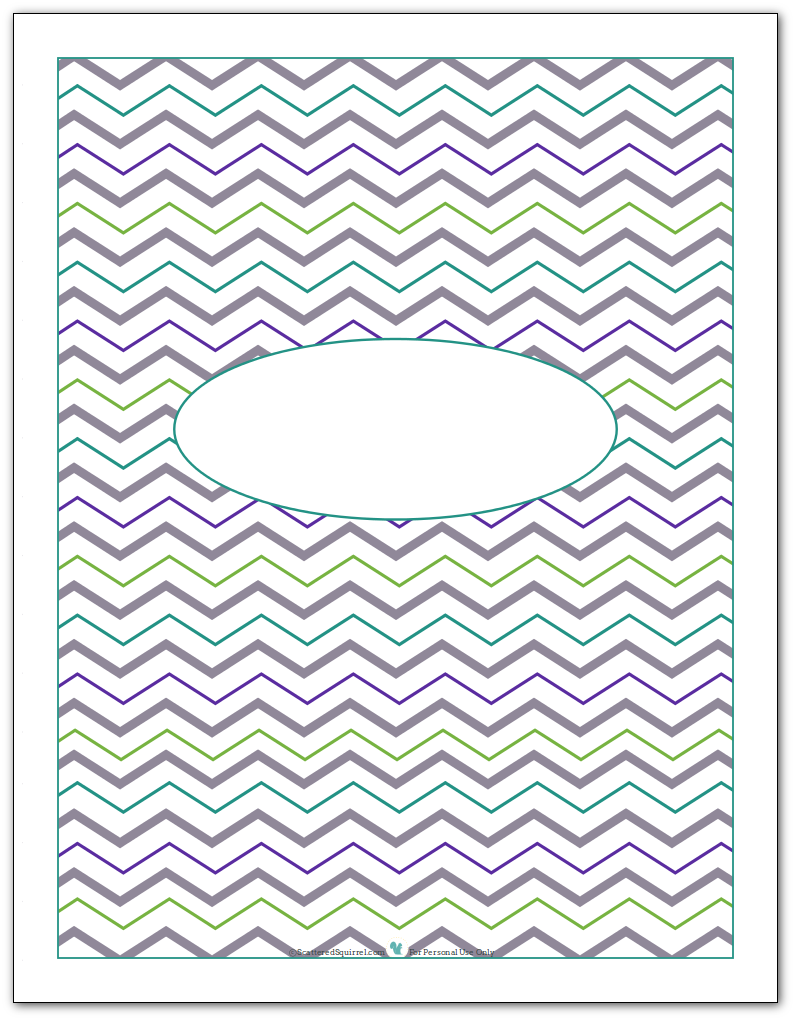 The first one is a blank version of my section dividers.  I tried to make sure I thought of sections everyone would want, but forgot that sometimes a blank version is what is needed.  Now, these divider cover pages can be used for more than just kitchen binders, which I think is great.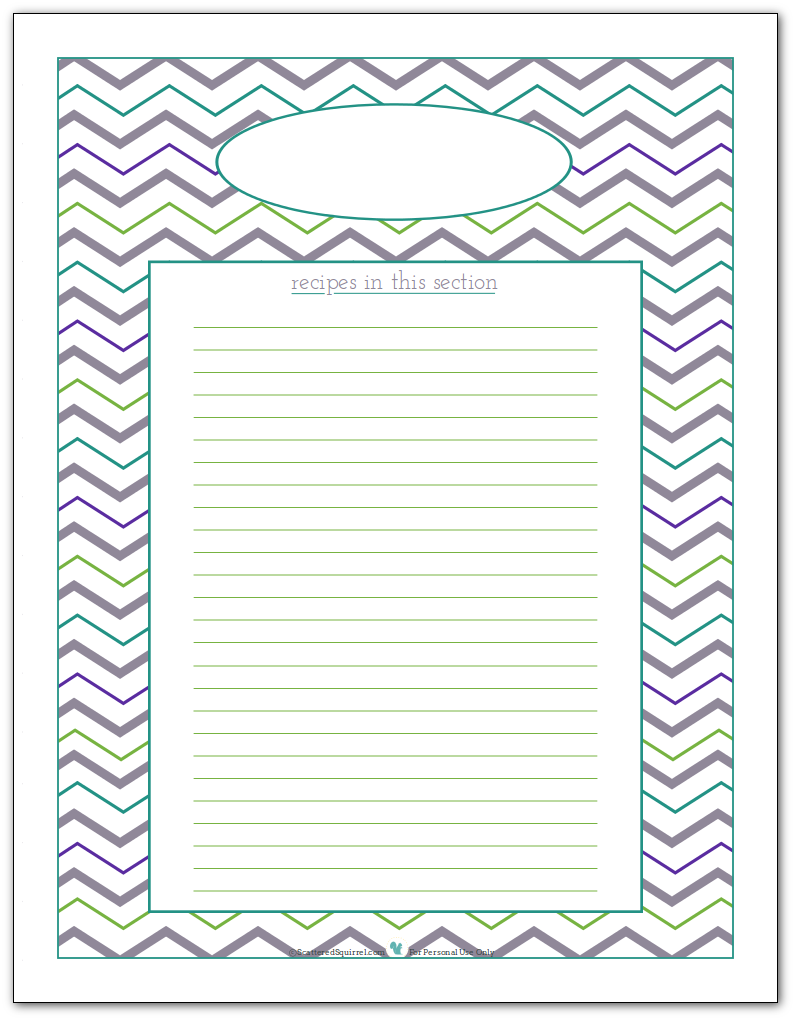 This one is a blank version of my recipe section dividers.  Everyone has their own way of organizing and categorizing their recipes, and again I overlooked the benefit to having a blank version.  This way you can organize your recipes in a way that makes sense to you.  The table of contents area has been a huge help for our family, with two of us adding recipes and not always organizing them the same way, having this list at the front of each section makes it really easy to find what we're looking for without having to search through the whole book.
2016 Half-Size Calendar
This next printable update is for the 2016 2 page per month, half-size calendar.  When I first shared the calendars earlier this year, I mentioned that I had struggled with figuring out the layout for this one in particular because so many of you wanted to be able to print them double-sided.  After playing around with it for months, I finally opted to make them as individual pages instead of two pages per sheet of paper. I included instructions for how to print them in the post, but many of you have asked for a version that is the same as I've done in previous years, and I'm happy to say that it's ready for you.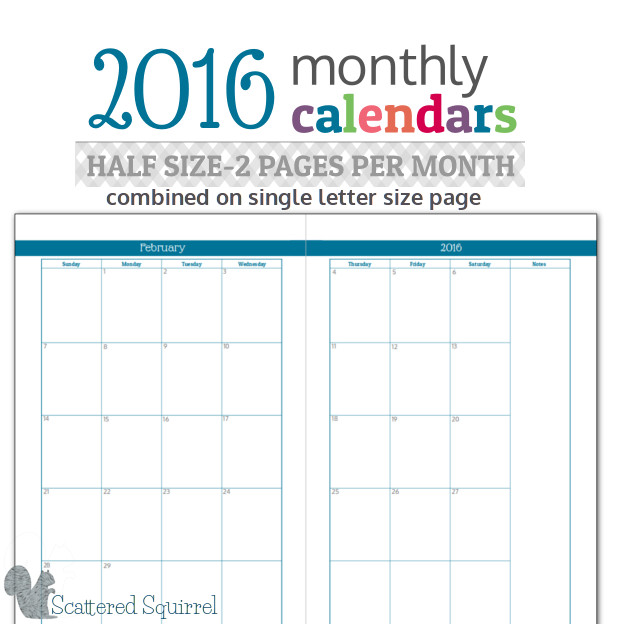 Just like the one from 2015, this one prints one month on a US Letter sheet of paper, in Landscape orientation.  Just simply print then cut in half and you have two half-size pages.
As always, to grab a copy of these printables for yourself, simply click the pictures.  And don't forget, if you'd like them customized to suit your tastes or needs better you can hop on over to the Customized Printables page and send in an order.
If you have a request for a new printable or for updates to one of my existing one, please let me know in the comments or send me an email.  I would love to hear from you.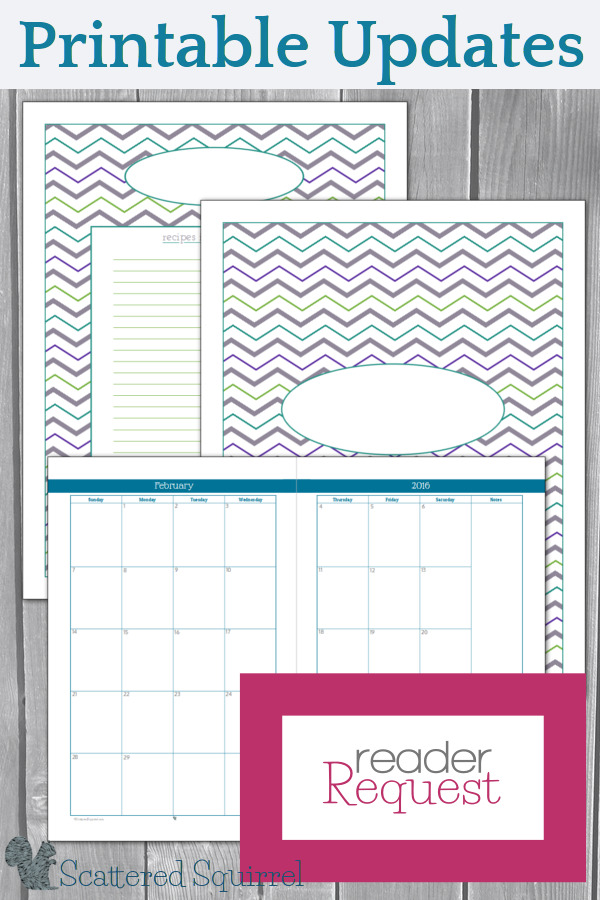 As I was working on the divider pages my mind was spinning with all the different ways they could be used, and I'm wondering…
Would you like to see more divider printables (with different backgrounds of course) that you can use for whatever you need them for?
~Happy Printing!~