Make House Hunting a Little Easier with These Handy Moving Printables
I haven't talked much about moving since my announcement last month ( Coming Full Circle ) but Operation Moving Home is never far from my thoughts.  Part of me is happy that we're taking things slow and I'm not rushing around like a mad woman like last time.  But another part of me longs to move things along a little more quickly.  Yesterday I actually found myself contemplating if I should put the clean towels  away in the linen closet or if I could get away with packing them away in the box that was, oh so teasingly, sitting right there.  The towels are safely in the linen closet and instead I turned that desire to move things along into a couple of moving printables that I can put into my Moving Binder when I start making one.  I kind of skipped ahead a few (or many) steps on my to-do list when I made these ones.  We're nowhere near being ready for them, (despite the fact that we both check the housing market back home on a weekly basis lol) but when we are ready to begin house hunting these printables are going to make that job a little bit easier.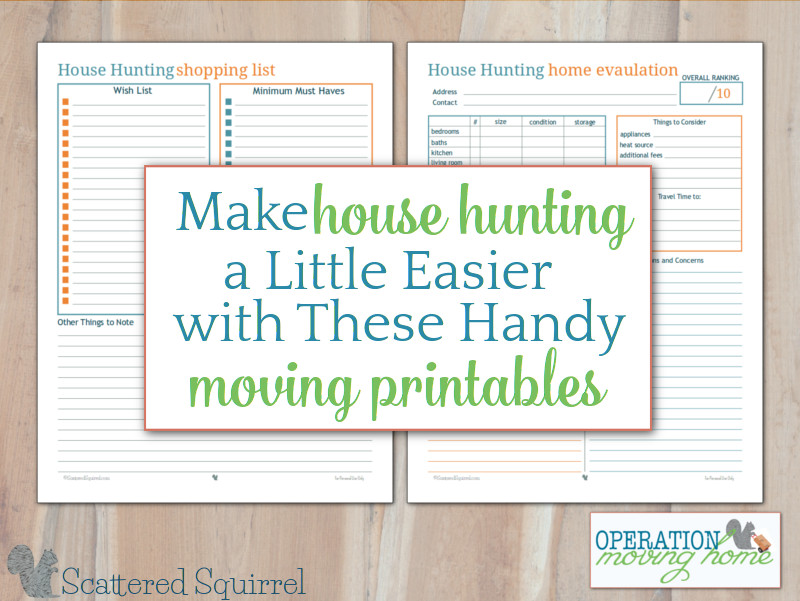 House hunting can be tough, and to be perfectly honest, it's not high up on my favourite parts of moving list.  (Yes I have a list for that.)  As renters the pressure to pick just the right home isn't as high as it would be if we were buying, but we still try to take care in our selection.  The last thing we want to do is have to turn around and move again right after unpacking.  Whether you're buying or renting, these handy moving printables should help make your house hunt a little bit easier.
House Hunting – 2 Moving Printables
Just because we're not ready to start packing, doesn't mean we haven't been spending a fair amount of time on our plans, and part of that is figuring out what we need in our next home.  I am a bit of dreamer, so I know that I need to have a list of practical must haves that I can use to focus my search, but I also like to keep a wish list of sorts close by too.  Sometimes there are things you're will to trade off for something else.  Such as, converting one giant room into two bedrooms, or creating a home office in the kitchen.  Having all those things written down in one place can make house hunting a little easier.  Doesn't check all my must haves, it's not a home for us.  So with that in mind I whipped a simple House Hunting Shopping List printable.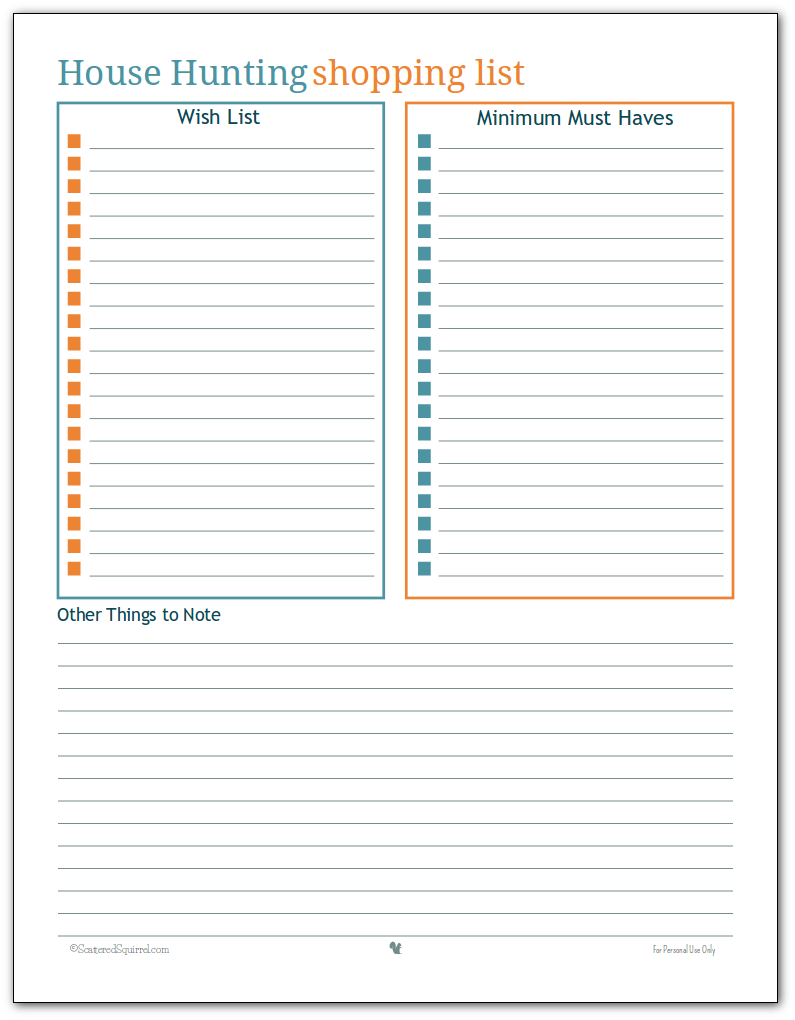 A place for must haves and room for a wish list, as well as place to make some notes.  This could include:
neighborhoods you want to be in
how much work you're will to put into making a home fit your needs
questions you want to remember to ask
a reminder to check how close the schools are,
I'm sure you could list a hundred other things you might add, but you get the point.  Using this moving printable gets all those items out of your head and into one place. The nice part is, you and spouse can fill this out together so that you both know you're on the same page.  Or maybe you're having trouble agreeing?  It happens.  You could each fill one out and compare them and look for compromises.  If you work with a list of what you need and want you'll be able to really zero in your search on homes that will suit you.  Then you can use the next printable to help you compare the possibilities.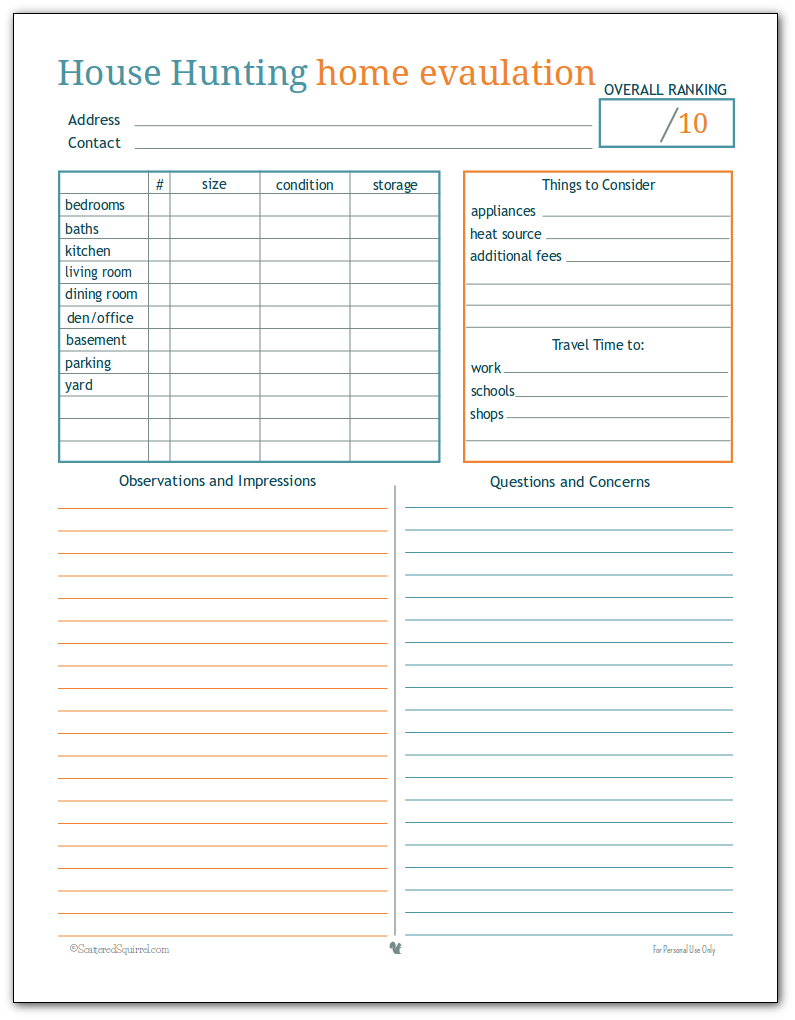 If there is one I've learned in all the moves we've done is that I need someway to keep track of all the possible homes we look at.  That's where this moving printable comes in.  The Home Evaluation printable helps you do just that – evaluate a possible home.  At the top there's room for the address and the contact person and their number.  Under that is a simple table to keep track of things like
how many rooms or if it even has certain rooms or areas
thoughts on space of the room – you could measure if you want too, I just put small, ok, average
condition of the room- this is more for rooms like kitchens and bathrooms.  Are they going to need updating?  Do they need some serious work?  Are the walls falling down?  (though falling down walls should be a BIG red flag)
storage – because storage is important.  Are the closets in the bedrooms a good size?  Do the bathrooms have adequate storage?  Is the kitchen low on cupboard space?
Beside that is a space to keep track of the extra stuff, such as are appliance included and what additional fees are there?  Is there a strata or some weird HOA dues you need to pay?  I also included a spot to jot down travel times to frequent destinations like work, school and shopping.  While not totally importantly, these little details could help set one home over another.
And finally room to jot down thought and impressions, so that you have them later to reference, and more importantly room to note any questions or concerns you would like to discuss with the seller or landlord.  That way you won't forget.  Once you're all done taking a look at the home give it a rating out of 10 for whether or not it fits what you're looking for.
House hunting is only one small part of the moving process, but it's a rather important part. Spending a little time thinking about what you need and want in your next home is a must for anyone moving. If you're in the process of moving, or will be moving in the future hopefully you find these helpful and I wish you all the best in your move.  I can't wait to start sharing a few more moving printables around here.  Stay tuned, because more will be on the way.
Now, I'm going to go fill out my copy of the first and day-dream a little about when I get to start using the second.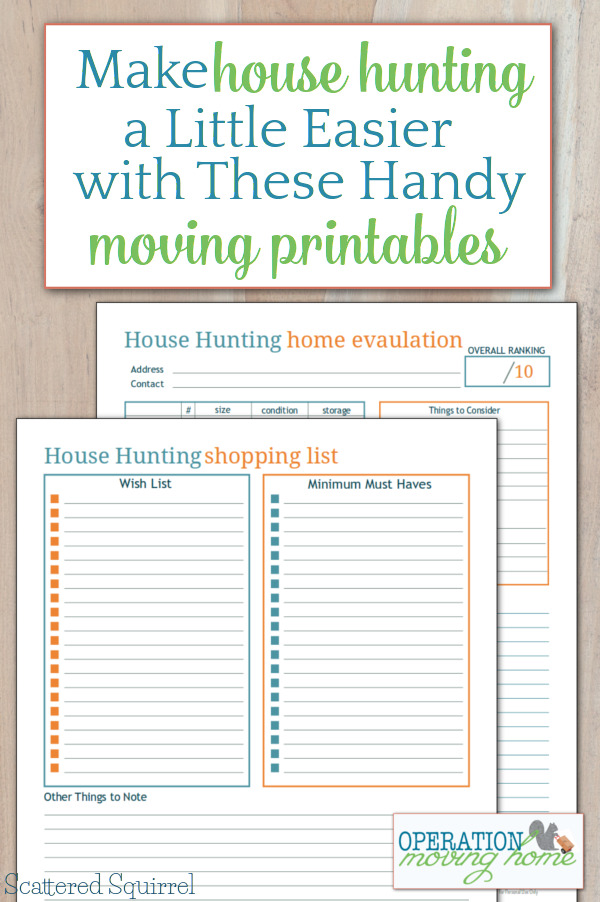 Are you planning a move?  What other sort of printables do you think would be helpful to have when moving?
~Happy Printing!~