The school year is winding down and soon all the crazy end of year stuff will be over and summer vacation will be starting.  I have to admit, I've been feeling a little behind the ball when it comes to planning our summer.  I mean my social media feeds are all full of these amazing ideas for activities, learning, and generally lots of great stuff to keep the kiddos entertained all summer long, and I haven't even made a single list of things for us to do, and quite honestly I don't want too.  When I did set aside time to work on some sort of plan, I found myself feeling uninspired and a little overwhelmed.  I've been counting down the days until summer break starts, and suddenly I was looking at the calendar dreading its arrival.  I don't want to dread summer, I want to enjoy it.   To snap myself out if the summer blahs I decided to make a list of all the things I was looking forward to about summer, and surprisingly many things on that list were small, simple things.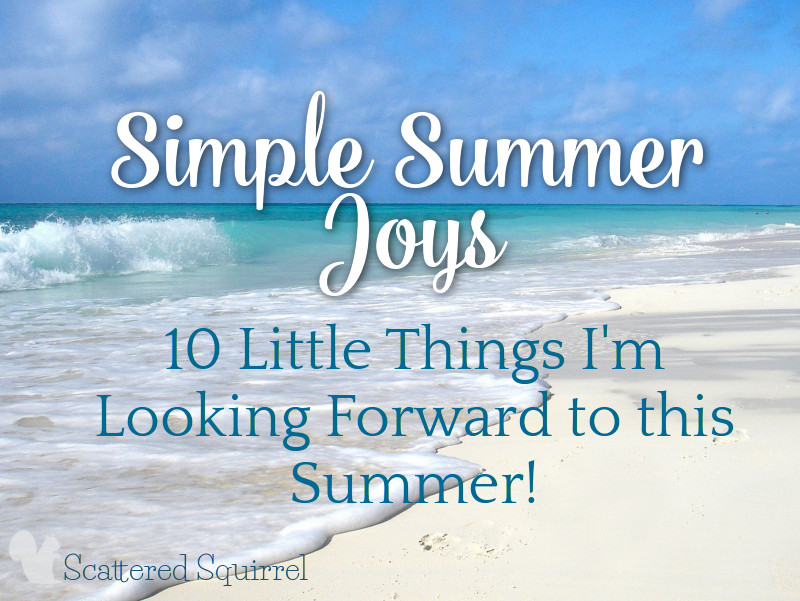 My Top Ten Simple Summer Joys
Sometimes the simple things are the most sweet, and when it comes to summer there are a few simple joys I'm looking forward to more than others.
1. Lingering Over Morning Coffee
Morning coffee is a must for me, and I always enjoy that first cup.  It's a nice way to welcome the day.  During the school year though, I don't always have time to linger over that first cup.  I've got to get the boys up and make sure we all get out the door on time after all.  So when summer break starts, I make sure to take time to enjoy that first cup. I mean really enjoy it.  No hurry, no jumping up to check on this or that.  I just sit, sip and enjoy!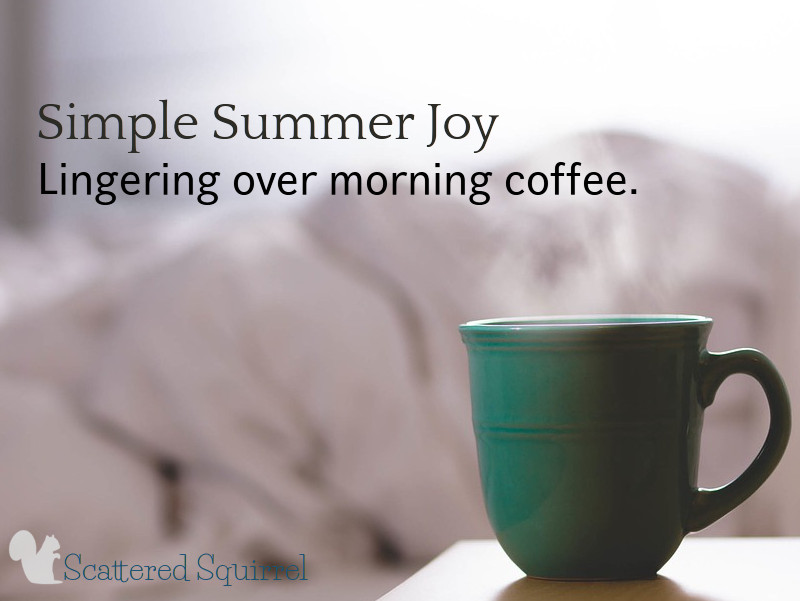 2. Early Mornings
Early summer mornings are the best kind of early mornings.  Don't ask me why, because I can't quite put my finger on it.  I just know that I love those early morning hours when everything is hushed and bathed in that special early morning light.
3.  Sleeping In in the Middle of the Week
Sure it's counter-intuitive to number 2, but getting to sleep past my alarm on a Wednesday is such a treat.  I don't mean staying up late the night before and sleeping the day away.  But being able to sleep until you're ready to get out of bed, in the middle of the week, even if I can only do it one day out of the whole summer – is pure joy!
4. Sitting Under the Hazelnut Tree Reading a Book
There is nothing quite like sitting in the shade of a tree and reading on a summer afternoon.  Whether I'm on my own or reading with Liam, it's a nice way to sort of enjoy the season and take a breather from the heat.  Fresh air and great literature are always a welcome mix.
5.  Ice-Cold Drinks on a Hot Summer Afternoon
Ice tinkling in the glass, condensation building up on the outside, and something cool and refreshing waiting to quench your thirst – it's like a mini paradise on a hot summer afternoon.  Whether it's water, ice-tea, lemonade or some other beverage, it's so nice to just sit and enjoy a cup of something cold in the middle of the day.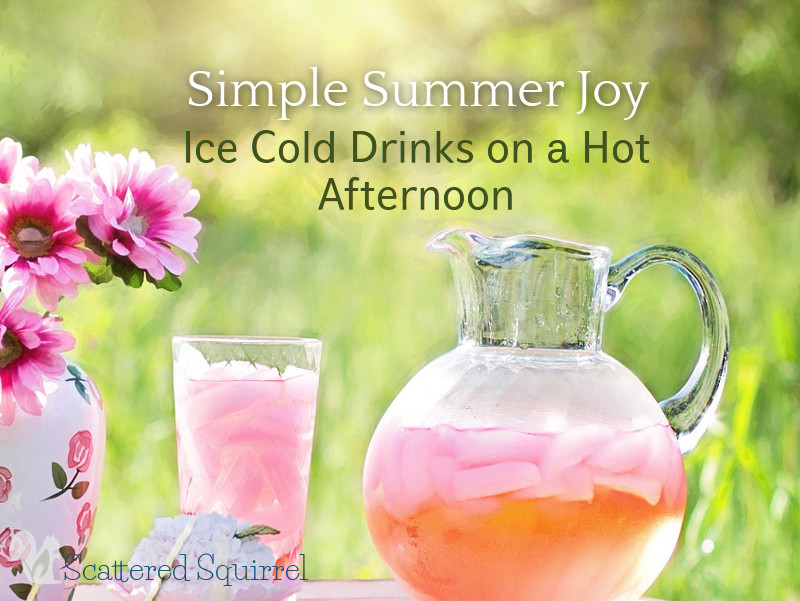 6. Popsicles, Snow Cones, and Other Frozen Treats.
Frozen treats never taste as good throughout the rest of the year as they do in the summer.  'Nough said!
7. Impromptu Picnics
You can throw a picnic at almost any time in the summer.  Toss a blanket on the grass in the back yard and move dinner outside.  Whip up some sandwiches for dinner, because it's too hot to cook anyway, and take them with you to the local park.  My favourite kinds of picnics are the kind we don't plan, just do.
8.  The Smell of Summer
I  grew up by two mountain lakes, and nothing takes me back to those simpler days of childhood than the smell of summer.  Summer smells differently for everyone: For me it's sand, surf, sunscreen, melted ice-cream and french fries.
9. Sandals and Flip Flops.
Good-bye socks!  Hello bare feet!  Summer shoes are the best.  They're comfy (or they should be) non-confining and best of all, no need for socks!  Maybe I'm weird, but I don't like wearing socks.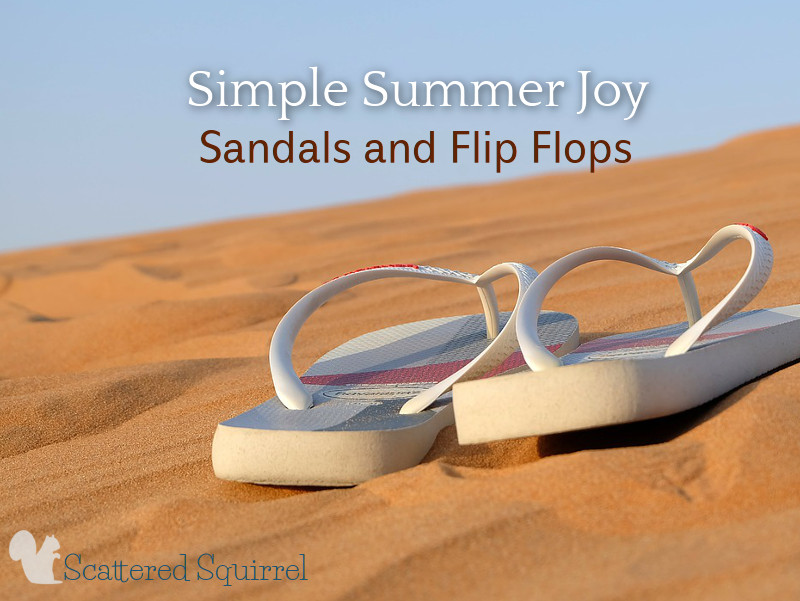 10.  Sand Between My Toes
But not just any sand!  It needs to be the moist sand down near the waterline.  It's cool and soft, and walking along the shore is soothing and refreshing.  Add in a sunset and the love of your life, and it's even better!
Summer is the season to slow down a little and appreciate the little things.  Often times those simple joys are the ones that make our memories oh so sweet.  Now it's your turn – what simple things are you looking forward to this summer?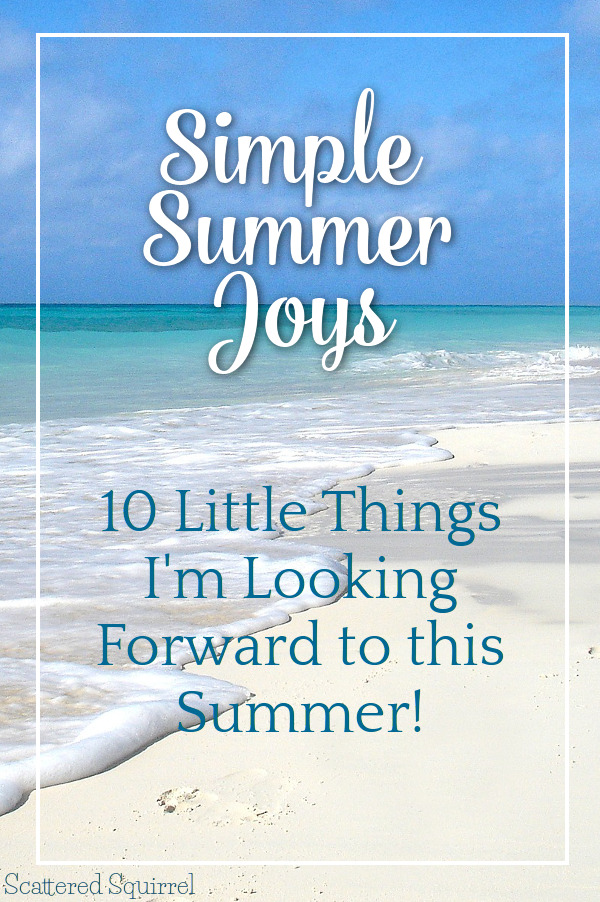 ~Remember to Enjoy the Little Things~