A few months ago I started a series on Time Management, where I was sharing any tips and tricks I picked up along the way to getting my routines reworked.  In case you missed them, here are the links to the other posts:  Time Management: The Series, Time Management: The List, Time Management: Prioritize, Time Management: Back to Basics, and Time Management; Morning and Evening Routine.  I fully intended to get this series wrapped up before July, however life seemed to have other things in mind for me; many, many, many, many things. 🙂  Though I didn't post any more updates on this, by no means did I give up.  Which brings me to the next installment:
During the craziness that was June, one thing I learned was that even the best of efforts at time management can fail if you forget to make time for YOU!  In our daily lives we are often so busy taking care of others, giving of our time and energy, that we can quickly wear ourselves down.   When you're worn down it is hard to want to do anything.  You may feel tired, exhausted, weary, apathetic … well the list can go on.  Left unchecked it can develop into depression or other serious health (physical, mental, emotional, and spiritual) problems.  The good news is that by taking a moment  to schedule in time for yourself every week (at the very least), you can help to bypass all the negativity.
Make a List
A list is usually a safe starting point.  To begin start jotting down things that make you happy, bring you joy, help you relax and unwind.  Don't over think it, these are just ideas you can fine tune them later.  And don't only limit yourself to what you know works, if there's something you want to try jot it down too.  The idea here is to create a starting point for working in some much needed "me" time into our weekly routines.  Include things that you know help you to relax or unwind; things that feed your soul and your heart as much as your body.  Here's the list I can up with.
playing a game with the family
family movie night
paper plates
having that first cup of coffee all by myself
reading
bubble baths
chocolate, or other sweets, especially when teamed up with a good book
a good book
time to read when no-one will bug me
facials
manicure
pedicure
massage
visit the library
watching the squirrels play in the tree
pastries
going for a walk
sleeping
swimming
Decide How Much Time
Next you need to take a look a your weekly schedule and figure out where to fit in your "me" time.  Ideally, you want to try for a little time for you everyday, even if it is only the time it takes to enjoy a simple cup of coffee before anyone else is up.  Even ten minutes of time just for you can go a long way towards how you feel.  My goal is to find some time every day to spend doing something that allows me to unwind a little, and also something that will leave me feeling a little pampered at the end of the day.   While I can't fit it a spa night every night, I figure I could easily fit in a little something every day.  To figure out what was doable and what wasn't, I grabbed my basic weekly schedule and took a look.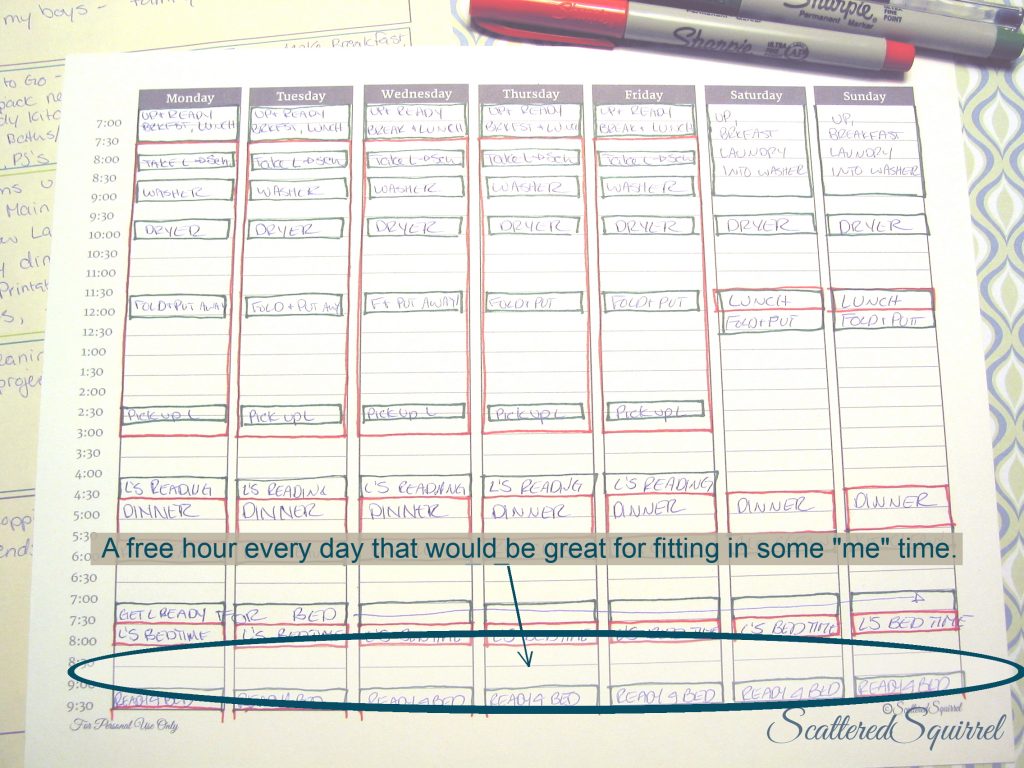 I found a whole hour in each and every day that would be perfect for fitting in some "me" time.  I'm going to start with just one item each day, like maybe Mondays will be manicure day, Tuesdays can be for pedicures, etc… and either Saturday or Sunday can be "bubble bath" night.  I am already longing for the weekend.  My goal though isn't to fill my week with at home spa treatments, my goal is carve out time that is only for me, to do nothing more than to focus on myself for at least 15 minutes.  That's one cup of tea, that's one foot soak.  What it is not is time spent in front of the tv, the computer, my phone, or my e-reader.  It is time just to focus on me.  We all need that time each and every day.  Some need more time than others, and some have more time than others, but trying to find a sliver of time each day is important.
Schedule it in … in Ink!
Once you know where you can fit it, schedule it.  Oh yeah, you need to schedule your "you" time.  You are just as important as anything else that goes onto your schedule, and truth be told, YOU are more important than most of what's on there.  After all, without you there would be no schedule.  By using ink, it's harder to ignore, this is a permanent part of your schedule (no cheating and using white out or erasable ink!)  You deserve to give yourself the same commitment you give to your family.  To be honest, I have a really hard time with setting aside time for me.  REALLY hard!  Just ask Travis.  He'll badger, cajole and nag at me to go take some time for myself and I will always come up with some reason or another that I shouldn't, or don't have the time.  But, the truth is, no matter what we are doing there is always something else that we could be doing.  Right now I could be folding and putting away laundry, or tidying up the kitchen, or doing a puzzle with Liam, or …. well that is one list that never ends.  That's why prioritizing our master to do list is so important.  It give a focus and an order to what we do and when we do.  Putting in time for ourselves should be an upper level priority, and it's one of my goals to take that 15 minutes to half an hour every day for just that.  So, I've scheduled it in.  That hour in the evening between when Liam goes to bed and when I do is the perfect time.  It will allow me to let go of the day and maybe it will even help me sleep better.  Who knows?  I will let you know how it goes though.
Stick to it!
This is going to be the super tough one.  Now that you've got a list of things you like to do for yourself, and you've found time and scheduled them in, you need to stick to it!  Like all good routines, making time for you will take some time to become a habit.   Start with a little, if you don't think you can commit to time each day, start with some time each week.  Do what makes you happy, what relaxes you, or juices you up, or whatever it is that feeds your sense of self.  This is time for just you!  (unless hanging with friends is your thing, or date night with the hubby, bf, partner, etc.. )  Chores and house work will always wait, time to relax won't.  Take it when you know you can get it, and don't give it up.  A very dear friend of mine put it to me this way.
Time for yourself is an awful lot like sleep.  It won't wait for you to get around to it, and once you've missed it, it's gone forever.  It's not something you can easily catch up on.
What sort of things help you relax and unwind?  Do you make time for yourself every day?  If so, do you find it helps you feel more in control of the rest of your day?

Other Posts in the Series
Time Management: Back to Basics