Use Natural Design Elements to Help You Sleep Better
I've struggled with sleep issues for many years. I used to blame it on being a natural night owl who was forced to live an early bird lifestyle. (You know, the needing to get kids to school and get myself to work on time, lifestyle.) I've tried everything from meditation to sound machines, but I have to admit I didn't give much thought to how I decorate my bedroom and the effect it could have on my sleep. The more I think about it, the more it makes so much sense. That's why I'm excited to have Adam here today. He's written a wonderful post about how to incorporate natural design elements into our bedrooms so that they can help us foster better sleep each night.
Natural Design Elements Can Have a Positive Impact on How You Sleep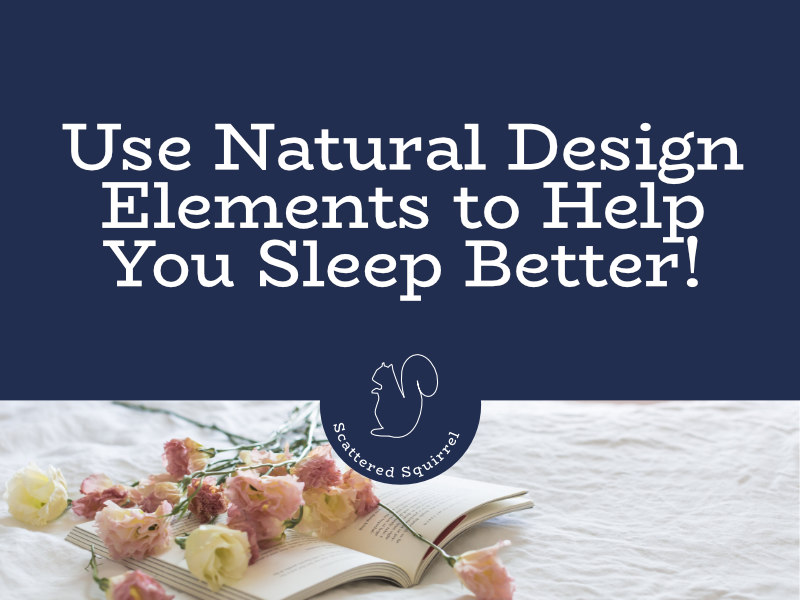 Nature inspired interior design never really goes out of style. Rather, it's about taking this common theme and giving it a modern twist to fit your space. But, natural design elements do more than make your home feel relaxed and inviting. In the bedroom, natural design elements can help you get deeper, high-quality sleep.
Nature and SLeep

To be more exact, the outdoors don't directly affect sleep. However, nature does affect how you feel and think, which does influence your ability to fall and stay asleep. Issues like stress, anxiety, and depression are common causes of insomnia. A study published in the Proceedings of the National Academy of Sciences found that walking in a natural environment for 90-minutes reduced rumination, the act of thinking negatively about yourself. Their nature walk reduced activity in the part of the brain linked to anxiety and depression.
Natural design elements can have the same calming effect in the bedroom. The bedroom doesn't need to feel like a forest. The right nature-inspired design pieces can enhance your décor by bringing it down to earth.
Make Rustic Modern
Rustic pieces have a weathered look that can help remind you of the trees you used to climb as a child. Weathered woods still shine in the right bedrooms, but there's no need to fill limited to rustic finishes if that doesn't fit your style. Modern rustic pieces have simple, functional designs in finishes that let the grain of the wood shine through and add character. A nightstand or bench with natural curves and visual imperfections has enough impact to help your mind drift to a woodland scene.
Natural Mid-century
Midcentury pieces have a utilitarian feel that usually doesn't hint at nature. However, some designers have combined the midcentury theme with modern natural materials. Mirrors, picture frames, and nightstands with clean mid-century lines but made with reclaimed mahogany or cherry combine natural elements with period furniture design.
Play with Pattern and Texture
Wood isn't the only way to bring nature indoors. Forests, beaches, and deserts are full of pattern and texture that can add depth to the bedroom. Cover your mattress with sheets made of natural fabrics like linen and cotton. Loose weaves let you see and feel the threads, which only grow softer with age. Not only that, they have excellent breathability. Throw pillows, curtains, and rugs can serve as ways to bring natural patterns and textures as well. Floral patterns, weaved baskets, or ocean-themed vases could be the right natural accent for your home.
Houseplants
Houseplants aren't traditionally kept in the bedroom, but a live plant is a classy way to invite nature inside. The best part about houseplants is there are there are enough options to fit in with any interior design. Plants double their impact on your sleep because they can help freshen the air in your room, which has been shown to improve sleep quality. NASA conducted a study to find plants that could naturally remove biotoxins from indoor air. Many of these plants like English ivy, Gerbera daisies, and spider plants look stunning in a bedroom. Create a live wall or keep a single plant next to your bed for the colours, scents, and shapes of nature.
Find those natural pieces that speak to you and make your space a calming oasis. All it takes is an accent or two to relax your mind an body for restful sleep.
More About Our Guest
Adam Kyle is a sleep expert at MattressReviews.net. A workaholic by nature, it wasn't until his late twenties that he realized the importance of sleep for his health. At that point, he focused on learning everything he could about sleep. Now, Adam specializes in how his environment and his physical well-being affect his sleep. A San Francisco native, he finds the sounds of the city soothing and struggles to get to sleep quieter environments.