Day 21 – Deep Cleaning Time Savers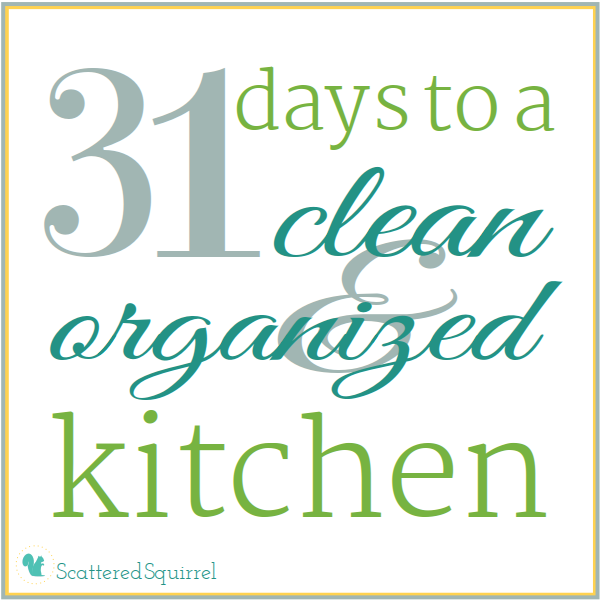 Welcome to Day 21 of this crazy 31 Days series.  I cannot believe that after this post there are only 10 more to go.  Crazy!  Despite technical problems and colds, I'm still here.  Again, I say – crazy!  If you're just joining us you can find all the previous posts linked up on the 31 Days tab at the top of the page.  Ready to find out more about saving time when it comes to deep cleaning the kitchen?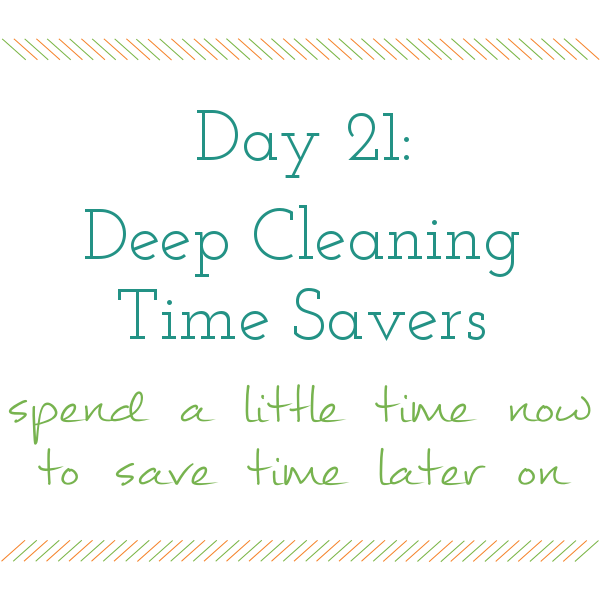 Let's face it, the kitchen is one of the messiest rooms in the house.  People gotta eat, which means they or you gotta cook, and that means dishes to wash, pots and pans to scrub; surfaces to wipe down and disinfect, and that's just the daily stuff.  Then you start adding in the floors that need washing, food cupboards that need a clean out one in a while, and appliances that need cleaning and care, and your time in the kitchen, just cleaning, has sky rocketed.  Can I let you in on a little secret?  I strongly dislike deep cleaning my kitchen.  I strongly dislike it with a passion that stems from the burning desire to spend those hours doing something more fun like folding laundry.  (oh yes, I would rather fold laundry than deep clean my kitchen)  So, I decided to figure out how to cut down on the deep cleaning time.
Now, I know that for most people, first you start with the daily upkeep, then weekly stuff and then think about deep cleaning.  I'm not most people, and once you get further into this post, I think you'll understand why I'm jumping into the deep cleaning before everything else.  Firstly, you don't need to deep clean every week, unless that's your think and you enjoy it.  And not all deep cleaning tasks need to be done as often as others.  Here's my list of deep cleaning (or monthly/seasonal cleaning) tasks.
Hand Wash Floors:  My Rubbermaid Reveal Mop is a life saver when it comes to quickly mopping floors on a daily basis.  I love that I can apply cleaner when I need it right from the handle.  However, every once in a while I give my floors a good, old fashion, hand scrub.  Why?  Because I've found that while mops are great for keep the dirt down they don't necessarily get into every nook and cranny.
Wipe out Pantry and Food Storage Cupboards:  Let's face it, spills happen.  Wiping these cabinets out not only prevents spills from ending up on the floor, it helps deter bugs and other pests.
Clean Fridge and Freezer:  Again, spills happen and we want where we keep our food to be nice and clean.
Clean Oven:  I'm not one of the lucky ones with a self-cleaning oven.  I've found it's not that bad if you clean it on a regular basis.  Still, it's a big job.
Stove Top:  Those element drips pans get a good work out and need some TLC every once in a while.  Not to mention the knobs and panels need a cleaning too.
Vent Hood:  This area gets gross!  Nuff said!
Dishwasher:  Sounds weird, I know, but dishwashers need a good cleaning themselves every once in a while.
Cleaning Under and Behind the Appliances:  This is my least favorite job, but again, it is something that needs to be done.  While you've got the appliance pulled out, don't forget to clean the backs of them.
It's not a long list, to be sure, but the tasks on there can be time-consuming.  Lately I've been trying to find a way to save time in the kitchen.  Let's start with the pantry and food cupboards.  When I posted about my spice cupboard, I shared a tool I use to help keep the cabinets clean.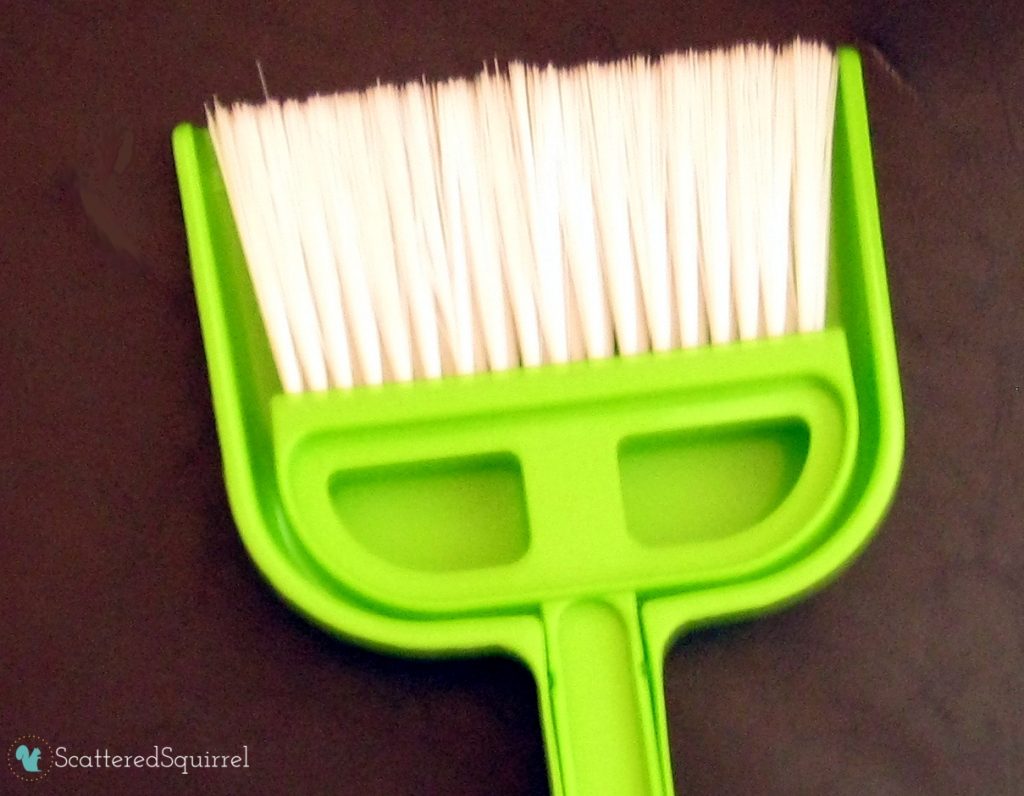 I've found myself using it more and more.  It takes all of 30 seconds to give a pantry shelf a quick sweep.  This means when it comes time to give the pantry a wipe out it won't be so bad.  I don't remove anything from the pantry when I go the quick sweep, and I don't always do all the shelves, but this little job is the difference between pulling out the vacuum to give the pantry a good cleaning, or just being able to go in a wipe.
One of my favorite blogs to read is iHeart Organizing, and Jen shared this great tip for staying on top of spills in the fridge.
Genius right?  Not only is that a great idea for cleaning up spills, but say it's getting close to grocery shopping time, and one shelf is getting empty?  Move the last few items, spray, wipe, and put them back.  Done!  When it comes to time to give your fridge a good deep cleaning, you might just find that it's not as bad as it used to be.
I've mentioned my mop a few times.  What can I say? I love it!  It was a brilliant investment in our home which had no carpets at all, and in our new home it lives near the kitchen.  In a perfect world my kitchen and breakfast nook (now my office as well) would get a quick mopping every day, and I'm working that into the boy's chores.  When all is running smoothly, I get the floor mopped every other day.  This is not a deep clean, scrubbed til it shines mopping, this is a quick mopping.  5 minutes tops!  But let me tell you, when it comes time to wash the floors by hand, it makes that job soooo much nicer.  Sure I need to pay close attention to the edges and corners, but the middle areas just need a quick scrub to get into the little imperfections in the linoleum and I'm done!    Now, I'm not saying go out and buy a fancy mop, but if you have one that uses microfiber cloths, (you can also tuck a microfiber cloth into a Swiffer) then just dampen the cloth and give your floors a quick go over.  Trust me, when you go to really wash them, even that little bit of damp mopping will make a world of difference.  It also means you can push the time between deep cleanings further apart!  Total win in my book!
What about the hard-working cooking machine?  We all know that cleaning the oven can be a pain, especially if you don't have a self-cleaning oven.  And don't forget those drip pans under the elements.  (unless you are lucky soul who has a solid surface cook top)  Those two tasks can really be a pain, especially if you have cooked on spills.  Here's how I tackle those jobs, quickly.  Do you plan for left over night?  You know those nights where you're just quickly reheating something?  Your stove really isn't in use? What about pizza night?  Pick a night you're not cooking.  In our home this night is "if it's" night.  (If it's there, you eat it.  If it's not you don't!)  It's a night to use up the left overs, and gives me a break from cooking (and cleaning since usually this means heating up stuff in the microwave, and all the dishes used go in the dishwasher).  On these night I fill the sink with hot, hot water and a quirt of dish soap, add in a generous amount of vinegar and pop those drip pans into the sink to soak while we're eating.  After dinner dishes are loaded, I give each pan a scrub, then sprinkle on some baking soda if they need more cleaning, rinse and let them dry in the sink over night.  Since they're already out of the stove, I give the stove top a quick cleaning.  It takes me no more time than it would to clean up after dinner, and when it come time to give the stove a good deep cleaning, half the work is already done.
Maybe the drips pans are fine, and only need a quick wash, well maybe I'll follow this advice from GoodHousekeeping, and give the oven a quick clean.
I'm not looking for perfection, just trying to make use of a little time here and there to save me time down the road.  Cleaning up spills as they happen (or once the oven is cool) is a great way to stay on top of things, and giving the inside of the oven a quick cleaning now and then means that when it comes time to really give it a good cleaning, it won't take me nearly so long.
Cleaning the dishwasher is easy peasy. Pick a morning about once a month, and toss in a cleaner tab (we use Affresh) or whatever it is that you use to clean your dishwasher.  I've heard lemon Kool-Aid works wonders.  Sure, you'll still need to give the screen thingy a good cleaning every now and then, but at least that's the only part you'll have to worry about.
I know it sounds like I've just added a bunch of cleaning time to my day/week but in the long run, it saves so much time later on for the things that just can't be done a little here and a little there, like pulling out the fridge or oven to clean behind and under it.  I've been toying with these ideas over the last few months (some I've been doing for years now) and I couldn't be happier with the end results.  It really does pay to invest a little extra time now and then to save time later on.  For me, it's the difference between losing ten minutes of my free time here and there or losing a whole day of it to deal with these pesky cleaning tasks.  I opt for the little bit here and there.
Do you like to do a little here and a little there?  Or would you rather take a day and just get it all done at once?  Any quick cleaning tips you would like to share?