Hi everyone!  I hope you all had a fantastic Easter Weekend!  I know we sure did!  We had a little taste of summer with beautiful sunny skies and temperatures that crept right up into the low 20's (Celsius).  My Mom and Dad were down visiting for the weekend and it was sooooo good to see them!!
I had grand plans of sharing some pictures of the Easter Egg hunt.  It was Liam's first year of flying solo for the hunt, as our teen opted out this year, and got a taste of what it's like on the other side when he helped my Mom and I hide the eggs I had filled to go with whatever the Easter Bunny brought.  Unfortunately, I was the last one up on Easter morning  🙁  From what I was told, Liam was up before everyone else, and had pretty much finished the hunt before my parents got up.  When they suggested that he should go wake up Travis and I, Liam replied, (politely but firmly)
"No, I can't wake them up!  They were up all night hiding Easter Eggs!"
That crazy kid of mine.  So, no Easter pictures.  But Liam had a blast, and that is really all that counts right?  (Next year I will make sure that he wakes us up before he starts hunting, lol)   On the upside, it meant that that I had plenty of juice in my camera for the main event on Monday!  As if Easter wasn't enough fun all on its own, plus getting in some quality time with his grandparents, (who make his eyes light up like Christmas morning when you tell him they're coming for a visit) Liam also celebrated his 6th birthday on Monday.  Talk about excitement overload, in a good way.
With everything else going on, we opted to try to keep everything low key and laid back, which turned out to be a blessing because the poor guy picked up a stomach bug.  That did NOT stop him from having a ton of fun.
Here he is, reading his card!  I love that he took time to read it himself!  (and yes, that is Christmas wrap, we ran out of birthday wrapping paper, he didn't seem to mind though)
There were only three things on Liam's birthday list this year, Magic Cards (because he likes to be just like his big brother!) an umbrella of his own, and cash… a thousand dollars to be exact.  We're still not sure where that number came from, but it cracked us up.  So, knowing his wish list, of course his big brother just had to get him some!  (Grams and Geezer gave him some too, and now he has more than he knows what to do with lol)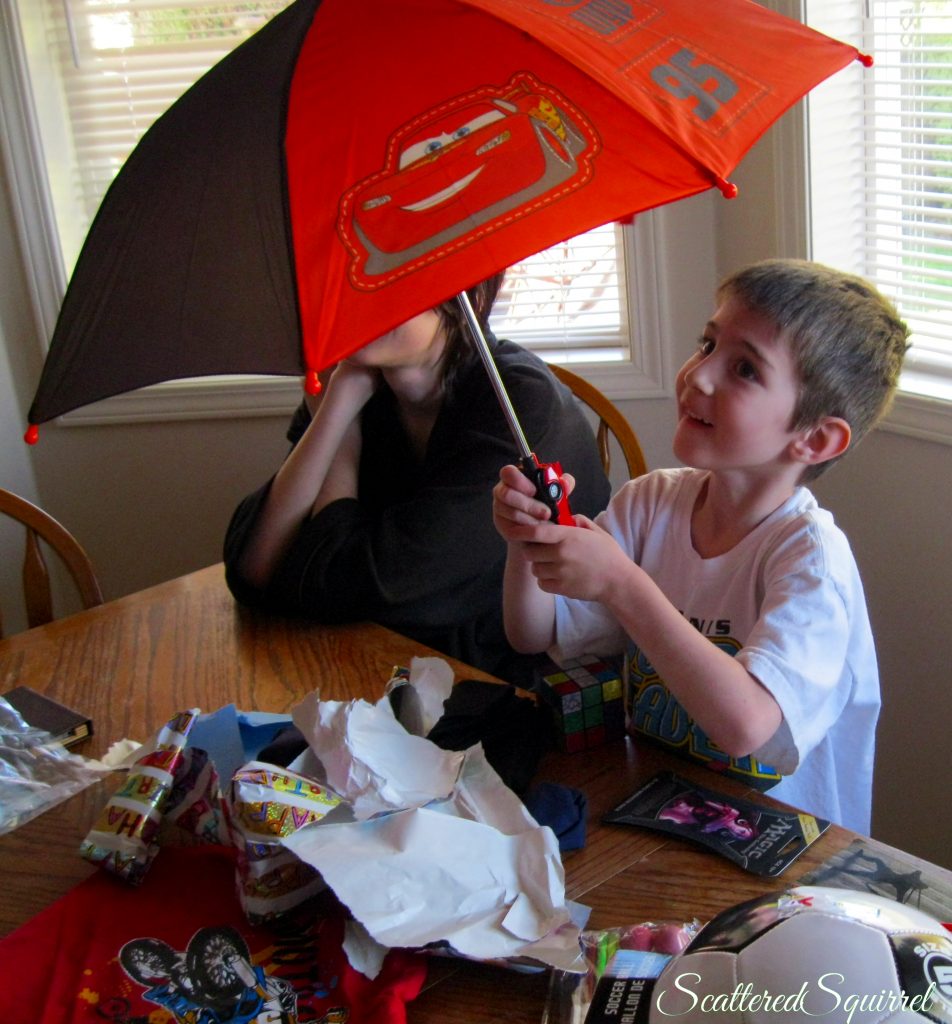 Grams sure knows how to pick a good umbrella.  Liam even got to test it out in the rain on the way home from school yesterday!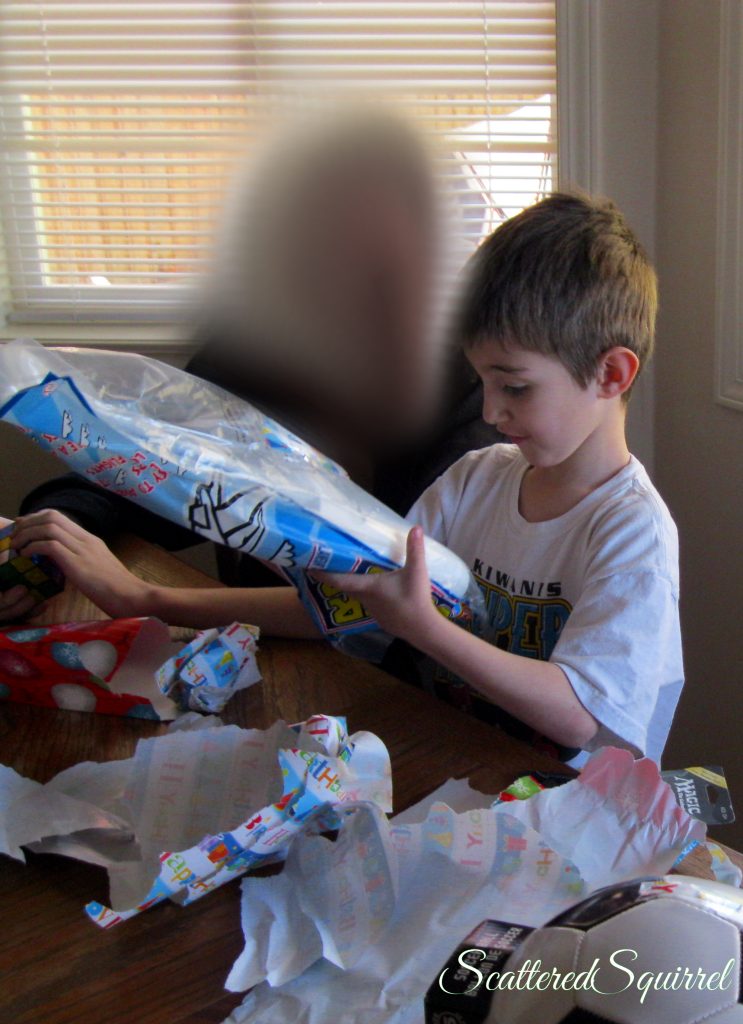 My Mom helped me pick out this plane when were in the dollar store one day.  It's made from, Styrofoam, and has a little more substance to it than the balsa wood gliders we've had in the past.  After the Magic Cards, the plane was the biggest hit of the day.  He spent a few hours outside tossing it around.  Though he learned pretty quickly not to let Mommy fly it.  Cause then things like this happen…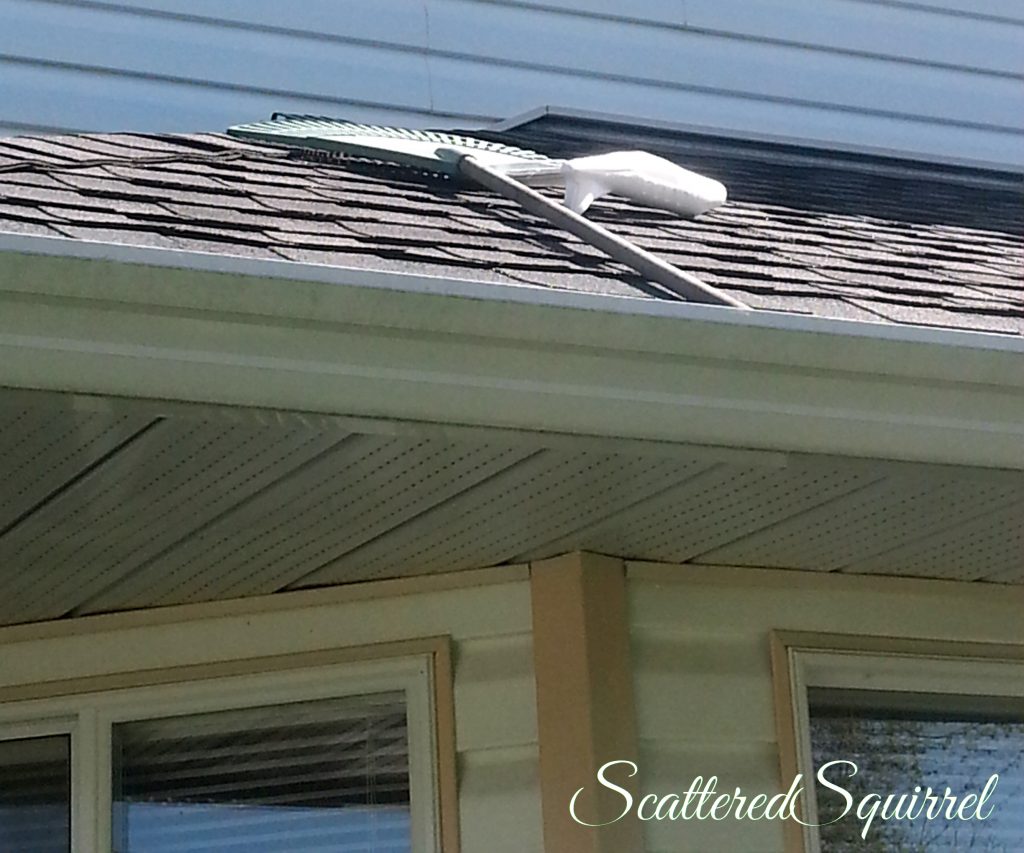 Yeah, that's the plane on the roof.  I threw it up there, not on purpose, but still I decided I would try to get it down on my own.  In my head, the plan was great, toss the rake just a bit to try to catch the plane in the comb and knock it closer to the edge…. you can see how well that didn't work!  In the end my Dad came to the rescue when he came around back and saw me moving a kitchen chair into place under the roof.
One of the gifts I got for him really confused him.  They are wooden paddles with bouncy rubber balls attached to them via an elastic string.  These are ones than can be colored or painted before using.  Liam wasn't too sure what to make of them, but he had a ton of fun with them once he figured them out. (the soccer ball was another gift that was a big hit!)
This birthday was a little tough to figure out gift wise.  There aren't really any toys he's interested in collecting right now.  In then end, we gave him a lot of random little things, and it turned out to be wonderful.  Enough to keep him entertained, and he seemed to have a little bit of fun with each items.  Even the clothes he was given!
As I said we kept it rather low key.  We did cake in the afternoon, (I have no pictures to put up yet) and then in the evening we went out for a birthday dinner.  By that point though, he was looking really under the weather.   And now I have a couple of weeks to putting the finishing touches on my ideas for his birthday party with his friends.  We're holding that later on in the month, and hoping for great weather so we can do lots of outdoor stuff!
All in all it was a great weekend.  Lots of chatting, some bread baking, a little shopping, and just general fun!  I love my parents, and I love that we're close enough now that they can come visit us!  I always have so much fun with them.
How was your weekend?  Any plans for this weekend?