7 Ways You Can Save Money When Buying Groceries
With two growing boys, one a bottomless pit, err I mean teenager, and the other going through a growth spurt; a husband who works long hours and needs a lot of fuel, plus our growing menagerie of pets, I'm always on the hunt for ways to save a little money.  We do plenty of things to help save money, like not eating out often, buying our vehicles used, shopping sales when we can, but one area that I have down to a fine science is saving money when we grocery shop.  With the help of regular meal planning and the tips found below I'm able to keep our grocery bills at a reasonable amount.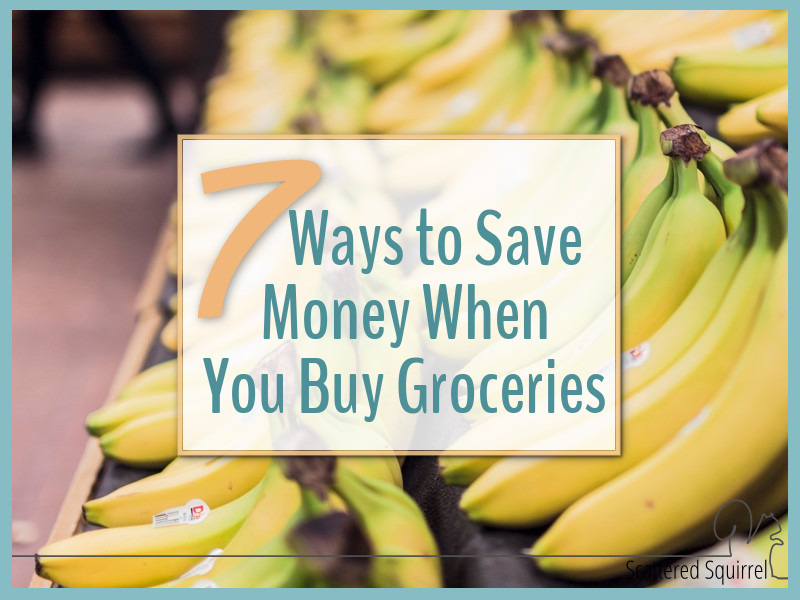 Now you know me, I like things simple.  If it's overly complicated it's not going to work for me.  So below you'll find some of the ways I save money at the grocery store.  I try to follow these each time I go to the store, but the truth is, sometimes I forget or I just don't have time to scour the flyers.  So my best tip for saving money, without going totally insane, take the tips that work for you and use them, change them to fit your needs, and forget the rest.  We can only do so much, and that's ok!
7 Ways You Can Save Money When Buying Groceries
1. Shop the Sales
I like this one the best because it really doesn't take much time at all. You can just simply check what's on sale as you go through the aisles. If you find a great sale price on an item you know you use, then why not grab a couple. Shopping sales is a great way to stock up on your most often used items.
If you want to take it a step further, you can check out the weekly flyers before you hit the store. Heck, you could check out a few different flyers and pick the store that offers the best savings for you. Just be careful, if you have to drive a great distance, are you really saving or just transferring your savings over to fuel?
2. Family/Warehouse/Club Packs
Many times, buying a larger pack is more cost-effective than buying individual or smaller quantities. Even if you won't use it all in one meal, you can separate and freeze it for later. Don't discount the bulk or warehouse aisles either, sometimes items will be on sale in those areas and you can scoop them up for a song!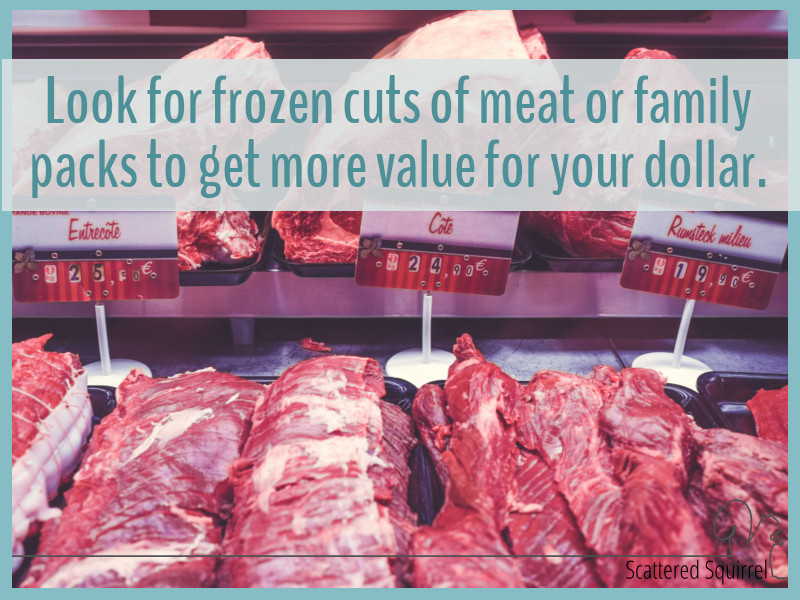 3. Standard Pricing and Frozen versus Fresh
Some stores also offer standard priced packs. When we used to do all our grocery shopping at one of our local grocery stores, they used to have tubes of ground beef and packs of chicken for $12 each, and they had other standard price meats as well.  While standard pricing may not make save you money (though I've found that, in our case, it does) it does allow you to know how much you're going to be spending.  Now, we're saving money on groceries by purchasing our meat in bulk from a local butcher, but if we had to go back to the old way, those standard priced packs would be topping my list.
When it comes to buying produce, many times you can save quite a bit buying frozen over fresh. I'm not saying it's always the best way to buy fruits or veggies, but if you're on a tight budget it can help. As an added benefit, many times the frozen produce has better nutritional value than fresh, depending on how recently the fresh was harvested.
Fresh versus frozen isn't just about fruits and veggies. Check your freezer section for cuts of meat that have already been frozen. Sometimes you can get a great deal. Sometimes our grocery store offers frozen items in warehouse packs at a huge discount because they've been pre-frozen. For example, Marc Angelo Pork Slovakia kabobs are a huge hit in our house, and I buy them when our grocery store has them in their freezer section. Many times I can get three or four packs of kabobs for $10. That's a HUGE saving!
There is a great post called Fresh Produce 101 on Living Well Spending Less that is a fantastic resource for how to save money by shopping seasonally.
4. Store Brands versus Name Brands
This one is an easy one to incorporate, and really doesn't need an explanation, however, I will add one note of caution. Though store brands have come a long way, not all are created equal. If you're thinking of making the switch start with a few items and go on from there. Or choose items that are harder to mess up, like potato chips, nuts, trail mix, granola bars, cereal, pasta sauces, pasta, rice etc…
5. Coupons
Whether you take it to extremes or use in small doses, coupons are a great way to save money. As with all good things, though, there are a few catches. The first being, to save a lot of money with coupons you need to invest some time collecting them. Also, how much you can save depends on where you live and where you shop. Check with your local grocery stores about what their policies are for coupons if you're not sure. And last, but not least, beware of falling into the "I have a coupon for that" trap. If it isn't something you would normally buy, you're not really saving anything if you buy it because you have a coupon. One more thing to take into consideration, many of the coupons out there are for name brand items. If you normally buy store brand, purchasing a name brand item with a coupon might not save you anything, or, worst case, still ends up costing you more.
6. Know Where it Comes From
I'm a huge fan of buying local when possible, but that's not really where I'm going with this tip. When you're buying produce, knowing where it came from can give you a better idea of how long it will last. I'm speaking from personal experience on this one. You see, when we first moved to our new hometown, I was totally stoked that we had a Wal-Mart Super Center. One stop shop is right up my alley, plus the prices just couldn't be beaten. However, over time I started to notice that much of our produce was going to waste, it spoiled before we could use it. Then, one shopping trip, I noticed something that gave me pause. Many of the items we were buying were packed in Vancouver, BC. (That's only a few hours drive from us) however, if I looked closely at the label, there, in the fine print, was "product of China", or some other country.  I was rather shocked to find that much of the produce was coming from overseas. Since then I've been really picky about what produce I buy, and being picky has saved us a lot in less wasted produce. So, while it may not actually save money at the till, it will save money because you won't have to make as many trips to the store.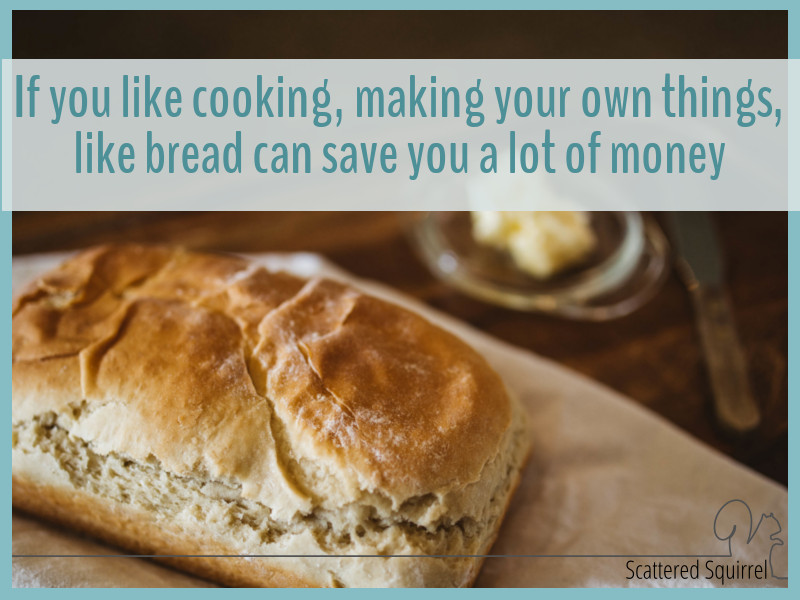 7. Make it Yourself
This one takes a bit of a time commitment, but if you like being in the kitchen, then you can really save money by making some things yourself.  A number of years ago I shared how we were saving money by baking our own bread.  In that post, I broke down the cost of making ourselves and compared it to what I would spend buying bread at the grocery store.  The results stunned me, because we were truly saving quite a bit of money. Bread isn't the only thing you can make yourself to save money on your grocery bill.
make your own soup or stock whenever you roast a chicken, turkey, or ham.
bake your own muffins
bake your cakes.  We really like this Crazy Cake recipe.
pies and cookies (depending on the kind of cookie and what's in season)
There are so many ideas out there for ways to save money, whether it's a the grocery store, while buying a house, or just in everyday life.  The key to finding a successful system for yourself is to not try it all, especially all at once.  Pick one place to start, and see how it goes.  I'm not a money expert, by any stretch of the imagination, I'm just a regular Jane who likes to make sure she's spending her funds as wisely as she can.
I would love to hear from you.  How do you save money on your groceries? Any tips or tricks you'd like to pass on?