Planner Printables for Kids
Planners aren't just for grown-ups! I know it might seem silly or strange, but kids really can benefit from having a planner of their own. When Teen was in kindergarten the school district he was in made it mandatory that all students be issued a planner. Now, I thought kindergarten was a little too early to start, and they didn't keep track of a whole lot in kindergarten. As the years went by they started using them for more and more things until the planner became a tool for them not just something I had to initial each night. I'm not sure if it's just our school district, but Liam's school doesn't do planners in the early grades. I want him to learn how to use this sort of tool early and even if I am the only crazy parent out there who feels this way, I thought I would be fun to make some planner printables for kids and share them here with all of you.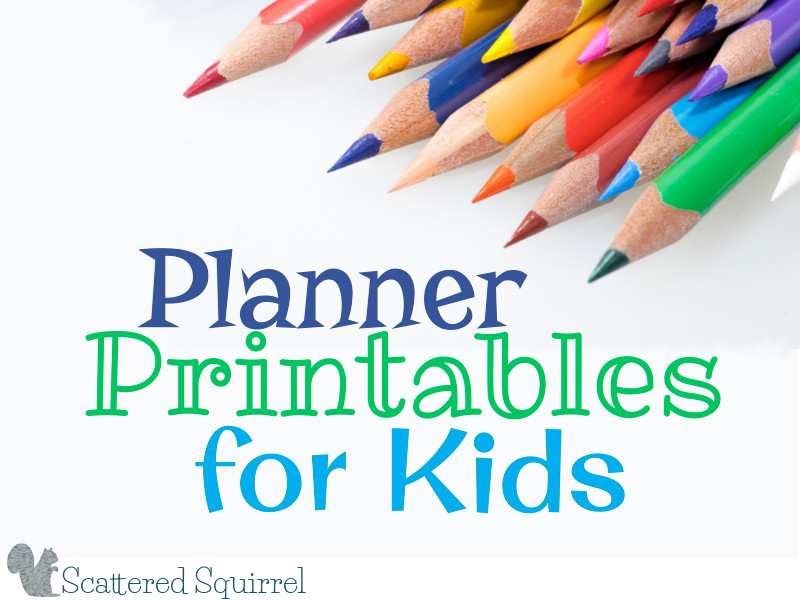 When it comes to leaning new skills or creating new routines, the best approach is often to take break it down into baby steps. Introducing the concept of planner to children is no different. You start them out using their planner for one or two things and as time goes on, bit by bit, you start adding to those. A basic planner is a great way to start teaching time management skills. The early we start learning new skills, the more ingrained and habitual they become and hopefully, the less our kids will have to work on them later in life.
Planner Printables for Kids
I am a big believer in teaching kids life skills early. Both my boys have helped out around the house since they were little with age appropriate chores, and they learn a little more about how to care for and clean a home each time I introduce them to a new chore. Time management is the same way. Last week I shared a kid friend to-do list printable, that I'm using to help Liam manage his own time for Spring Break. He's loving using it, and I'm enjoying watching him take ownership of his time a little more. It doesn't mean I'm not still creating activities and playing games or anything like that, but it's gotten him thinking about the things he's doing each day, and how to create time for the things he really wants to do. The next step, in my mind is to introduce a planner to him. He's almost 8, and I think he's more than ready to start learning about this tool and how he can use it.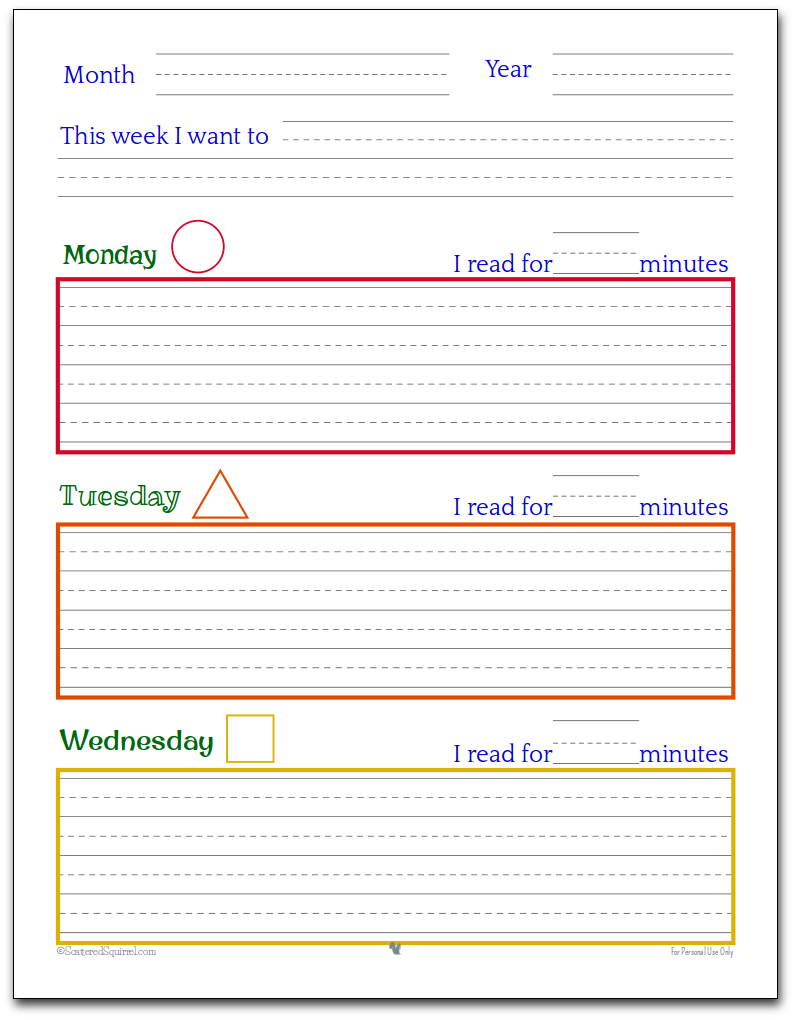 The key to teaching our kids about how to use a planner is no different from teaching them anything else, we just need keep it simple and try to make it fun for them. With that in mind I tried to keep the planner printables simple and easy for kids to use. The first page has room for them print the month and year at the top of the page. Underneath is room for them jot down what they want to do that week. This part is great for teaching kids about goal setting, and is a great opportunity to strike a conversation about how they think they can do that.
For example, your daughter writes down that she wants to have her best friend come over to play. You could ask her to think about what she needs to do to make that happen. Talk it out with her, I'm sure step one is to ask you if it's ok. What does she need to do next? Maybe she needs to choose a day? Ask her friend? It's just a conversation, but while you're talking you're teaching.
Each day of the week has a shape beside it so that the kiddos can mark down the date inside. Beside that (underneath for the weekends which you will see in a minute) is a space to log how much time was spent reading that day. We aim for 15-20 minutes per day as part of a school wide reading program, but you could choose to skip this part if you want.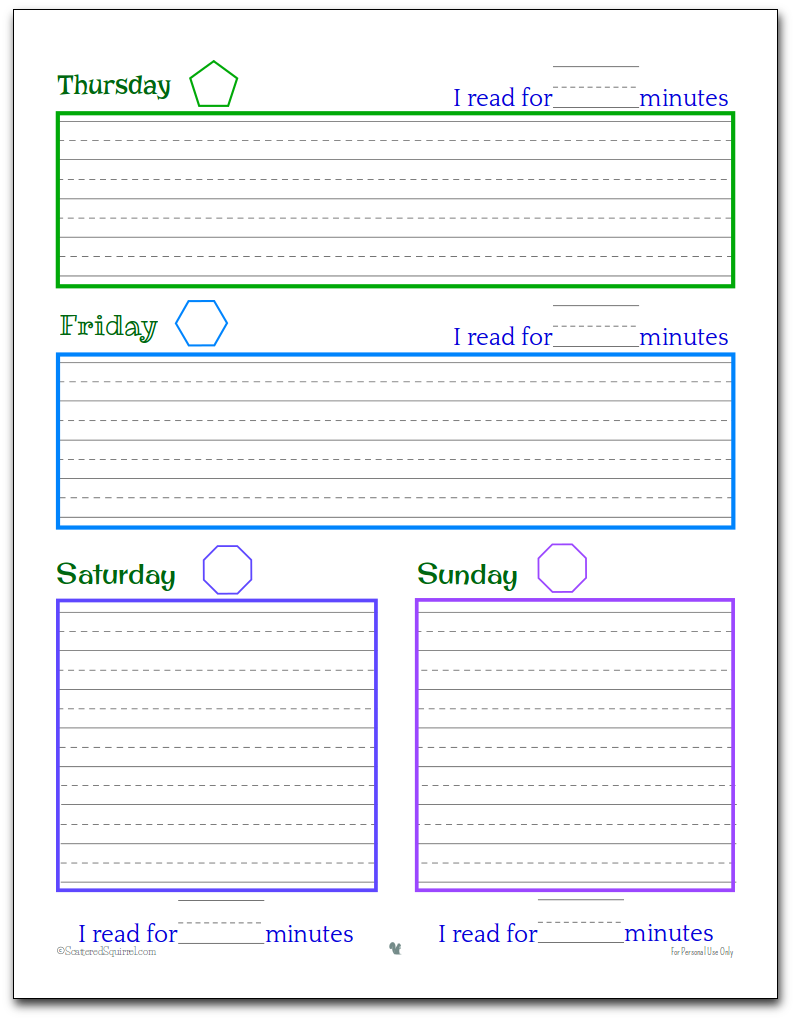 Next comes the boxes each day. How your kiddos use these sections is totally up to you. There are so many different things they could jot down to keep track of.
special days like birthdays
school spirit days
extra-curricular activities like sports, brownies, scouts, etc.
something that made them happy that day
reminders for things like library books or homework or show-and-tell days
something special that happened to them that day
something they want to remember like a special tv show or to check out a certain book from the library
How they use this space, or even if they use this space, is totally up to you and them. The point isn't to have them plan their days, it's just to get them thinking about planners and possibilities. Just like each of us use our planners in different ways and for different things, our children will use their planners for different things, especially when they are just starting out. It's important to remember that there are no wrong ways to use a planner. If you keep it simple, make it fun, and take small steps you'll be helping them build a strong foundation that they can build future time management skills on to.

Do you think your kiddos would like these planner printables? Would they have fun with a planner all their own?
~Happy Planning~
I'm linking up at these great places around the web.