Happy Wednesday!  I haven't done one of these in a while, so I thought it would be fun to do a new installment.  With Valentine's Day coming up, and everyone talking love and all things hearts I thought it would be fun to share with you 5 random memories from my wedding day.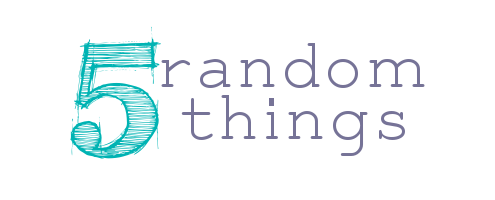 Wedding Edition
1.  My flower girls were my two little nieces who, at the time, were 17 1/2 months and 13 months old.  They were the sweetest little flower girls EVER!  The oldest went first and she did such a great job dropping her 'petals' it was so sweet to watch.  Then it was the youngest's turn, and she was very concerned with picking up the 'petals' and trying to give them back to the first.  It made all of us waiting in the wings chuckle to see.  I wouldn't trade those precious moments for anything!
2.  Liam was our ring bearer (yes we did things backwards) and during the ceremony he thought it would be fun to have a pillow fight with one of friend's little boys.  We almost had to hold a ring scavenger hunt!
3. My brother plays guitar, and he totally made my day by playing my favorite song (that he composed) for me as I walked down the aisle.
4. We had a fairly casual wedding, no big speeches or anything like that.  At one point though, I wanted to say thank you to everyone for being there and helping to make it a special day.  Not being one to normally give speeches, it took me a while to work up my courage.  I stood up, held up my FULL glass of pop, and tapped the spoon against it.  All I got was a dull clunk!  Of course at that moment everything I was going to say flew out of my head.  My lovely husband kindly clinked his glass for me, and then was left holding the ball for the speech because I just couldn't think of a word to say at that moment.
5.  I'm standing on the dance floor with my Dad for the father-daughter dance.  My Dad's friend was MCing this part of the evening, and he gets on the mic and says something about not having the song my Dad picked out.  I'm pretty sure I nearly gave myself whiplash, that's how fast I snapped my head around.  All I remember thinking "we only get to do this once and you don't have the right song!"  Due to the blood rushing to my head I missed what he said about the song he had in place of it.  My Mom and Dad wrote a song, and my Dad recorded it, for just that moment.  In fact he'd been up late the night before getting it all ready.  I still get teary eyed thinking about that moment, and I can't listen to that song without a tissue or twelve!  lol
6.  You didn't think I miss the most important one? Actually it's more like a million small moments. Entering the room and seeing Travis standing there, sharing smiles and glances as we listened to the ceremony, exchanging vows, exchanging rings, signing the register, our first kiss as man as wife, those precious moments after our minimal formal shots were done where it was just the two of us, ok the photographer was there too, but we had such fun enjoying that time to just be.  Our first dance, where we talked the whole time and it felt like it was just the two of us.  Every! Single! Moment! with him I treasure not just from our wedding day but from all the days and moments we've shared together.  I wouldn't trade a single one of them for anything!
Do you have memories that make you laugh?  Make you cry?  What do you think about most during the Valentine season?