Well, so much for my Monday-Wednesday-Friday posting goal, at least for this week.  I can't really complain or beat myself up about it too much because I had the best reason for not reaching it.  Travis's work schedule is 6 and 3, meaning he works 6 days and is off for 3.  This time around his days off fell Monday to Wednesday, his first set of weekday days off since school started.  And you know what?  We took full advantage of having three days to hang out and do the things we wanted to do without worrying about dragging the boys around with us.  It was F-A-N-T-A-S-T-I-C!
We so much fun just hanging out.  We did the grocery shopping, which was kind of boring, but one of those things that just needed to be done.  But aside from that we pretty much just window shopped.  We went to stores like Future Shop, and checked out all the different cameras (that was me) and printers (again, that was mainly me) and the new computers (that was Travis) we even spent some time playing around with the touchscreen all in ones, (not really something we can do with Liam around because, of course, he'd want to touch too!).
We went to Staples, and I actually got to check out the WHOLE store.  Price out some stuff for my office space and Travis's 'Man Cave' and drool over the Arc books.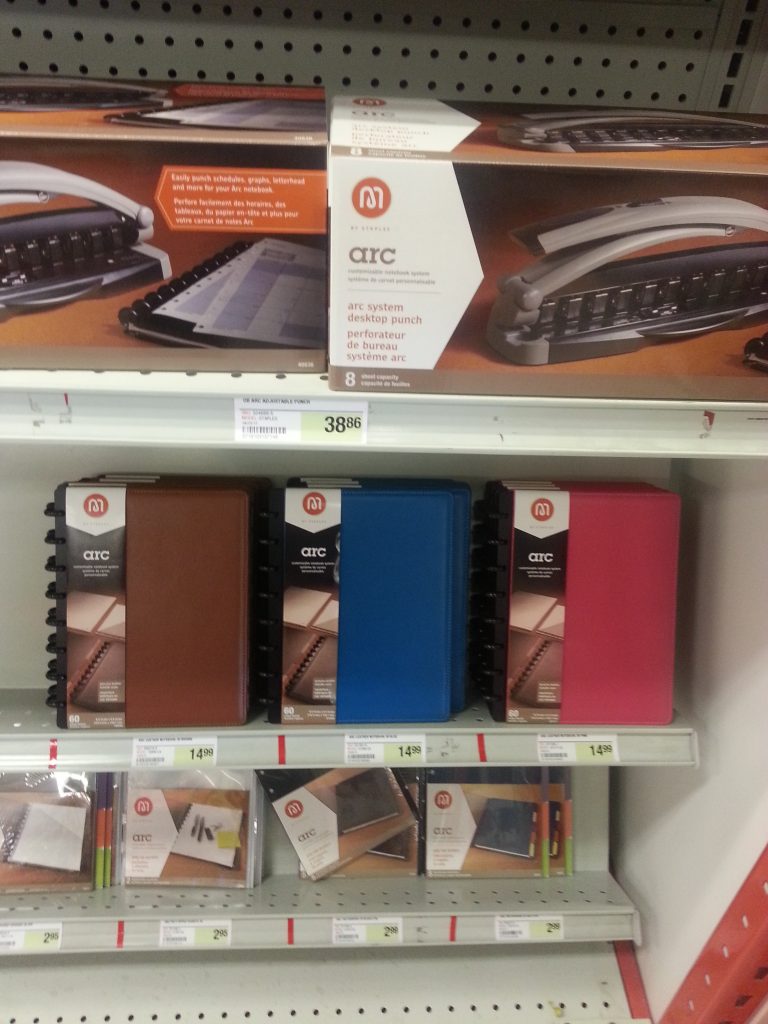 (Sorry about the fuzzy picture, I was using my phone)  The Arc system at Staples is at the top of my wish list, along with a good paper cutter.  I have been in love with the disc bound idea ever since I first saw the Circa Notebooks from levenger.com.  For me they are a match made in heaven!  While I love all the customizable options a binders offers, when it comes to my planners I much prefer a good coil bound book.  The Arc system blends those two together.  I absolutely LOVE it!  Wouldn't that gorgeous blue notebook make a great planner?
Aside from groceries, and a few small purchases, (like my new purple coffee mug, seen above, that I found at London Drugs, for $1.49), the two of us just had a lot of fun sans kids.  I absolutely love getting to spend some one on one time with my husband.  I love our boys dearly, and enjoy spending time with them too, but that one on one grown up time is such a treat!
So, while in a way I'm sorry I didn't meet my M-W-F goal, in many more ways I'm not.  And while I may not have anything witty or fun to share with you today, tomorrow is another story, and I will see you then!  (pssst:  I might have another half page printable to share tomorrow)
When you get time to spend one on one with you spouse or partner, what do you do?