DIY Notebook and Free Printables
Happy Monday!  I hope you all had a great weekend.  Did you get a chance to get out to some garage sales over the weekend?  We were busy with a friend's wedding this weekend, so we didn't get out to see any of the sales, but I thought I'd kick this week off by sharing a little project I whipped up a while ago.  This quick and simple project has helped to keep me focused while we're out shopping.  Whether it's a day of garage saling or just window shopping, having this little baby with me has really helped.
In my Home Management binder I have lists for items we need around the house.  They range from furniture items I would like to pick up over time, to smaller items such as lamps and craft supplies.  Having on spot for these lists is fabulous, but I rarely (actually I never) take my HMB shopping with me, so I kept another copy of the list in a small notebook that I keep in my purse.  Which is great and wonderful when the notebook is brand new, but over time I fill the notebook with other lists, and ideas and – well – notes!  Soon I have to replace to the notebook, and then I'm either re-writing the lists, or I'm paper clipping their pages into the notebook, and then they get lost or torn, and I end up rewriting them or forgetting about them … well you know how it goes.  I decided what I needed was a little booklet that was just for these sorts of lists.
Because it is garage sale season, and also because I tend to see 'possibilities' at garage sales, (possibilities as in "oh I know I can do something with that, especially for that price" which usually means it ends up in the donation pile in a few months.) I decide to  make it a double sided notebook.  One side is for Items Needed Around the House, and the other side is for Items to Look for at Garage Sales.  Here's the whole set.  Just click on the picture to snag a copy of the printables for yourself.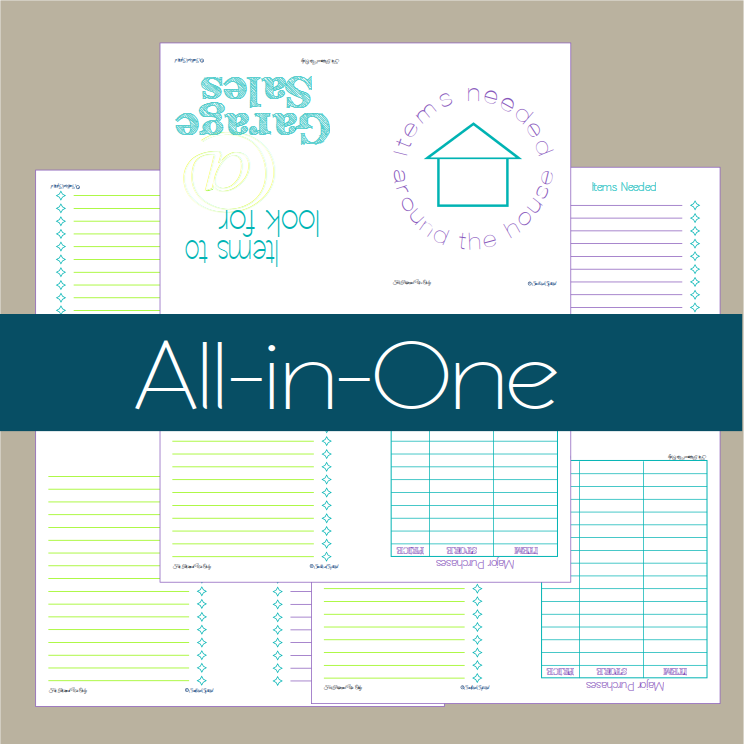 It's really a quick and easy project to put together.  It will probably take longer to read all this than it will to actually do the project.  For this project you will need the following:
printouts of the printables

ruler or bone folder
ribbon, string, large elastic, or even staples
scissors (for ribbon or string)
writing implement of your choice.
And here is how it goes together.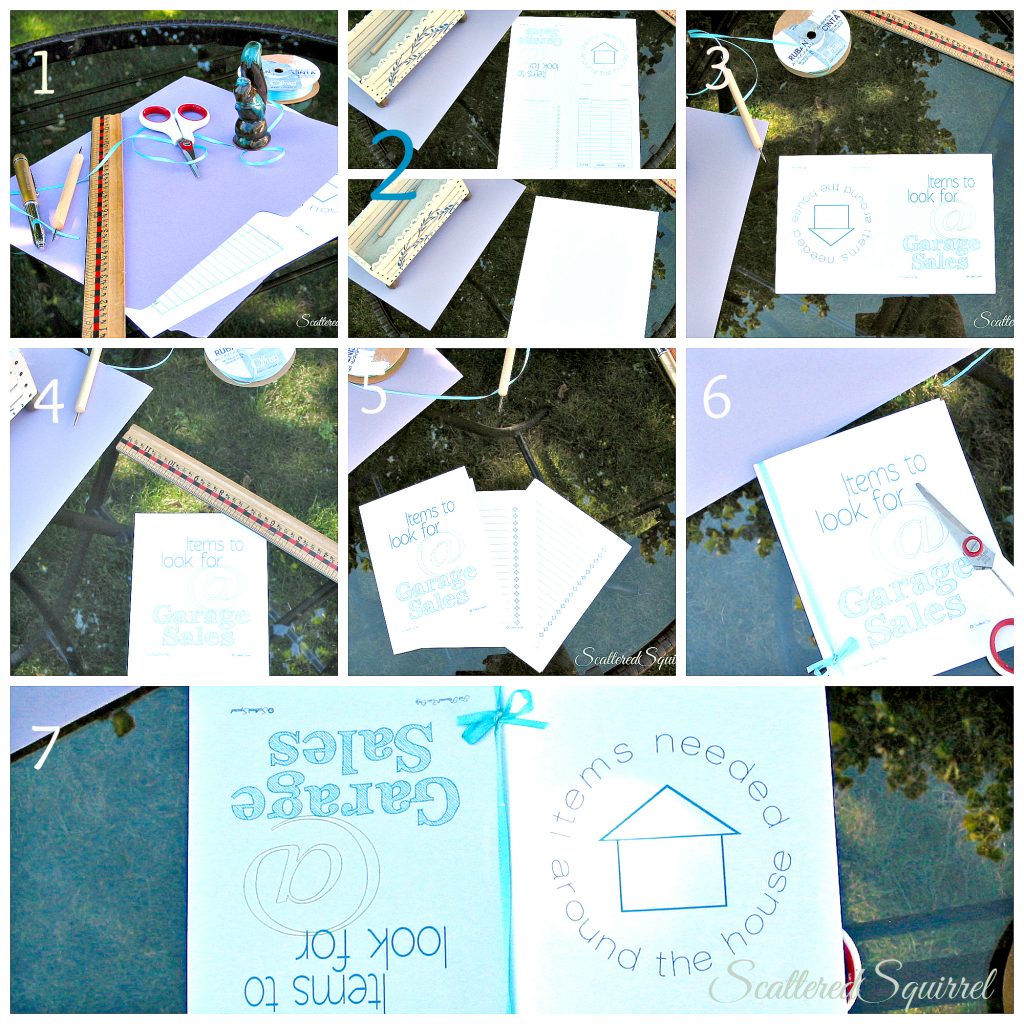 Gather your supplies
Grab one of the printable and flip it over.
Fold in half, short side to short side,  so that the printed side is face out.
Now fold in half again, short side to short side.  (It's just like you were folding a small card)
Repeat with the other two printables and nest them one inside the other with the title pages on the outside.
Now wrap your ribbon or string around the folded spine, leave enough length to tie it together, and cut it to size.  Knot or tie into a bow.  (If you're using staples staple along the fold line.)
And there you have it.  A dual sided, two-in-one notebook.
Now, you might notice one half is upside down, it's supposed to be.  To switch from one book to the next, you simply flip it upside down and over.
Here are the individual pages if you would like to pick and choose which ones you want.  As always, click the pictures to down load the files.
So what do you think?  Quick, easy, and best of all I always have the lists of items that we're currently needing or wanting.
Do you go garage saling?  What is your favorite thing to look for?  And if you don't shop the garage sales, what's your favorite place to shop for odds and ends?