What Comes Next on Our Time Management Journey?
Whew, we made it!
Over the last 31 days, we've on gone a time management journey to reclaim our life or at least take back our time. We tackled everything from routine building to making sure you plan time in your week for fun stuff.
Just because the series is over doesn't mean the journey is at an end. Let's take a look at what comes next.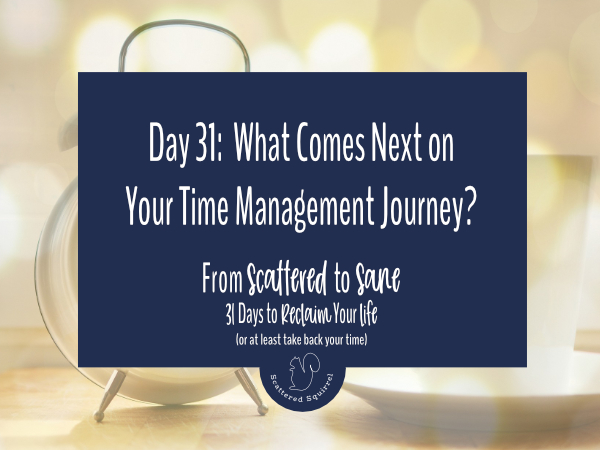 Our time management journey isn't over yet!
Throughout the From Scattered to Sane series, I've shared the strategies and tips that have worked well for me. They are the things I come back to and revisit whenever I need to tweak or change my system to keep it working for me.
Now that we're at the end of the month you're probably wondering what comes next?
Continuing Your Time Management Journey
Creating new routines and forming new habits take time. It's a deeply personal process that doesn't look the same for each person. Each of us have our own strenghts and weakness that help or hinder the process.
Whenever I reach the end of going through this system for myself I have found that there are typically three different directions I can take.
Call It Done
Keep Going
Start Fresh
Sometimes it's hard to know which one to pick, but generally you'll know which one is right for you by how you feel.
Call It Done
We kicked off this series by choosing a life area to focus on. Then we spent time figuring out what things or tasks we needed to do each day and each week and narrowing those down to our top three for each.
Sometimes, that one life area is the only one we needed to sort out. Or it might have a ripple effect that helped bring other life areas under control too. Whatever the reason, if you're feeling confident in what you've accomplished and like your new routines are really working for you, then you might decided to call it done.
You've gotten what you needed from this series. It'll always be here if you decided you need to come back. For now, your time management journey is taking you in a different direction.
Keep Going
As I said above, every person's time management journey looks different. Many times, one month is not long enough to feel like your new routines are really working. Maybe you need a little more time to really solidify them.
Or perhaps, like me, you realized that your first choice for your top three daily tasks weren't the right ones for that life area and so you changed them part way through.
Maybe you'd like some more time to focus on that one life area until you're confident that your system is working really well for you.
Then keep going. Keep focusing on those daily and weekly top three. Don't worry about changing or adding anything to them right now. Sometimes I need two or three months of focusing on one area to really feel like it's working for me. There's nothing wrong with needing more time.
Start Fresh
This last direction is where the system really starts to grow and help you reclaim your time. If you feel like you've gotten to where you need to be in the life area you chose to focus on and you're finding this system helpful, start it again!
Pick a new life area. Narrow down your top three daily and weekly tasks, and begin working on creating new routines.
If you choose this direction, one of the things you'll notice is how things really start to come together across different areas of you life. Three things in each area can really add up.
As you continue to build these foundation routines in different areas of your life you'll find that even when life gets really chaotic, you won't feel as lost. At least that's been my experience.
Extend It
This one might not apply to every life area, which is why it didn't make the list up top. But it is an option. You can take everything you learned in the From Scattered to Sane series and extend it out.
Choose your top three monthly tasks, quarterly tasks, and even yearly tasks. I've found this works really well with my home and work categories. Those monthly, quarterly, and yearly cleaning or maintenance tasks that absolutely need to get done around the home, like cleaning out the fridge, clearing the rain gutters, checking smoke alarm batteries and the like.
Picking the most important things and making it a priority to get them done in each time period really helps me to feel less like I have too much to do and more in control of how I'm spending my time.
Before You Go
Time is our most precious commodity. Once it's gone we cannot get it back. Moreover, we cannot generate more if we need it. It's a finite resource and each of us is given the same amount each day.
Making the most of that time looks different for all of us. It changes with the seasons of where our lives are at. What really truly matters is that you find what works best for you and if it stops working change it up and find your new way.
I said it at the very beginning of this series and it remains true to this very day:
I am walking this path right along side you. You are not alone.
Whether you decide this series has served its purpose for you or you choose to keep going or tackle a new life area, I wish you all the best on your time management journey. And I can't wait to hear how it's working out for you.
Let's Keep the Conversation Going
Just because this series has come to an end, doesn't mean the conversation has to stop. Feel free to drop a line in the comments below with any questions, insights, tips, or ideas. Or come on over and join the Facebook group and start a conversation over there.