My Top 5 Favourite Organizing Resources
Finding ways to organize my home is not something that came naturally to me at first. It's be a long road of trial and error, figuring out how to make things work for my family. Over the years I've found a few organizing resources that I find myself visiting over and over again.
Finding good organizing resources will make your organizing journey so much easier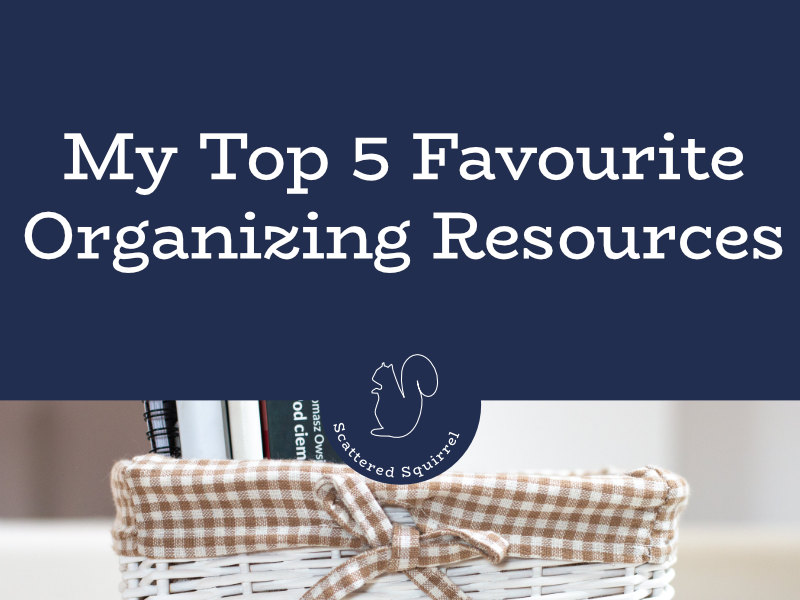 This post contains affiliate links. We may earn a commission for purchases made through these links. See our disclosure policy for more details.
My Favourite Organizing Resources
When I'm in need of organizing tips, inspiration, tough love, or motivation I find myself turning to the same resources time and time again. These bloggers, vloggers, and authors have made such a positive impact in my organizing journey. I hope you find them as helpful as I have.
Org Junkie
When I first started my organizing journey, Laura's site, I'm an Organizing Junkie, was one of the first I came across. She doesn't know it, but her site changed my life!
Laura's advice is always practical and easy to implement. When I was feeling overwhelmed by what felt like a monumental task her tips and suggestions made me feel like I could master organizing our home.
Every time I go there I find something new to inspire me to keep on going, like her Menu Plan Monday link party. There are always so many great ideas in the link party. Yummy recipes and easy to make recipes – it's been a huge source of inspiration for this girl who doesn't really like to cook.
If you're just starting your own organizing journey or are looking for something to give you a quick boost, you should check out her book – Clutter Rehab. In it she shares 101 quick and easy tips and projects to make getting organized as easy as possible. I found so many good ideas in her book and I still pull it out from time to time when I need a little boost.
I Heart Organizing
One of my favourite things about Jen's site, I Heart Organizing, is how her blog has changed as her home has. She's a naturally organized person who has a passion for organizing and making functional pieces look beautiful. Her joy in doing these things is infectious, even through the screen.
The thing I love most about her blog is how she slowed down on organizing projects as they found what worked best for their home and family. She still shares tons of ideas, but there is something so encouraging about seeing how her need to organize has changed. It gives me hope that I'll get to that point too.
From Overwhelmed to Organized
I could probably write a whole blog post about Hilda and her awesome site, From Overwhelmed to Organized. Not only does she offer wonderful advice and encouragement, but she's also a friend who I admire and respect.
Whenever I'm stuck, especially when I know I need to declutter before moving forward, I head on over to her site. She has a wonderful, gentle approach to decluttering that always leaves me feeling like I can totally do it! I leave her site actually feeling excited to declutter.
In addition to her site, Hilda also runs an amazing Facebook group, 365 Items in 365 Days. The group started out as part of a challenge, find one item to declutter every day for the year. Now it's grown beyond that initial challenge and in addition to encouraging everyone to declutter one item at a time, Hilda also runs mini challenges periodically throughout the year. All of them designed to make decluttering easier.
Her group is made up of wonderful women who are always ready to cheer you on, encourage you, offer advice, and share their own struggles and triumphs. I've been a member since the very beginning and I've watched this community grow and become the wonderful haven that it is today. If you're looking for people to talk to about your organizing journey, I urge you to check it out.
ClutterBug Me
Cass from Clutterbug Me is a hoot! She makes things like cleaning and organizing seem like so much fun. I first found her videos on YouTube a few years ago and I was hooked after the first few. She's bubbly and energetic and so very relatable. I find myself feeling energized after watching her videos and motivated to tackle some project around the house.
She has a very unique approach to helping people understand their organizing style. On her site there is a quiz you can take to find out what kind of clutterbug/organizer your personality fits. Then she offers a ton of different ideas for how to organize your spaces in a way that will work for you and be easy for you to maintain. I'm a lady bug for the most part, though there are some things I tend to organize like a bee.
Her book, From Cluttered Mess to Organized Success, was awesome. If you are the kind of person who enjoys working through things in a workbook style, you have to check out this book. I loved how she included worksheets to help make organizing and staying organized easier.
Check out her book here. She also has a few other ones, but I haven't had a chance to read them all yet.
A Slob Comes Clean
The first time I stumbled across the site A Slob Comes Clean I felt like I had found a kindred spirit. Dana didn't just talk about her organize journey and struggle with clutter, she opened her home and shared it all with her readers – the good, the bad, and the ugly. And I found it so inspirational. Here was a woman who totally, for sure, knew what I was dealing with. She had the same piles in her home that I had in mine. Through her posts I felt like I found someone who was speaking right to me.
That realism and raw honesty extended past the pictures and posts into her podcast. Fun fact – her podcast was one of the first podcasts I ever listened too. Her encouragement and advice spoke to the part of me who felt like such a failure for not having everything together and helped me see that I could get there in time.
Her approach to decluttering is different from what most organizers suggest. She doesn't like to make piles, instead she suggests that you put things away, right away, when you can. For example – you're decluttering your desk and you find an unopened tube of toothpaste. You get up and put it in the bathroom right away. This way, if you have to stop part way through you're not left with a bunch of piles waiting for your attention. If that sounds like something that might fit your personality, check out her book, How to Manage Your Home Without Losing Your Mind. It's one my all time favourite home care books and one I refer to at least on a monthly basis. It has a had a huge impact on how I manage our home.
Check out How to Manage Your Home by clicking here.
When we start to declutter and organize our homes it can feel overwhelming and lonely at times. Finding good resources that you can turn to, not just for advice, but for camaraderie from people who have been where you are, can be so helpful. I hope you find these organizing resources as encouraging, inspiring, and motivating as I have.
Are you working to organize your home? What's your biggest challenge or struggle right now? Drop me a line in the comments below and let's keep the conversation going.