Education Conundrum: Figuring Out Where we go from Here
Well, it's now the 3rd of September and there is no end of summer vacation in sight.  Talks between the teacher's union the employer are not going well, and no-one seems to know when the school year will start.  To me, it sounds like the government is prepared to go months, which isn't very encouraging.  I mentioned in June, and I think it bares saying again:  I support BC's Teachers.   However, that doesn't change the fact that we, as a family are facing an education conundrum.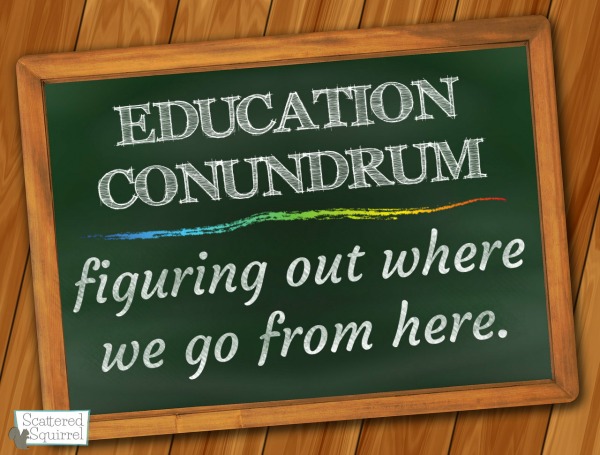 I feel so lost right now.  With one boy in highschool and one in elementary school my worries seems to go from one extreme to the other.  I worry about what this school year will look like for our Teen.  We're on the semester system, so each week missed is a lot of work to make up.  I worry about what it mean for finals, and for his summer vacation next year.  My only comfort is that he's going into grade 11 not 12.  And then my heart breaks when I think of the stress and worry our grade 12 students must be feeling right now.
As for Mr. Liam, he's never been super excited for school, so he's content to just enjoy this break.  I, on the other hand, have come to the realization that this stalemate isn't going to be resolved soon, and I need to figure out how to bring learning into our every day lives, more than what we already do.  I know I need to create some more structure to our days, because whether school is in session or not, summer vacation is over and it is time for more routines.
We're currently looking into homeschool options to help us bridge the gap between now and whenever school is back in session.  I'm utilizing Pam's book, Plan Your Year and my friend Sheila recently shared some awesome Study Units: Pirate Games and Pirate Ships that I think will a fun way to start this homeschooling adventure.  I think Liam will have fun with these, and I hope beyond hope that I have the ability to make learning fun for him.  Our Teen has asked to be given time to see how this stalemate plays out.  He's only worried about one of his courses, which is French, so we've looked into online language classes for him and if this continues past next week he'll start working on those.
While we figure out how to navigate these new, uncharted, homeschooling waters I'm going to take a mini break and will not have another post this week.  On top of school stuff, we have also have a pretty big birthday coming up…. my oldest is turning 16,  *sniff sniff* and I don't want the schooling issue to take away from his big day.  So, I will be back here on Monday, and you can always find me over on the Facebook page, Pintersest, and if I ever figure it out, on Instagram too.
I could really use your help.  If you're a homeschooler, or know someone who is, I would love some advice on how to get started.  What worked for you?  What didn't work?  If you're a teacher, what would you recommend I focus on first with my 2nd grader?