Day 5: Pantry Organization
It's finally done!  So, yesterday I worried that organizing the pantry and trying to get the post for it done on the same day would be too time consuming.  Well, turns out I wasn't meant to get this post done on time anyway.  My computer decided it didn't want me to be able to edit photos.  Every time I opened Gimp my poor computer would freeze right up.  So I decide to try Pic Monkey, and then my browser decided it didn't want to let me do anything either.  After fighting with it and fighting with it, and fighting with it some more, my lovely husband came to my rescue by giving me his computer.  Which meant, transferring files and loading programs and all that fun stuff.  And now without further ado, I give you Day 5.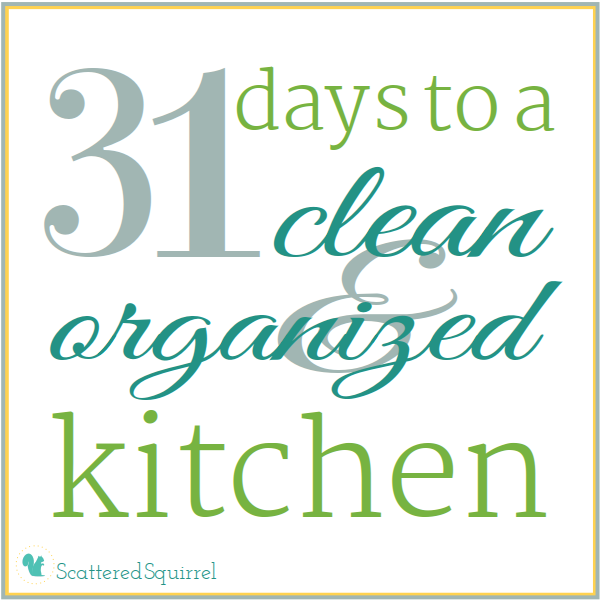 Happy Weekend everyone!  Welcome to Day 5 of this 31 Days series.  If you're just joining us you can check out the other posts over on my 31 days page.  Don't forget to hop on over to Day 1 and request your personalized copy of the cover page.
So, we're moving away from the prepping part of this series and diving into some organizing.  Today is pantry day!  The kitchen is the heart of many a home, and I believe that the pantry is one of the hardest working areas in the kitchen.  If you think about it, you and your family members are in and out of that space many times through out the day.  Breakfast, lunch and dinner, possibly snack times too.  It is easy for this space not just to get disorganized, but to get a little messy too.  So before you begin to pull everything out of your pantry area, here's a few things you might want to collect first.
vacuum cleaner
all-purpose cleaner
rags
garbage bag
recycle bin
any storage containers or baskets you want to use in this space
All right, now we're ready!  First up the before picture, (excuse while I go hide my head under the covers and pretend that this is NOT what my pantry looked like)  In all fairness, I haven't touched the pantry since I first organized it, (more on that in this post)  and then when Travis started organizing the kitchen, I told him to use the pantry as a sort of stop-gap place for items he didn't have a home for yet.  Since I knew I was going to be organizing the pantry, this didn't bug me.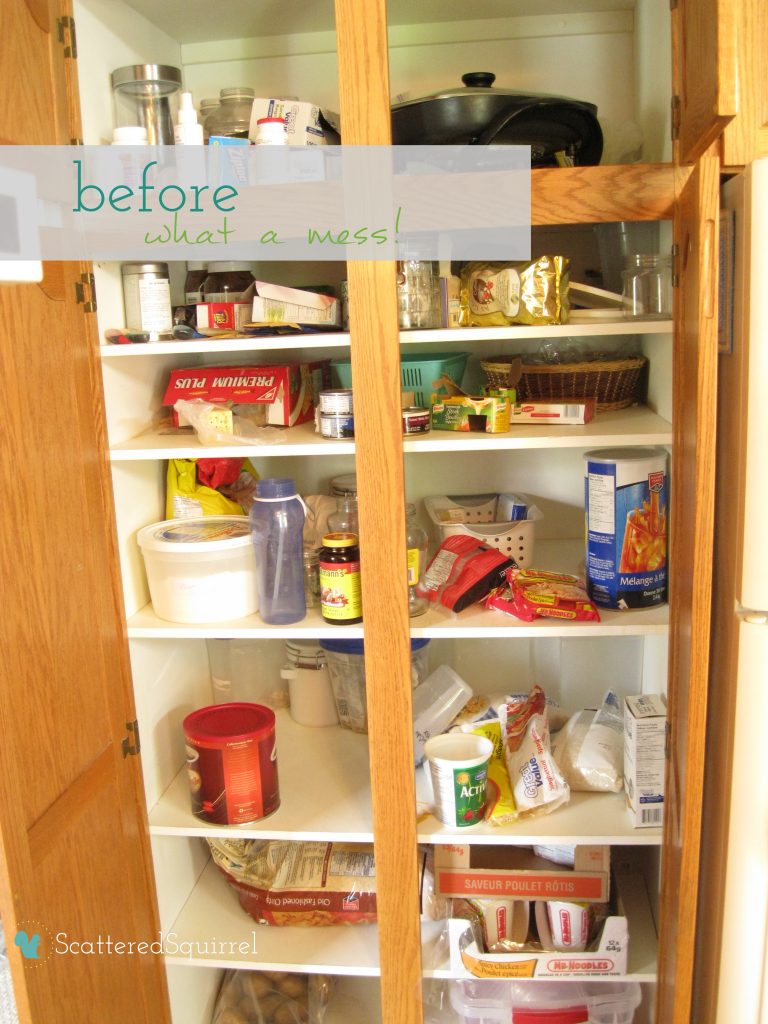 Believe it or not, the entire project, including emptying it, cleaning it, covering a few boxes in shelf liner and putting everything back took me about an hour.  It was a much quicker project than I thought it would be, and the end results have me opening my pantry to oooh and ahhh over it.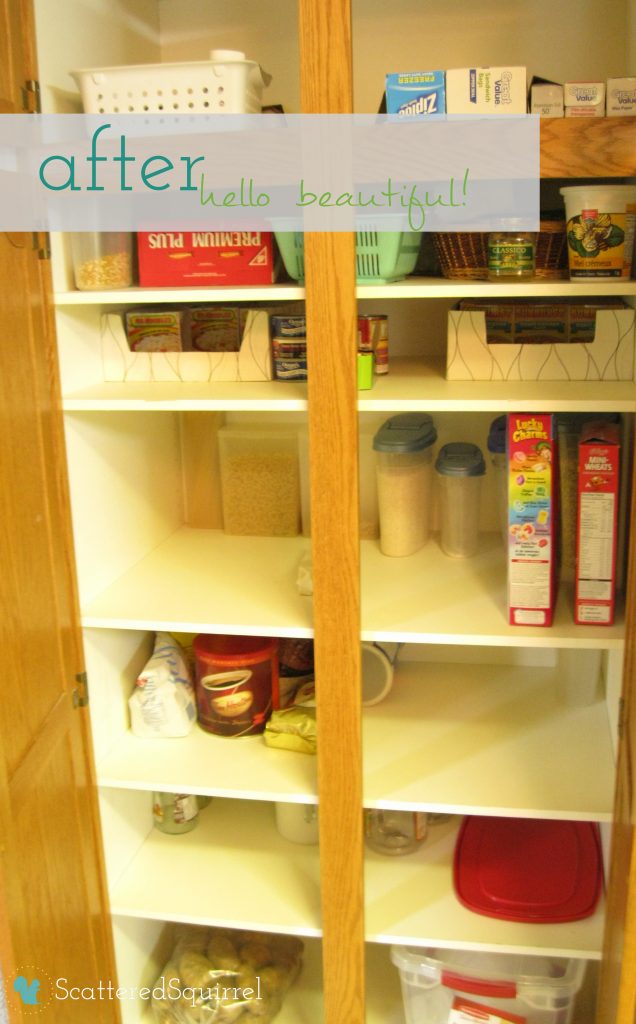 Ok, here's where I insert tip number one:
If you know you're going to be organizing your pantry, plan it for as close to grocery shopping day as possible.  This way you have less to pull out and put back.  Just be sure to remember that you will be adding more into the pantry after shopping day and allocate some space for those items.
This top shelf was the last to be done.  It holds medicine and vitamins on the left, with extra light bulbs in behind.  On the right is where I'm storing freezer bags, Saran wrap, aluminum foil, etc…  I'm on the hunt for a basket for that stuff.  (I put that basket along with rough measurements on my Kitchen Lists printable)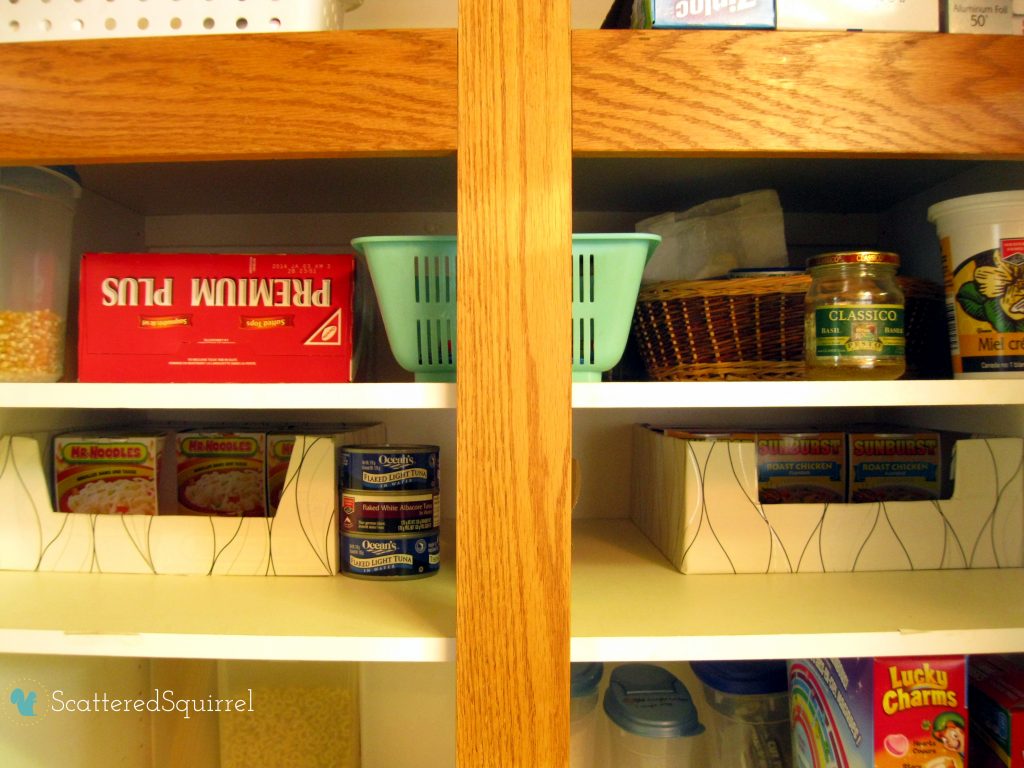 Moving down, we're into the main part of the pantry.  I have it loosely organized with snacks on the top left, and spreads and teas on the right.  Here is soups and canned goods.  Those are the two boxes I covered with shelf paper.  They fit the shelves well and if we like how the work I might recover them with wall paper to make them sturdier.  Between the two I have canned soups and meats like tuna.  We don't buy much canned food so it doesn't need as much room.  Here's another tip:
Save yourself some money and use items you already have on hand.  You can make them pretty by dressing them up with shelf paper, wall paper, paint, whatever your creativity tells you too.  Function needs to come before form, or it just won't hold up.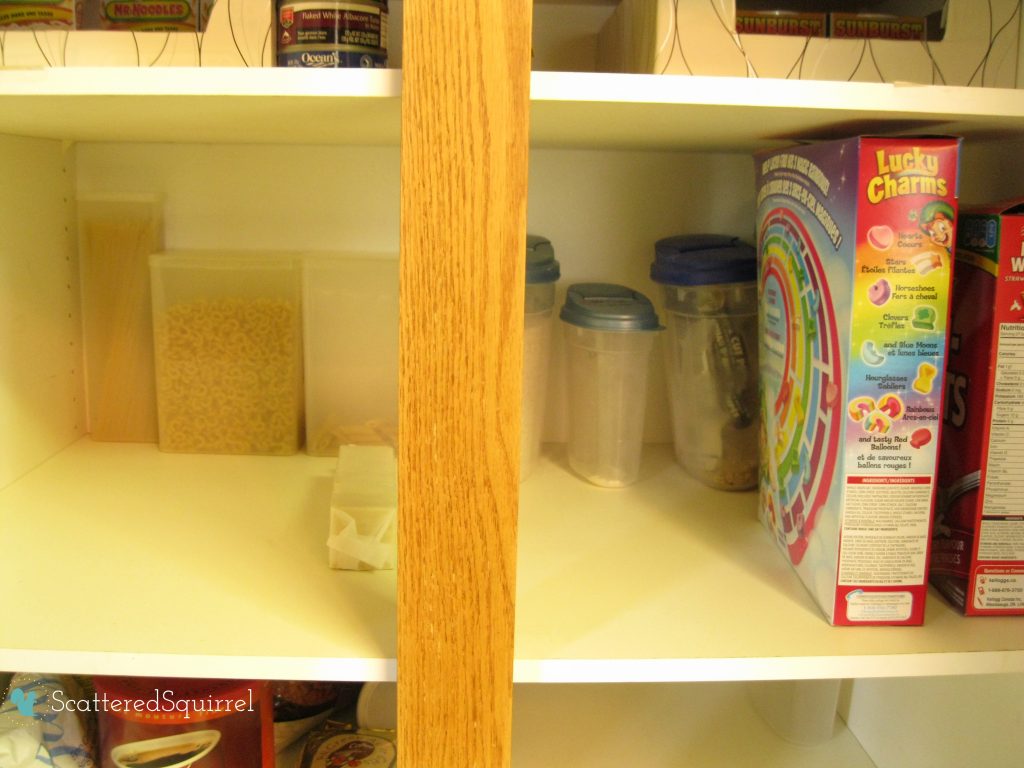 Here we have side dishes on one side and breakfast foods on the other.  I pushed the pastas and rice to the very back to show you just how deep these shelves are.  It is easy to lose things back there.  (yes, I feed my children sugary cereal at times)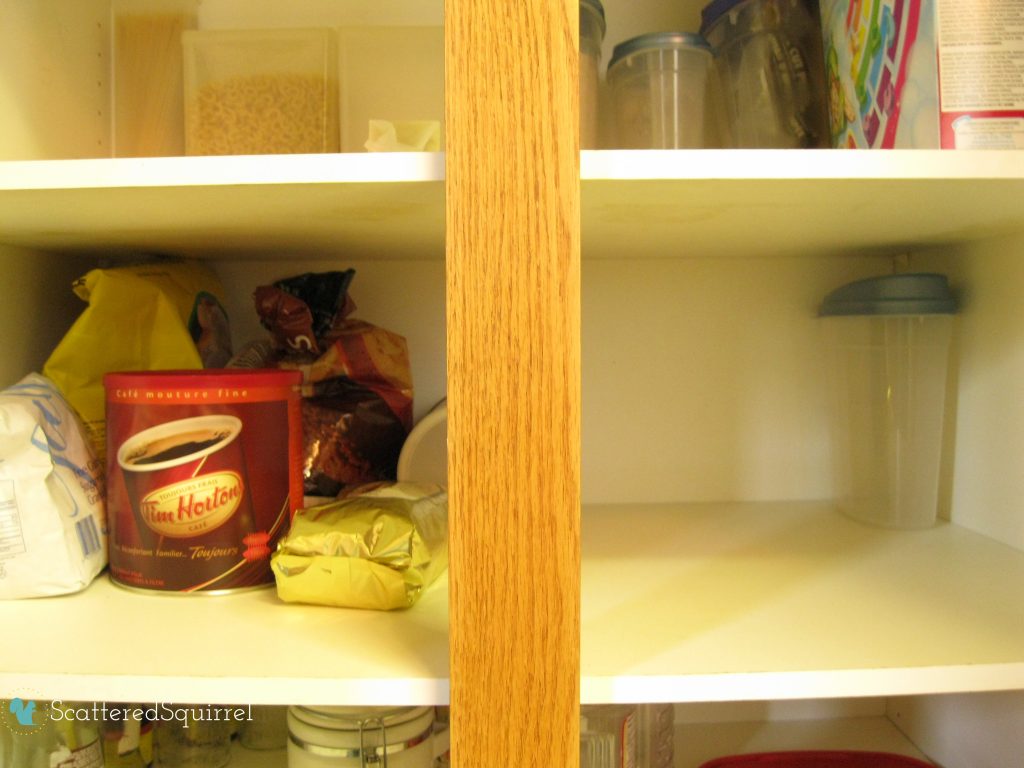 The next two shelves are new additions.  Not that the shelves are new, just their uses.  Because of how Travis organized other parts of the kitchen I had some free space here in the pantry.  This shelf is for all the overflow items.  Flour, sugar, oats, coffee, anything that doesn't fit into the smaller, more user friendly containers we have it in.
If you purchase in bulk or large quantities, having canisters or other containers to hold smaller amounts can be really handy for keeping the items near when you need or use them most.  For example:  You purchase a large tin of coffee, but there isn't room for it near your coffee maker.  Consider putting some in a canister or other container that there is room for, and store the excess in your pantry.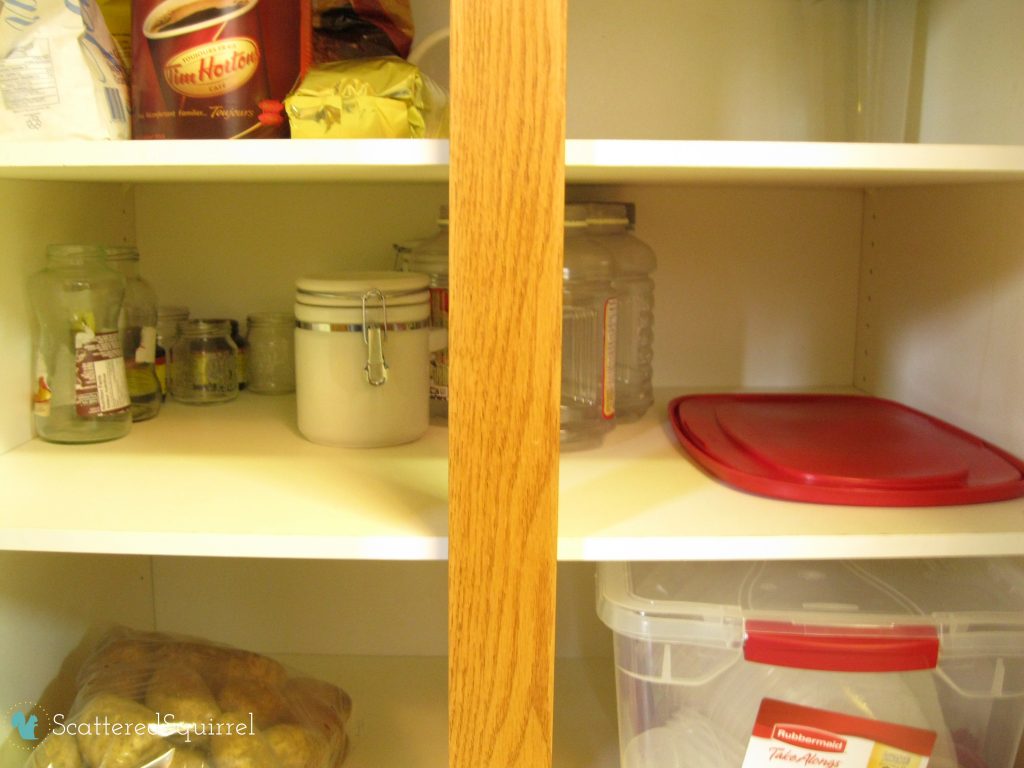 This shelf is for all those containers and jars that I've been collecting for other uses.  They now have a home on one shelf in the pantry.  Along with our other extra canisters and containers.  This gives me a defined area for storing these items and it gives me some boundaries.  When the shelf is full it's time to sort and toss.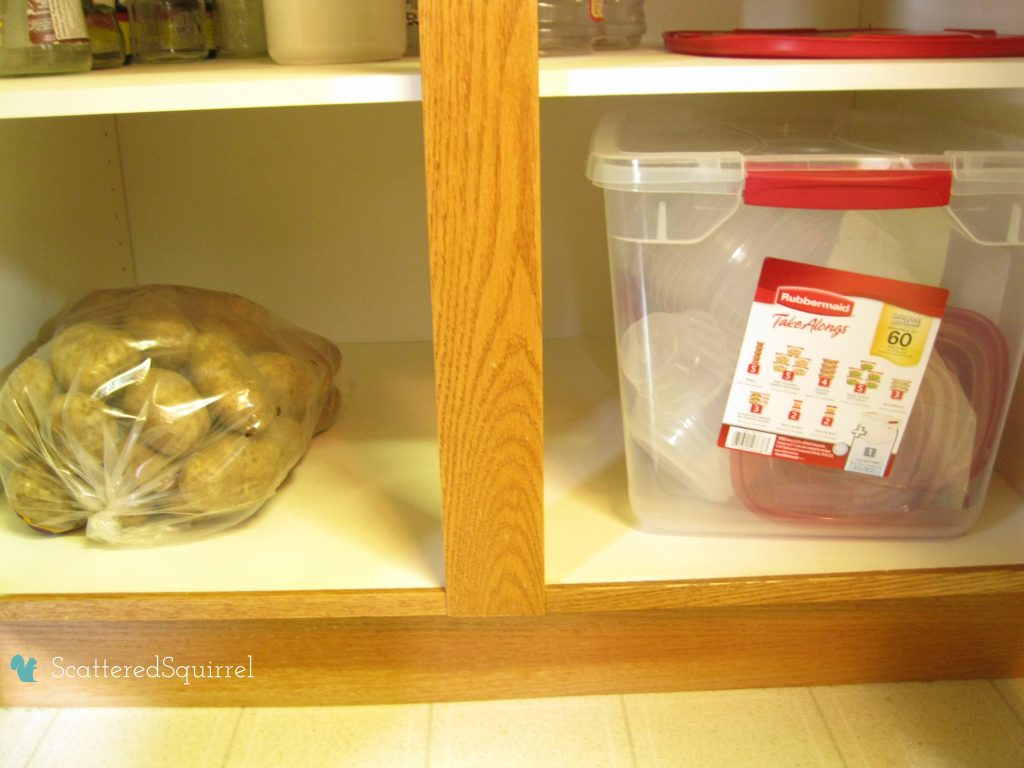 And this one needs no explaination, except for this.  Last year I went out and stocked up on great lunch containers and most of them got lost.  So when I saw this set on sale at Wal-Mart for $10 I jumped all over it.  If they container don't last the whole school year I won't be crying over the fact.
And there you have it.  My pantry. Which makes me oh so happy now.  It's still not one hundred percent finished.  Here are some items still left to figure out.
labels: for the shelves
baskets to help make the most use of the space.
hang up some 3M hooks to keep my inventory and shopping lists on the door.
hang a small broom brush and dust pan on the door to deal with little spills quickly
So, are you ready to go tackle your pantry or food storage areas?  Do you have any MUST have items or tips for organizing your pantry and better yet, keeping it organized?