Back to School Cleaning and a Free Printable
I don't know about you, but summer has kind of kicked my butt when it comes to my cleaning routine.  Let's face it, there are so many other, more fun, things to be doing than cleaning the house.  With September just around the corner, I know I need to get this straightened out.  In many ways, the start of the new school year is like the start of the calendar year, in that, it is a great time to evaluate and make changes to all sorts of things.  Because we're already focusing on getting the kids ready for their school year routines, tweaking and adjusting household routines now, makes a certain sense.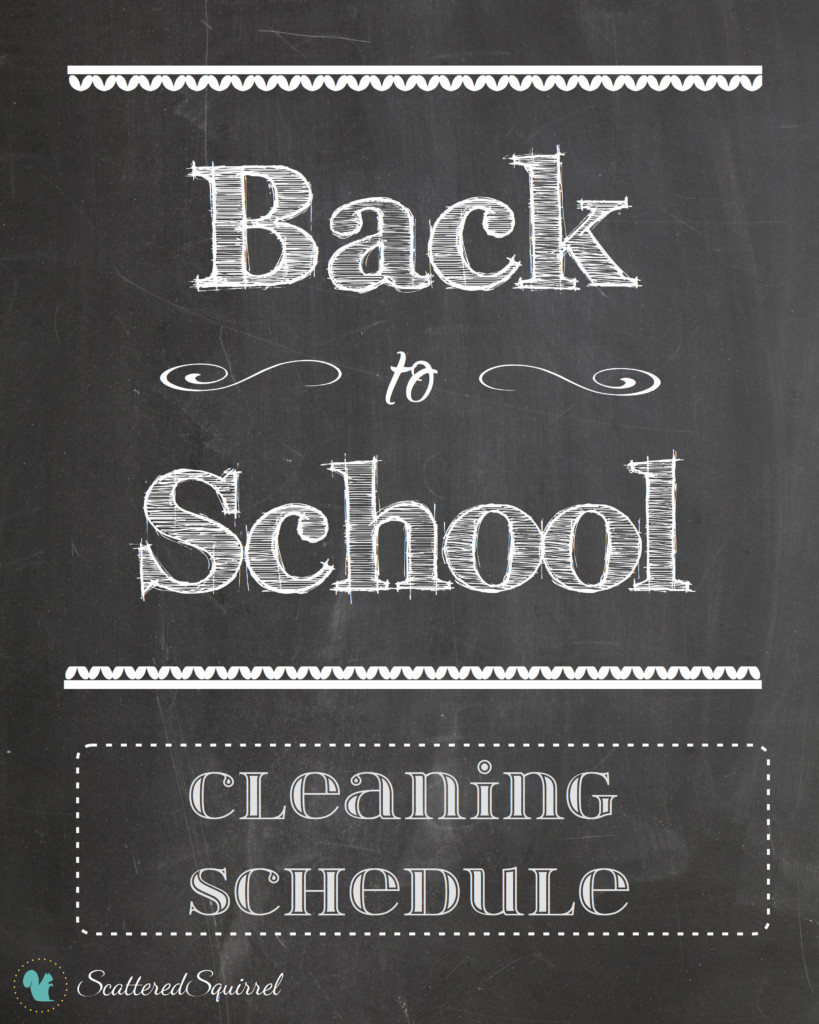 I know for me and my family, we've had a pretty laid back summer with routines and schedules being very relaxed.  For the most part, it's been great, but there have been some unexpected eye openers and so, with the new school year almost here, bringing with it the need for more structured routines, I'm embracing the times and changing our family's cleaning schedule.
We've been in our new home for a year now.  (Yeah, crazy as it sounds, it's been a whole year!)  Over this past year I have really struggled with nailing down a cleaning schedule, or system that will work here.  In our old home, I had my system down to the point where I hardly had to think about it … until I changed it because I thought I had found a better way of doing things, but that's a whole other story.  It's been frustrating not being able to just take what worked there and use it here.  And there are days where I feel like I've totally failed in my role as homemaker.  I need to keep reminding myself that it took me three years to fine tune my system up north, and that all things take time.  Trial and error is a part of life, and it is not failing to have one thing not work, as long as I seek out a new way to try.
Added into all the craziness of back to school, is the fact that I'm going back to work.  We're still not sure if I'm going to be working outside the home or inside the home, but both present their own challenges to overcome in the house cleaning department.  If I'm working away from home, I'm not at home to do the cleaning.  If I'm working at home, I can't really afford to have my attention divided between the housework and my work work.  Either way I look at it, I have to start being more diligent about delegating some of the household chores, and I'm going to have to stop feeling guilty for doing so.  To help, I made up this printable.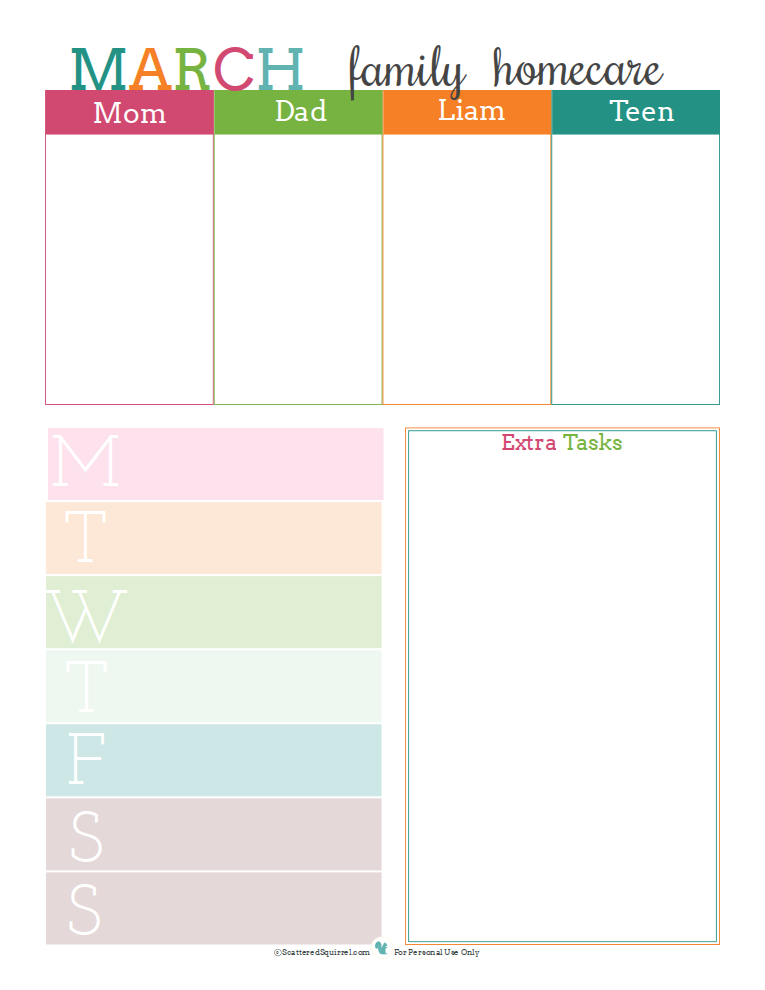 I created this little baby to help me get us going.   I'm using the top sections as a place to keep track of daily items that need to be done, and to assign the tasks to different family members.  The top part is the really critical part.  Because the main floor is where all the family rooms are, (kitchen, dining room, living room, etc…) it gets the most use and needs the most attention.   The goal is to make sure all the rooms are tidied up at the end of the day.  If the rooms are already tidy then we can give them a quick dusting or vacuum instead of tidying.  I'm hoping that doing it this way will keep the downstairs in check.
Under the family section I have a spot for weekly jobs.  I divided up the rest of the housework and assigned each job/room to a day of the week.  Leaving a day for catch up in the there.  To the side of the weekly schedule, I have a space for extra tasks.  These are things that need to be done, but that I can get away with not doing weekly.  I can add these in as and when I have time, or on catch up day if I'm all caught up.  Here's what it looks like all filled out.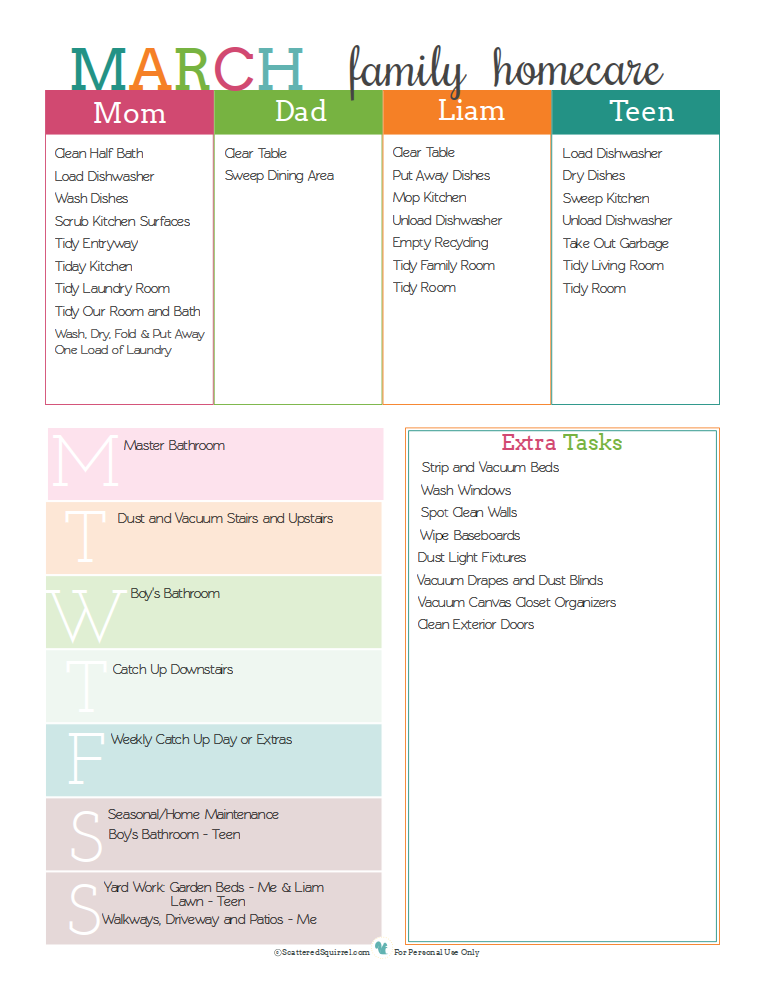 Ok, so the first thing you probably noticed was that Travis doesn't have much to do.  He works long, odd hours, sometimes he's home in the evening for dinner and sometimes he's not.  Sometimes he's home but he's sleeping.  12 hour shifts are brutal, and to make it worse his schedule isn't really nights and days, it's more like morning to afternoon for one week and then afternoon to morning for the next.  BRUTAL!  He helps out when he can, and if I'm feeling behind or overwhelmed he's always there to lend me a hand.  It just works better this way.
Today is the first day of using the new schedule, and I'm excited to see how it works.  I know I may have to add a little more into my weekly tasks, but on the whole, I have a really good feeling about this one.  If nothing else, it will give me a solid base to grow from, and what more could a girl ask for?
Oh and don't think I forgot all of you.  I made a blank version of the printable for anyone who might like to have it.  As always just click the picture to snag your copy.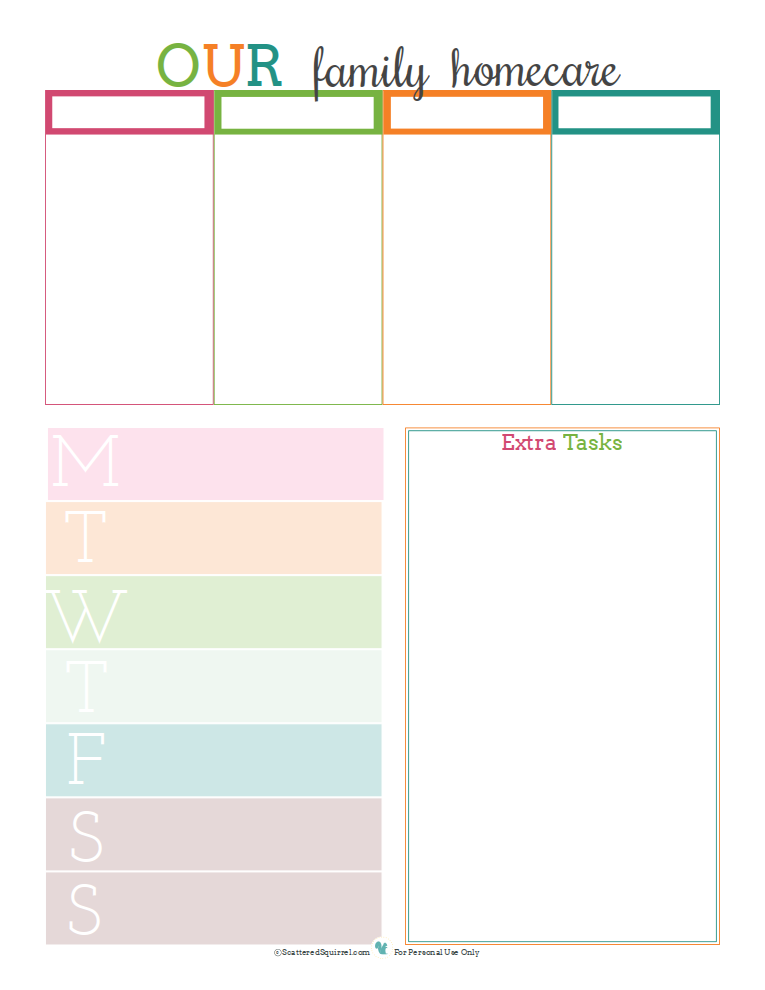 I hope you all are enjoying the end of the summer, and if you are one of those for whom the school year has started again, I hope the first days were awesome for you. And thank you again for being a part of this little blog!
When it comes to dividing up the chores do you ever feel guilty asking your kid/kids to do things you know you could just as easily do?  Does anyone else find it tough to create a good cleaning routine?
Linking up at these great places:  Give Me the Goods Link Party, New Nostalgia, Sugar Bee Crafts, A Bowl Full of Lemons, My Uncommon Slice of Suburbia, The DIY Dreamer,