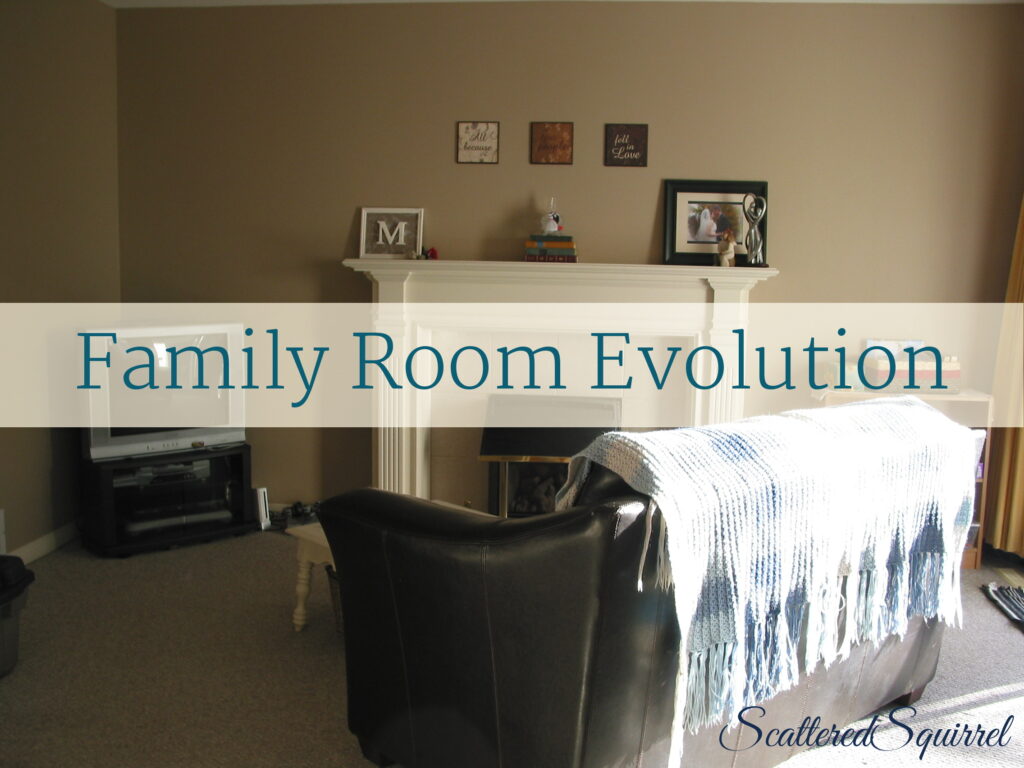 I'm stilling plugging away at changing things up around our home.  The more I see the rhythms of daily life flow around us, the more able I am to make changes that I hope are steering us in the right direction.  At least on the organized end of things.  Having the right system in place, not only helps to make things feel nice, but it also saves so much time and energy.
What's really nice about this home, is that the kitchen, breakfast nook (or dining room as that's where we have all our meals) and family room are one big open space.  I actually really like this.  Our old home was the same way, but it was the ONLY living space in the house outside the bedrooms and bath.  Here we have a separate area with the living room and my office, which fills my need for a little separation.
One of the ongoing problems that I keep running into is that we just don't have enough furniture for our new space.  I'm not really in a rush to go out and buy anything yet, (made that mistake once before) I want to really get an idea of what our home needs, not just what I, or we, think we need.  Doing things this way means that making what we have work is a little more challenging.  Take our family room for example.  This is how I set it up when we first moved in.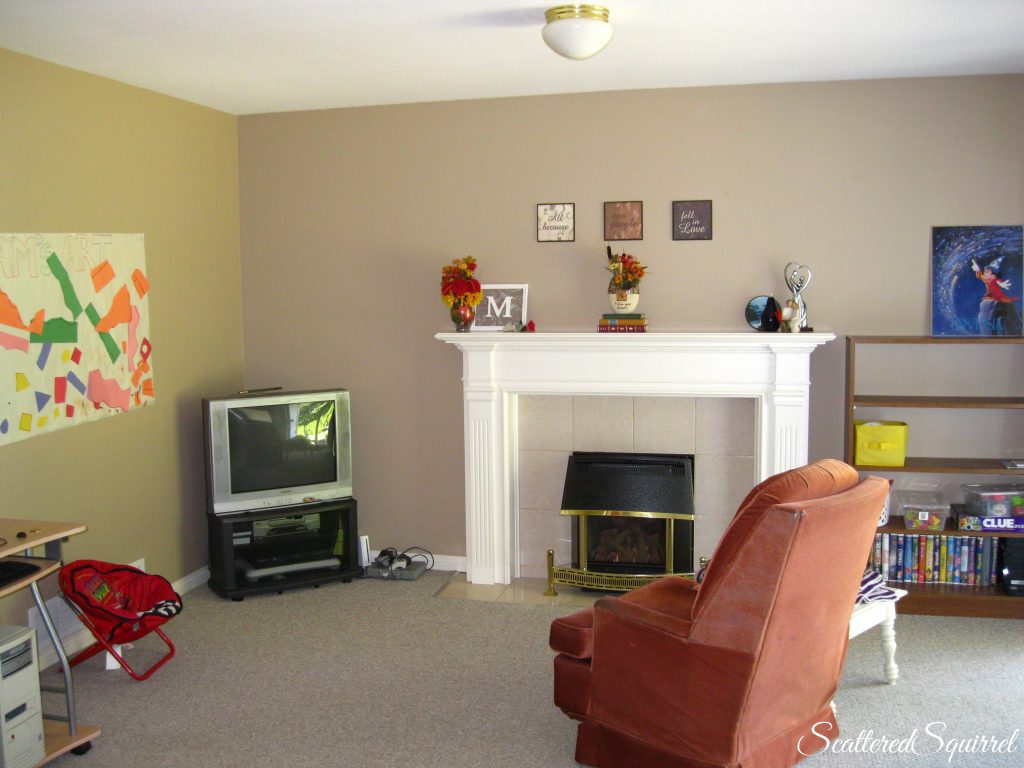 See what I mean by a lack of furniture?  I put the chair in here because I figured that down the road we pick up another one or two and make a cute, eclectic grouping in front of the fireplace.  Also, this poor old chair is starting to show its age and wear and tear, and I figured it would be perfect for the kids.  Our original thought was that the family room would be a great place for the kids to hang out.  We still think that, but we use it too, and only having one chair just wasn't working.
Then, one evening, we had a friend over for dinner.  Don't ask me why it happened that night, it just did.  Travis and said friend ran out to get a few last-minute items for the dinner Travis was making.  I wasn't really doing much of anything.  After they left I decided to swap out some of the furniture.  I somehow managed to move our love seat into our family room, despite narrow doorways and the odd angles that I had to twist and turn it.  (I got some funny looks when they got back!)  But it sure makes the room feel more livable!  It also nicely highlighted just how much junk was has accumulated in that space.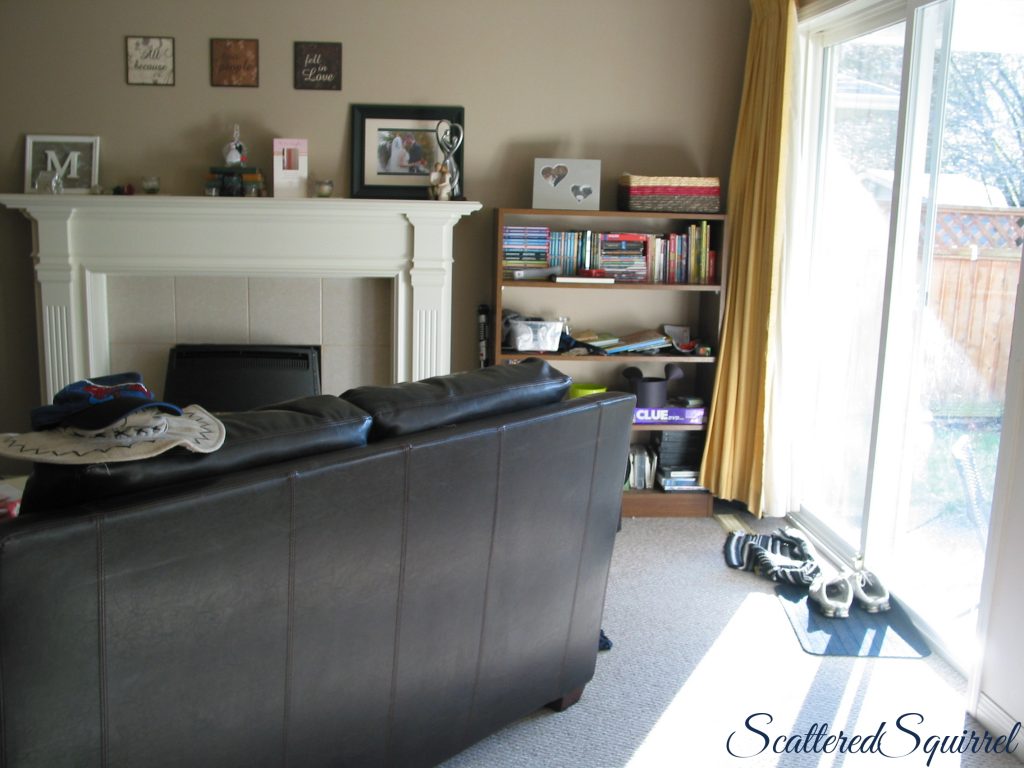 This shot isn't so bad, but as you can see the bookcase was starting to overflow, and needed some help, and with the love seat in here, I decided the bookcase was too large for the space.  It felt cramped and crowded.  Looking the other way, you can see the accumulation of toys that was multiplying every time I looked the other way.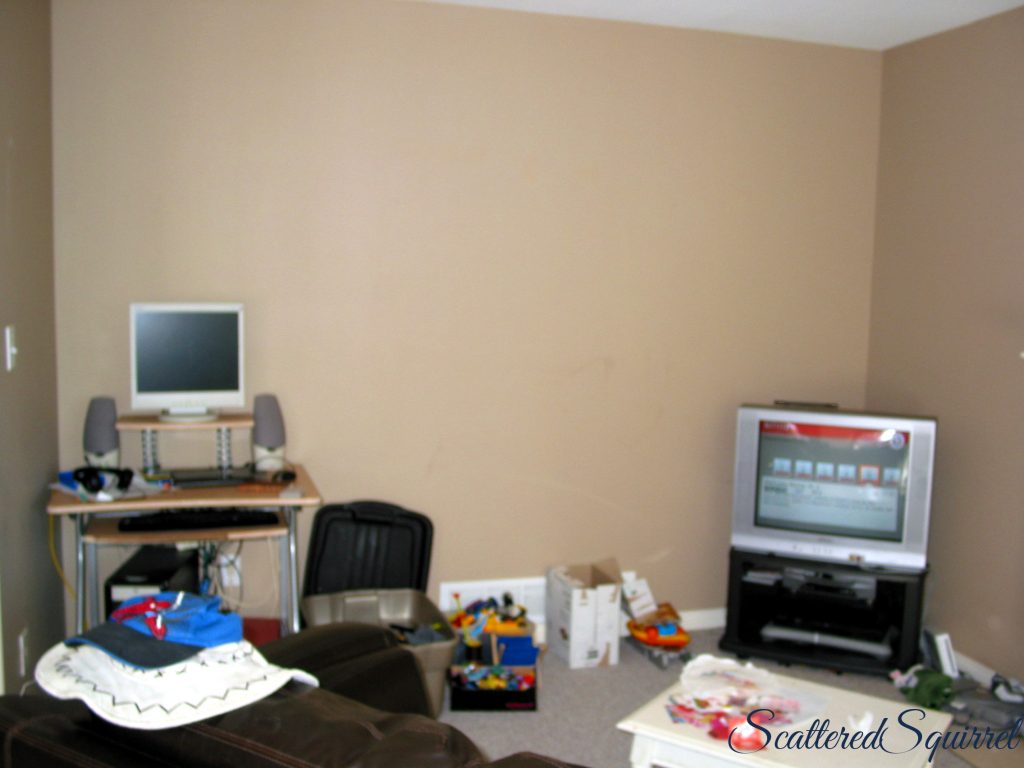 Total disaster!  It was quickly turning into a play room instead of a family room, and I was finding that I was spending more time tidying in here than anywhere else in the house.  Not so much fun.
Before doing anything else, I sat down and tried to come up with a plan.  Our Family Room serves a few different purposes.
Computer Zone:  Where Liam's computer is so we can keep an eye on what he is doing.  Also where we keep the box for Liam's school work.  Our teen manages his own papers.
TV Zone:  We don't have cable, so we have our old DVD player and VHS player here, as well as our oldest son's PS1 (yep the first one!) and my Wii (Which is now basically just for Netflix as it has stopped reading discs)
Play Zone:  Like I said above, we wanted this room to be the space where the kids are able to hang out, where Liam can play with toys and be near us.  If we want to escape we just go the living room.  But over time the toys were taking over.  I needed a new system to deal with them.
Reading Zone:  I loved having the kids books downstairs.  But the boys never used them.  Our teen doesn't really read any of his old books anymore, he's outgrown them, and Liam isn't old enough for them yet.  Liam would rather read books at bed time.  If he reads books downstairs they are library or school books.
Games Storage:  Now that Liam is getting older, we've started noticing that are a ton of games we can play as a family.   Our plan is to start adding to our pitiful board game collection.  Before adding more though, I wanted to make sure we have somewhere to store them.
Media Storage:  DVD's, VHS tapes, game discs…. they all need somewhere to be.  Some hard decisions had to made there too,
After addressing the needs of the space, I swapped out the large bookcase for a smaller one.  This limits what can be kept in the room.  I packed our teen's books away to be stored until Liam is a little older.  The VHS tapes ending up getting packed up too, in a storage bin.  I'm keeping it in the hall closet right beside the family room.  We don't watch them everyday, but often enough that I didn't want to get rid of them just yet.  We have room to store them, so I feel like this was the right solution for us.  I keep the DVDs in the living room, and the video game discs are kept in a small disc organizer.  I also removed most of the toys, and we were left with this: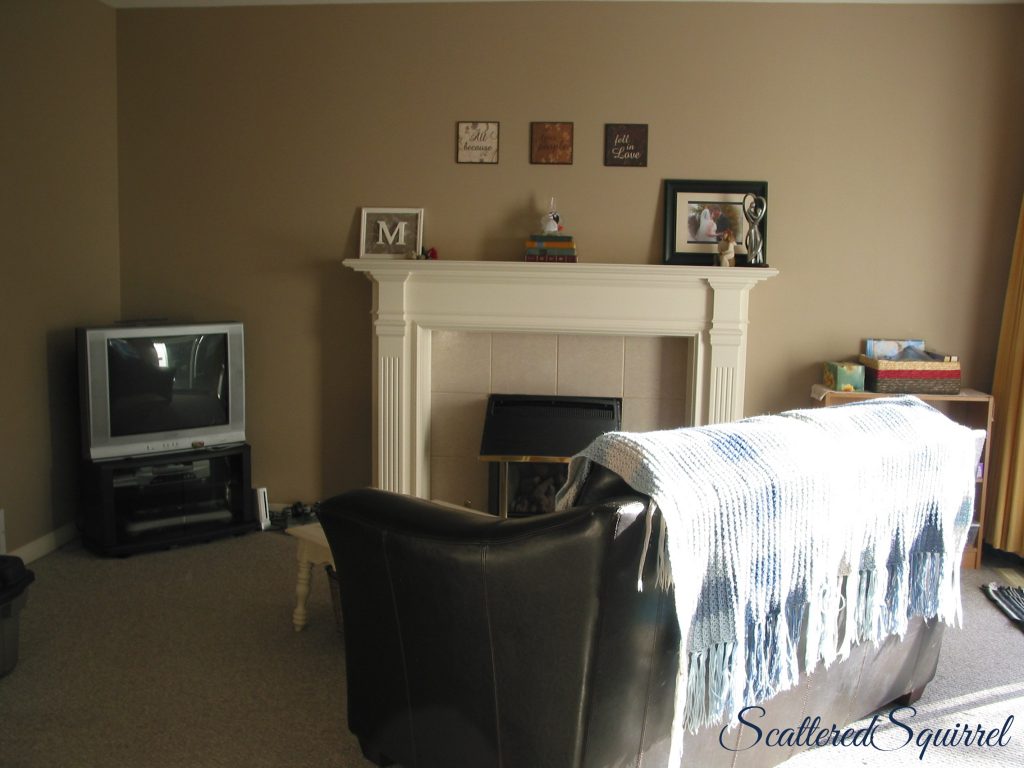 So much better.  That corner by the patio door doesn't look so dark and oppressive.  Here's a closer look at the book case.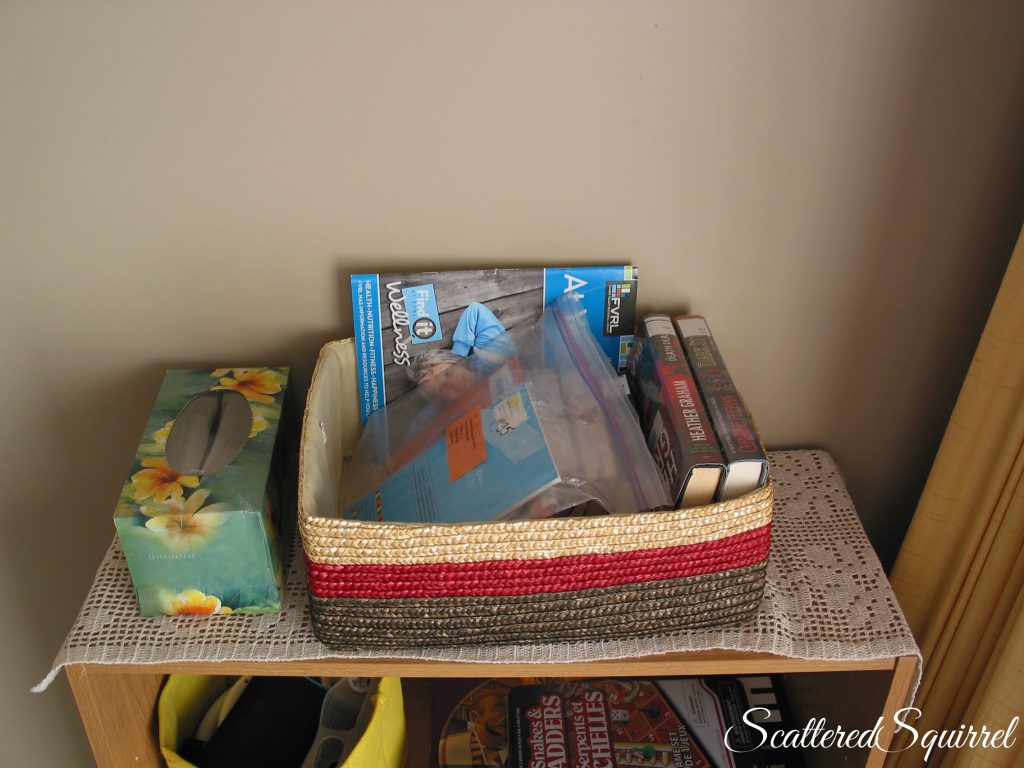 Here we have the book basket.  Library books and school books are stored here when we're not reading them.  They're easily accessible and there is no more hunting for the books when it is time for them to go home.  So, Reading Zone?  Check!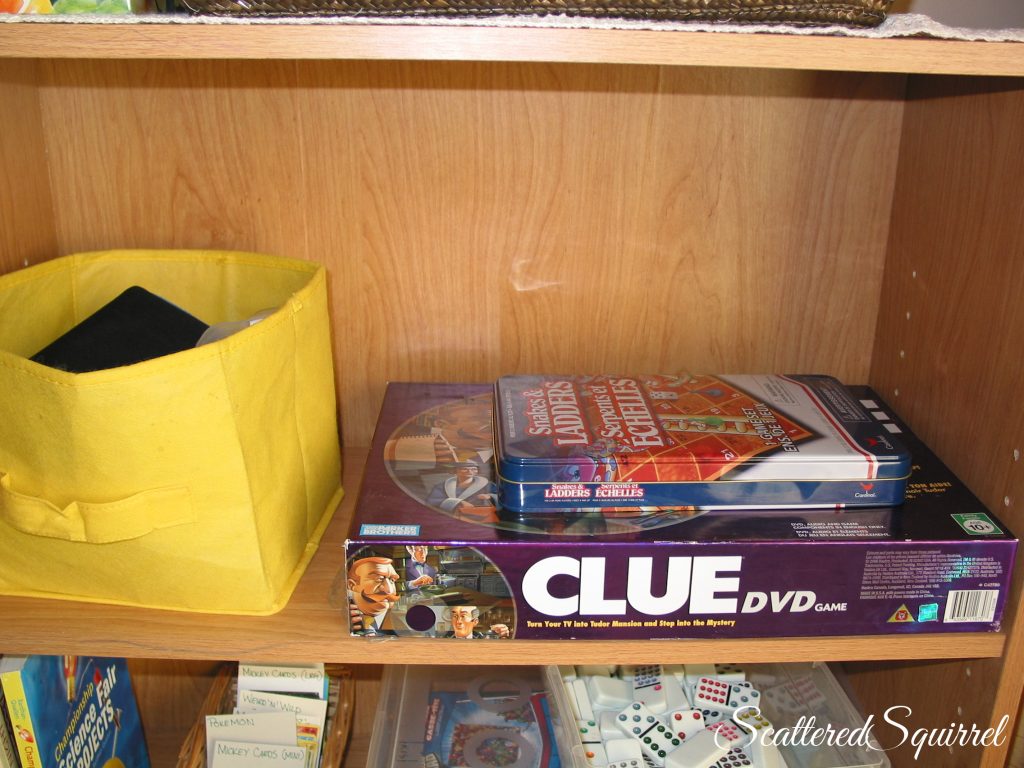 Here we have our board games (just the two!  lol)  and the yellow basket houses all the Wii paraphernalia.  You can even catch a glimpse of the disc wallet that holds all the games.  Games and Media Storage?   Check!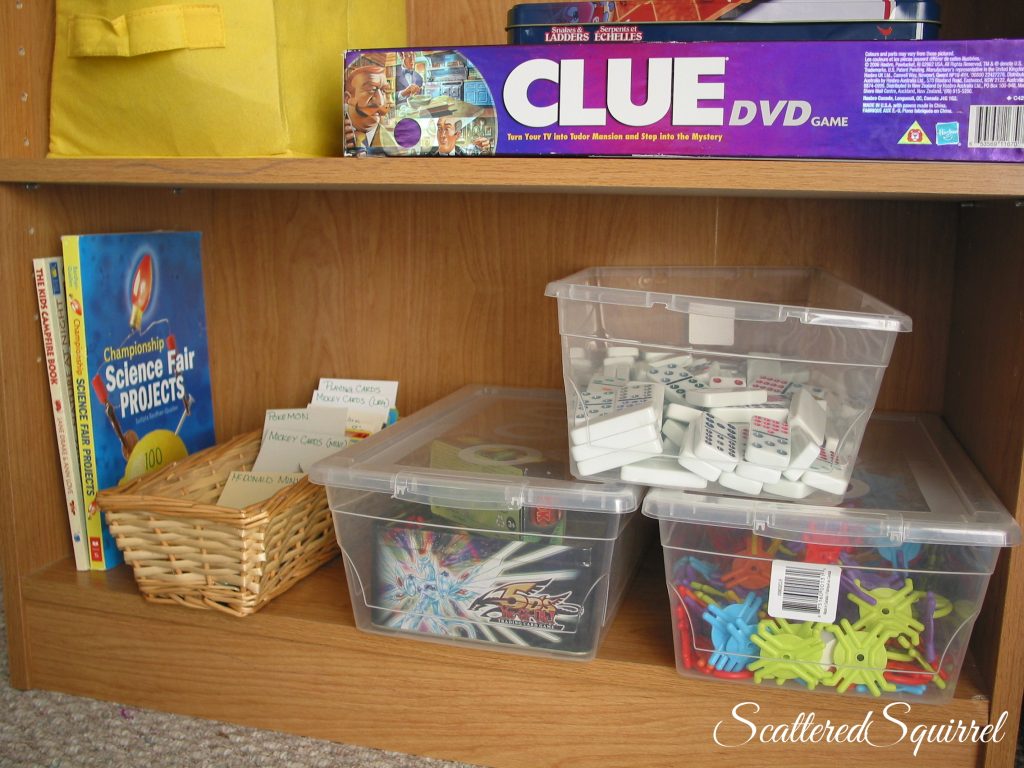 Here we have some family activity books, some toys, puzzles, and playing cards.  Play Zone?  Check!  The only real hiccup for this shelf was not having a good solution for how to store the playing cards.  I'm still on the look out for something a little more permanent, but until then, here's what I did.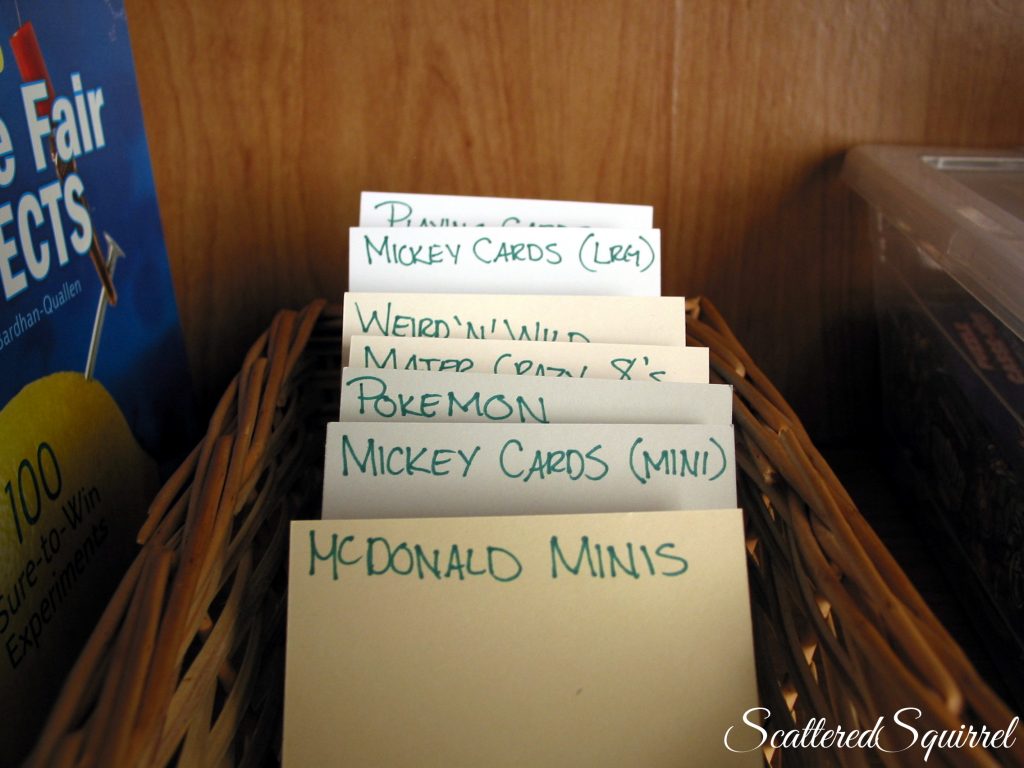 Liam has a few different decks of playing cards, and I needed SOMETHING to keep them separate.  I went through my cardstock stash and pulled out some that fit the basket and were taller than the tallest playing card.  I used a good old sharpie and voilà!  We'll see how this holds up.
On the other end of the room we now have this: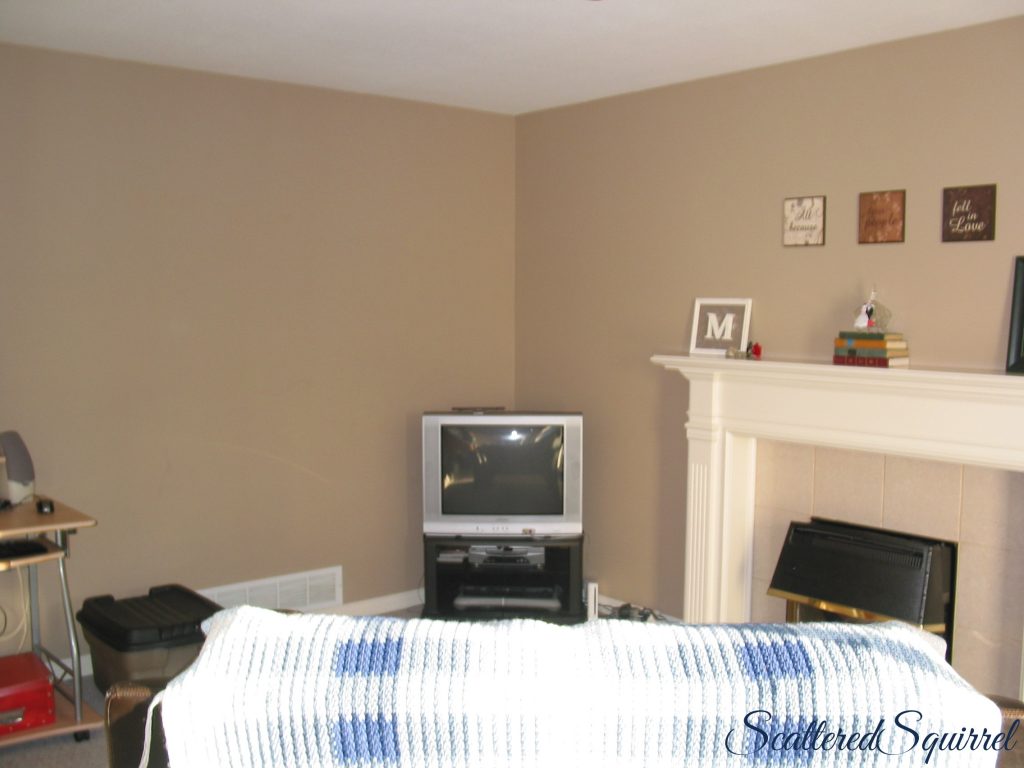 I didn't really get a good shot of the computer area, but it's still there.  That red box in the bottom left corner there, that's full of wonderful treasures.  Wanna see?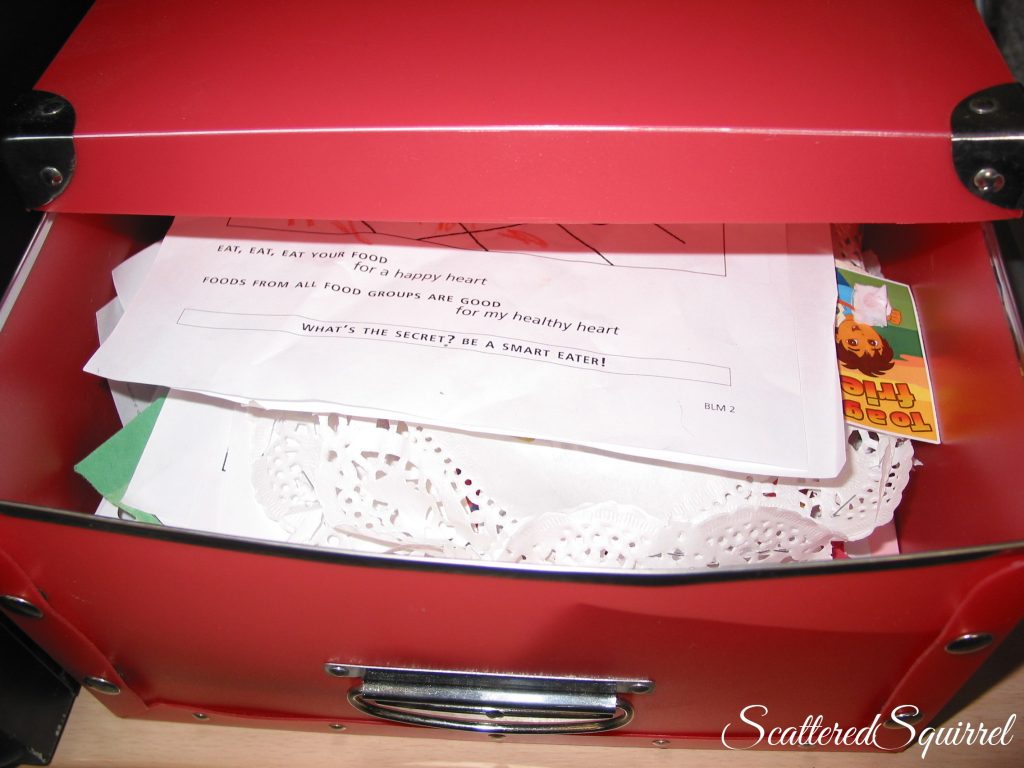 This is where I store all Liam's school work.  My system is super easy.  When it first comes home I pop it up on the fridge.  When something new comes home, the old ones come down and straight into the box.  We'll go through it at the end of the school year.
And that bin that was beside the computer desk?  It's full of Lego.  I opted to keep it in here because Liam likes it when other people build with him and this offers him a lot of room for building.  Eventually I'll move it up to his room, but that's going to take a little more planning.
My final little trick, was to put a basket under the coffee table.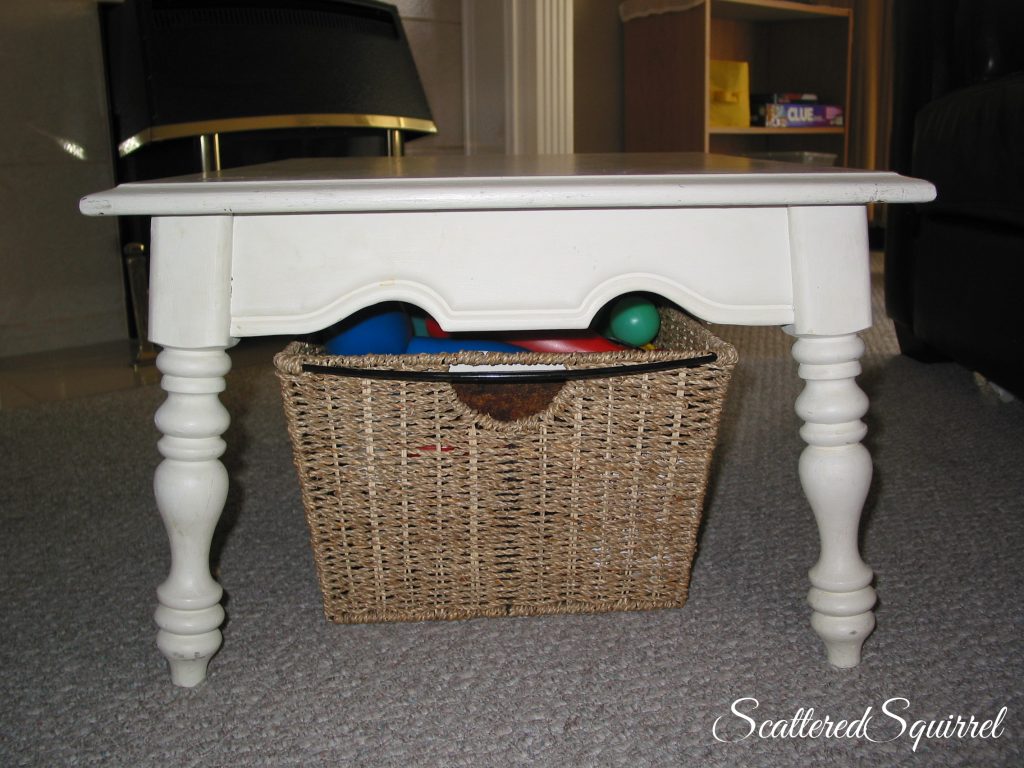 That basket is a life saver.  It's for collecting toys that Liam brings down to play with.  It limits how many extra toys he can have downstairs.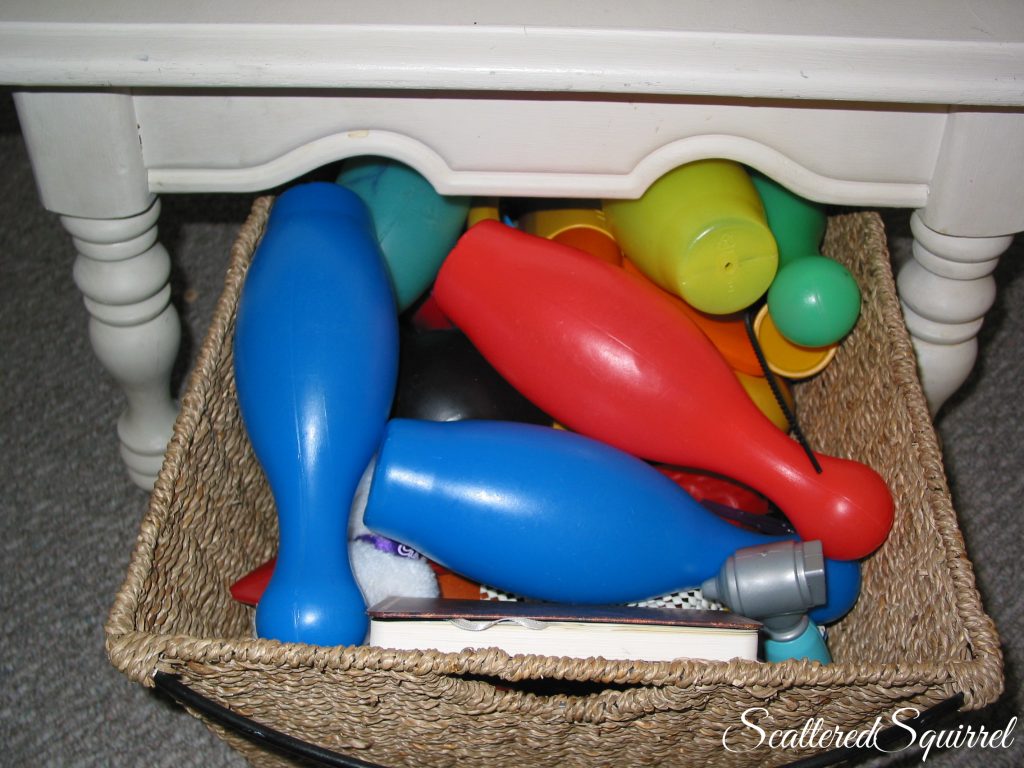 Now, I can just have him put his toys in the basket when it's time to clean up.  Once the basket is full he can take it upstairs and put away the toys before he's allowed to bring anything else down stairs.  The nice thing about the new set up, is that it's helping to teach Liam about boundaries.  We love that he wants to play when he's near us, but that doesn't mean ALL his toys need to be down stairs.
Just to keep it all real for you, here's a picture of the pile of toys that I pulled out of this room.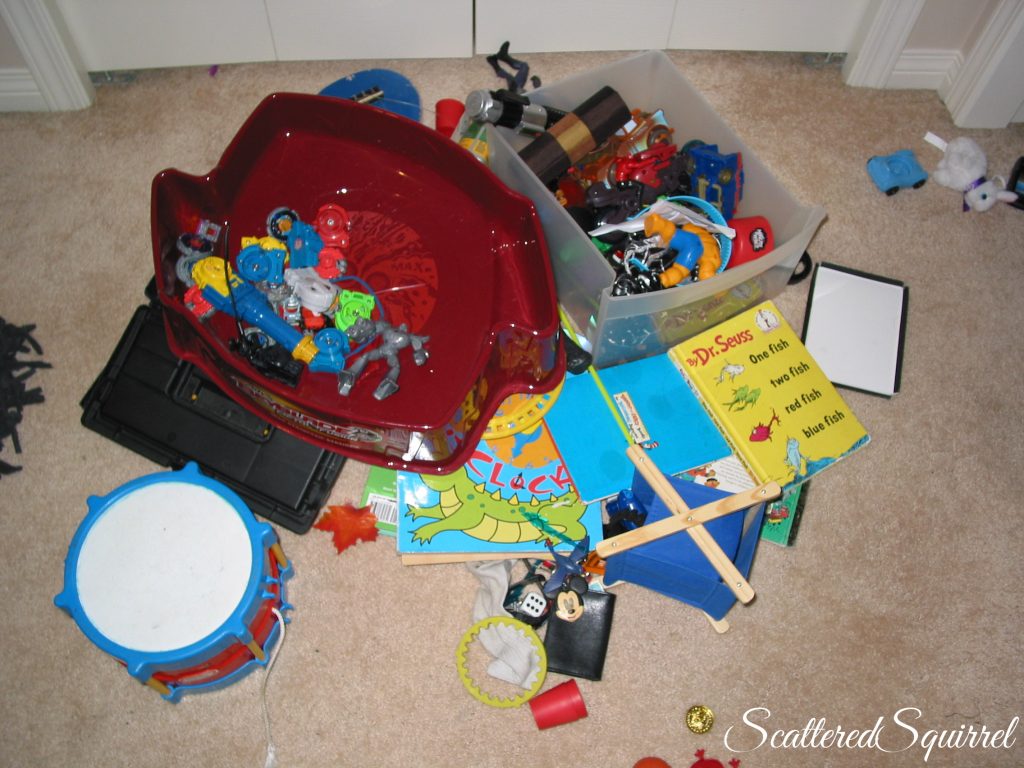 Too many!   Lol!
Speaking of too much … I think it's time I wrap this post up.  I just scrolled up and realized that I have made this one much longer than I thought it would be.  How about one more side by side before, during and after pic?

Now, I think I can start turning my attention those blank walls, and maybe even learn how to properly decorate a mantel.  It's amazing how rooms change and grow over time.  I love having the love seat in there, it makes the room so much more … room like.  I know that sounds weird, but it feels more inviting now.  I even find myself hanging out in here when the boys are at school.
Do you have a room in your home that seems to be taken over by toys?  Or just isn't working?  Do you ever find yourself doing things at the oddest of times, just because inspiration struck?