Readers' Choice – You Help Decide the 2019 Calendars!
It's that time of year again – spring is, hopefully, springing and I've already started working on next year's calendars.  I love working on the new calendars because it gives me a chance to play with new colours and fonts, and change things up a little bit.  However, this year I'm changing it all up.  After looking over the collections that have grown over the years I decided that rather than starting new, I'd ask you for your input.  After all, you're going to be using them just as much, if not more, than I will.
  I'm putting the 2019 calendar up for a vote.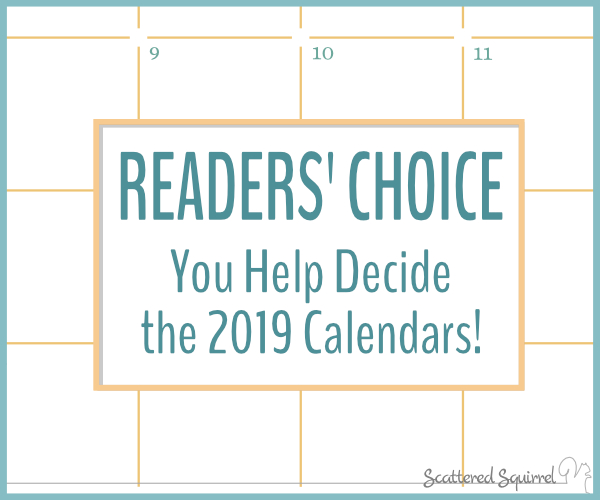 Over the last four or so years I've created a lot of printables that match the designs of the year's calendars.  As I've been working on better organizing them here on the blog, I found myself wondering which ones were the most popular?  Which ones got the most use?  How many people had a favourite?  Was there one that wasn't really all that well liked?  The more I wondered the more this idea grew that maybe, instead of changing everything up, I should consider updating an old design.  Freshen it up, maybe mix up the fonts or just play around with the layouts a little.  Especially, and most importantly, if there was one that everyone (or the majority) loved.  And that is how the idea of asking YOU came to be.  Don't get me wrong!  I would love to create something new, but more importantly, I want to create something that you will like and find helpful.
Have Your Say
I created a quick little survey for you to fill out if you'd like to have a chance to vote for your favourite calendar of years gone by, or if you'd like something new, you can pick that option too.
I will still make all the sizes like usual.  I have a couple new layouts I'd like to add to the mix as well.  For those of you who are subscribed to the newsletter, I will also put a black and white version of the 2019 calendars into the Secret Library.
All you need to do to cast your vote is to head on over and fill out the survey!  Or you can keep scrolling to take a look at the designs of the last 4 years before you do.
Click Here to Cast Your Vote for the 2019 Calendars
Calendars of Years Gone By
I picked the calendars from 2015-2018 because those are the designs that have the most printables to go with them.  I know many people like to have their planner pages match, myself included, so I thought these ones would be the best options to choose from.  So let's take a look.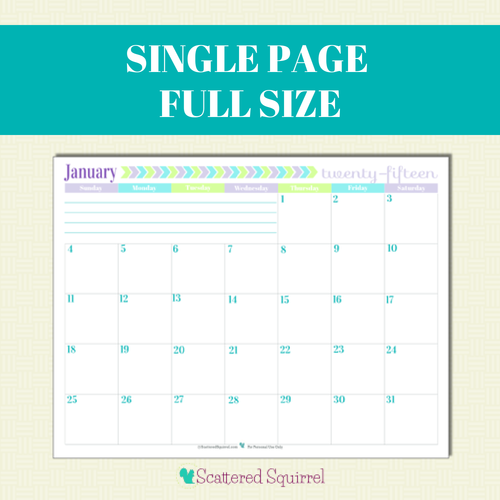 I still find these colours soothing and refreshing.  This was also my first attempt at adding extra design elements to the dated calendars and I really liked how the chevrons turned out.
This collection is the largest collection.  Not because I made more printables for this, but because almost every printable has six versions.  I chose to use a very simple colour scheme of grey and one colour, but using the same colour for each month was too plain for me.  So I picked out six different colours to use.  Then I decided that it would be a lot of fun to offer the other planning printables in the same fashion so that people could choose to colour match their weekly and daily pages to the month or just pick their favourite colour out of the six.
The result was a lot of printables, but it was so worth it.
Sunshine Skies – the 2017 Collection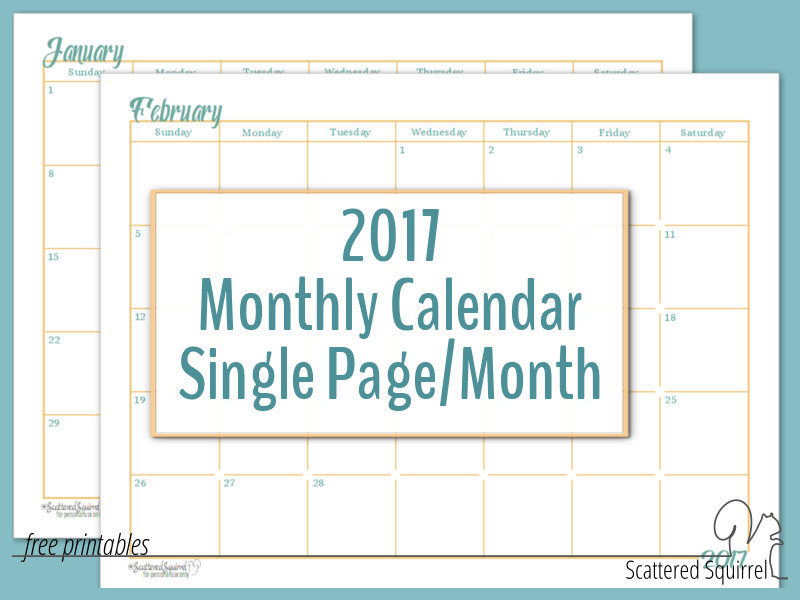 I stretched a little outside my colour comfort zone with this design.  It's the most cheerful of the collections, but that yellow really made me think twice about it.  I wasn't sure anyone else would like it, but I think the end result turned out all right.
Peachy Green – the 2018 Collection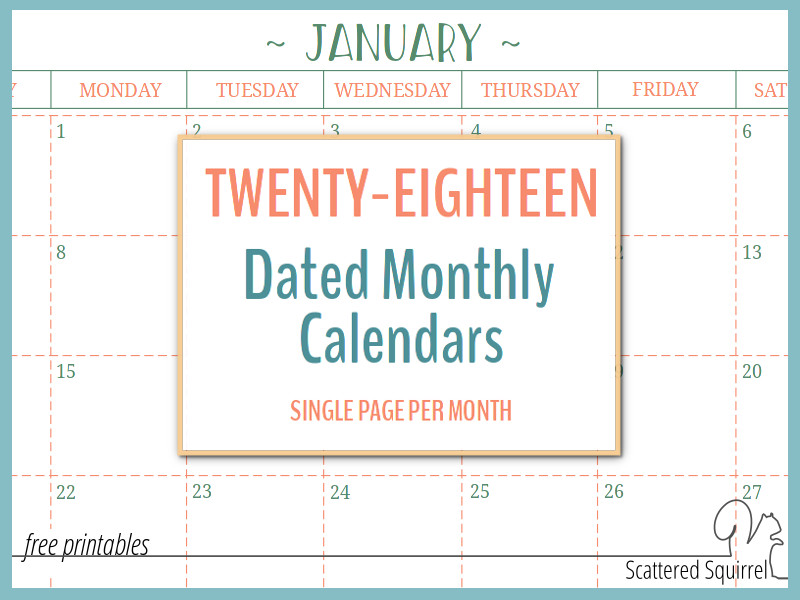 This was another step outside my colour comfort zone.  For the first time ever, I made a calendar that didn't have a shade of blue in it.  I wanted to do something different from previous years, but I wanted to keep it simple and understated at the same time.  I think the colours and the fonts do a nice job of hitting that mark.  And though this is the smallest collection so far, it will be growing in the next couple of weeks.
Click Here to Vote for Your Choice
When Will We Know the Results?
Though I've already started working on the 2019 calendars I will still need a week or two get them finished once the results are in.  So, I'll be leaving the survey open until April 15th, 2018.  At which time I will close it to new responses.  I'll share the results here on April 16th, 2018!  Whichever option gets the most votes will be the one I go with for the 2019 calendars.
What Happens if There is a Tie?
In the event of a tie I will create a new design using elements from the ones that tied.  For example if Understated Rainbow and Peachy Green tied, I might use the fonts and the grid layout from Peachy Green with the colour scheme from Understated Rainbow.  Sort of melding the two together.
I am so excited about these calendars!  I can't wait to see what you all have to say, so please don't be shy.  Head on over to the survey and share your thoughts with me!