5 Simple Steps for an At Home Spa Night
Like many other people, (especially women) I have a tendency to place myself low on my priority list and I'm beginning to be more conscious of the negative effect this has on my ability to take care of others.  So, I've decided that I'm going to make it a priority to spend a little time each week doing something for myself that is soothing, relaxing and restorative.  One of my favourite ways to carve out a little time for me is by taking one hour each week to have a simple spa night at home.  I know myself well enough to know that if I try to fit too much into these nights I will find reason to avoid them, so I take a simple approach that requires very little time or effort to set up, so I can sit back, relax and recharge my internal batteries.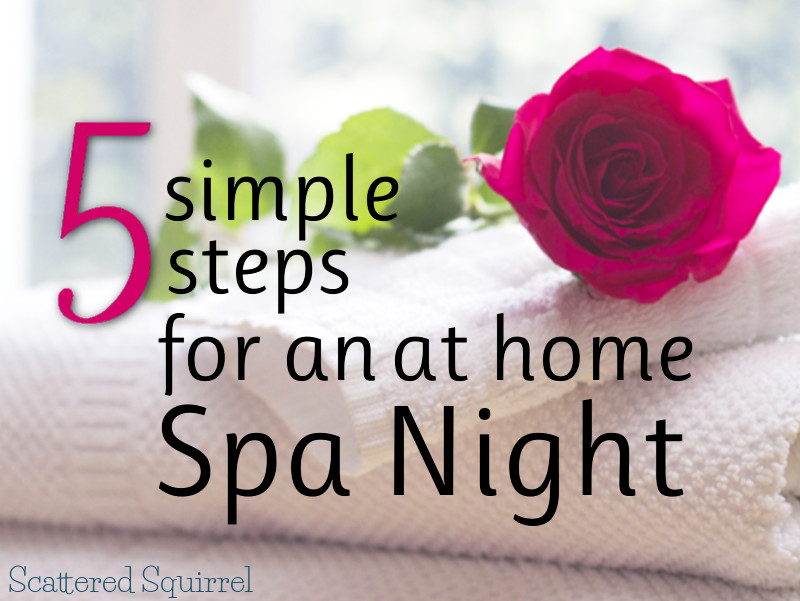 As I said above, I'm all about keeping it simple.  Not only does it mean set up and clean up is quicker, it means I'm more like to actually do it.  If I have to spend a ton of time preparing stuff I'm going to find an excuse not to do it.  In fact, that would be my excuse – it takes too long.  So I've developed a simple spa night routine that does the trick for me.  Less really is more.
~This post does contain some affiliate links.  For more information please see my disclosure policy.  As always opinions are 100% my own and I only ever share products we use, love and/or plan to try out ourselves.~
5 Simple Steps for an At Home Spa Night
Here's What You'll Need
towels, at least two and preferably fresh from the linen closet and nice and fluffy (fresh from the dryer is even better)
body brush
lemon honey face mask (or face mask of your choice)
easy sugar body scrub
epsom salts or bubble bath your choice and totally optional.
moisturizer
of course a bathroom
candles and music if that's what you want (totally optional, but an easy way to add a little extra niceness to your 'me' time.
1. Dry Brush
Dry brushing is simply using a body brush to, well, brush your body.  Use long, sweeping motions brushing towards the heart to help loosen dead skin cells and stimulate the skin.  Be gentle, it shouldn't hurt just leave a tingling sensation.
Dry brushing has many wonderful benefits for your skin.  It can help increase circulation, it's been rumored to help fight cellulite (who doesn't love that) and it's a great way to exfoliate.  I stumble on this article from New Nostalgia a long time ago, and I loved it.  She walks you through the right way to dry brush so it's worth a read – 5 Reasons Why You Should Dry Brush Your Skin.
2. Show Your Face a Little Love
Wash your face with your normal cleanser to remove any make-up or dirt. Then apply a face mask of your choice.  Facemasks are a wonderful way to give your skin a treat and can be very soothing.  You can pick up ones from the store if you want, but whipping one up in the kitchen doesn't have to take too much time.  I use a homemade lemon honey face because it's quick, easy and leaves my skins soft and glowing.  I shared my recipe last year over on my friend Gabi's blog – Restful Living.  Hop on o over for all the details – Lemon Honey Face Mask
3. Run a Bath
Pick the water temperature that you like, and add in some epsom salts or bubble bath.  Then roll up one of the towels to use a neck support and sink in and enjoy.
Relax for at least 30 minutes.
My Tips for a Relaxing Bath
choose a time of day or evening when it's quiet.
make sure your spouse knows not to disturb you
make sure your kids know not to disturb you
if you can, dim the lights, you don't want it too dark but soft light can be really soothing.
try not think about anything – let your mind drift.  This is a worry and stress free zone.
bring some water with you – staying hydrated is important, especially if you like hot baths.
4. Extra Exfoliation
Feel free to skip this step if you want too, but I like to finish off my spa night with a homemade brown sugar body scrub.  Like my face mask, I shared my recipe for this over on Restful Living too – Spa Recipes: Easy Sugar Body Scrub.  In that post I use moisturizer to make my scrub but you can easily use coconut or olive oil if you would prefer.  Because Step One is to use a dry brush, don't scrub too vigorously this time either.  Pay a little extra attention to areas that are prone to dry skin like feet, hands and elbows.  And BE SUPER CAREFUL GETTING OUT!  The tub will be slippery when you're done.   I like to spray the tub with a vinegar/water cleaning spray and wipe it out when I'm done.
5. Moisturize
After you're out of the tub and have rinsed it out, it's time to remove the face mask and moisturize.
To remove the face mask I use a soft wash cloth and warm water.  The wash cloth not only helps take off the face mask but it also adds a little extra exfoliation into the mix.
Apply your favourite facial moisturizer.  Take a few extra minutes to massage it in.
Apply your favourite body moisturizer.
Take it Over the Top
You can easily take a simple spa night and send it over the top if you want too.  Here are few ways you can add some extra decadence to your night.
give yourself an at home manicure
give yourself an at home pedicure
use a deep condition hair treatment
shave your legs BEFORE getting in the bath
make up a  fruit plate
sip sparkling lemon water
make fruit infused water
have clean sheets waiting on your bed
After those five simple steps you should be feeling rested and relaxed.  Combining a couple of DIY spa treatments with a relaxing bath is a great way to pamper yourself a little.  It makes a wonderful end of week treat, or a great mid-week pick-me-up.
Not only is this an easy way to carve out some time to take care of you, it's also a quick.  Less than hour start to finish (unless you decide to soak for longer) which means it's hard to use the "I don't have the time" excuse.  Which is one I'm so guilty of using.
Whether you follow my advice and have an at home spa night, or have your ow way of relaxing, be sure to set aside at least an hour for yourself each week.  Rest, relax, and recharge those internal batteries.  You deserve it!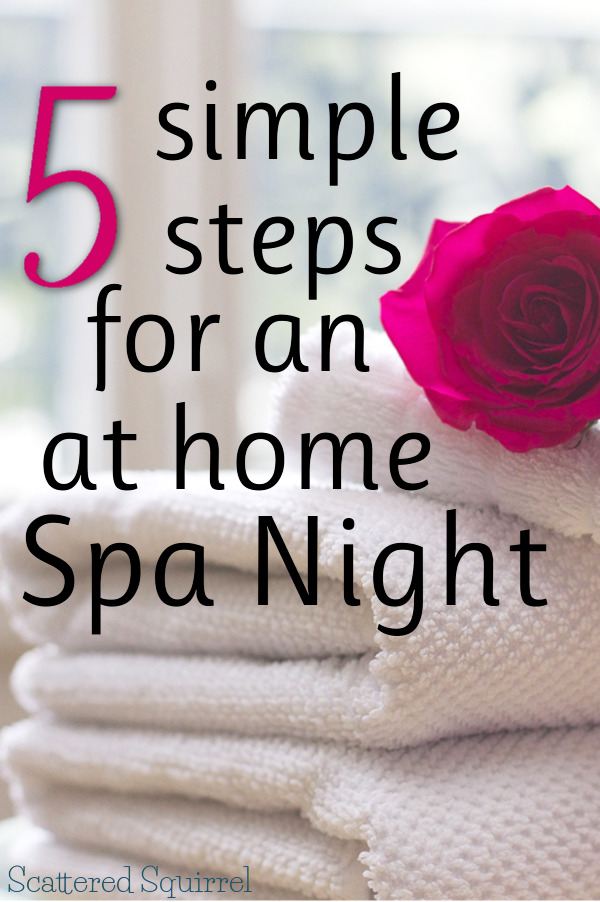 How do you carve out time to take care of yourself?  Do you have any favourite DIY spa treatments you like to use?  I'd love to hear from you!
~Happy Relaxing!~