Summer Break Starts Today… oooor Maybe Not!
Hello Scattered Squirrel readers!  How are you this fine Thursday morning (or afternoon, or evening, depending on where you are in the world)?  Things around here are a little on the confusing side, with the current situation developments (or lack thereof) between our teachers and the government.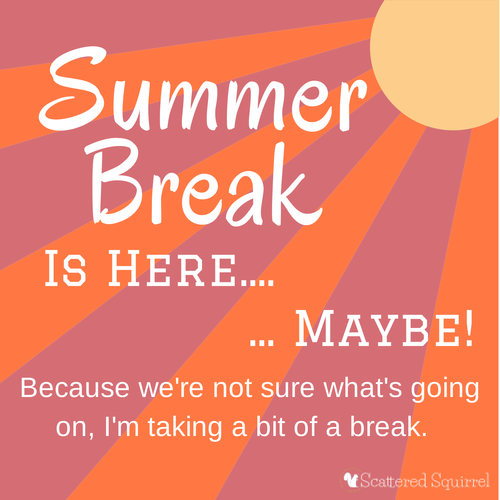 In the Thank You BC Teachers post that I share a couple of weeks ago, I mentioned that our teachers are currently in contract negotiations with out Provincial Government.  The bargaining has not been going well, and our teachers have found themselves in the tough spot of having to decide to escalate job action to help force talks to continue.  Earlier this week our teachers voted in favor of a full strike, and this morning they gave their 72 hour notice to the government.  This means that on Tuesday, if negotiations break down, our teachers will be on a full strike.  Right now, they're hoping that talks will continue and that they will not have to take that step, but they are prepared to do so in an effort to get a contract that will be good for our children and our education system as a whole.
As is right now, there is no school tomorrow (it's our districts day of the rotating strikes) or on Monday, and we have to wait and see what happens on Tuesday.  The official last day of school is the 26th, but a province wide strike on Tuesday could mean that today is the last day of school for the year.  Are you confused yet?  Yeah, me too.  So, because we're not sure yet what's happening, I've made the decision to take a little bit of a blogging break.  June has already been a crazy month, and I need to take a little time to regroup and prepare for summer break, whenever it may happen.  Don't worry though, I wont' be gone long, just until next Friday, June 20th.
Don't worry I'll still be busy behind the scenes getting all caught up on the Printable of the Month requests. And I'll still be sharing things with all of you via social media.  If you want, you can follow along with all fun and stay up to date on one of the following platforms: Facebook,  Google+,   Twitter,  Pinterest.
I hope each and every one of you had a wonderful week.  Until next week all, please take care.
And on the off chance that you're a teacher in BC, or know a teacher in BC, I just want to let you know that we're behind you one hundred percent!  We know this is not what you wanted for the end of the year, and we know that you would rather be with your students celebrating their achievements and all the hard work they've put into this school year.  My fingers are crossed that you are able to come to an agreement that sees our education system moving forward toward something great.  Thank you for standing up for our children, but most of all, thank you for caring for them.  You gals and guys rock!