An Easy, Fun, Last Minute Christmas Project.
Hello everyone!  Sorry things have been so quite around here since the beginning of the month.  I took a few days off to tidy up some of the random piles of stuff left over from organizing projects.  I wanted to get that all dealt with before my Mom and Dad came for their visit.  We spent a wonderful weekend with them.  Then I got sick!  I managed to hold out on getting sick until the day they left, then it was all fevers and chills.  Just when I thought I was getting all better a nasty cold set in.  I prioritized my time really carefully.  Things like kid's Christmas Concerts, craft morning at Liam's school and Christmas shopping topped my list.  Housework and unfortunately bloggy work kind of got left by the way-side.  I have been making and sending out the planner cover pages though.  🙂  If you haven't yet sent in your request for you own their is still time.  You can find the form on the Printable of the Month tab at the top of the page.
I had so many fun things planned for this holiday season.  Instead I've been forced to take it easy and I have to say that I'm enjoying this approach.  (When I say enjoying, what I really mean is that it's kind of neat not to have a mile long holiday to-do list, I'm not actually enjoying being sick, in fact this cold could just go away at ANY time)  I do have some pictures to share on Monday of our holiday decorations and our beautiful tree.  Our tree was a gift from my Mom and Dad, and I think it is the best gift ever.  We picked it out while they were down visiting.  It was so much fun decorating it with my parents.  My Dad and Travis tackled the lights, as always.  My Mom and I dealt with the ribbon and then we helped Liam decorate the tree.  This was the first year that our Teen didn't help.  I will not lie to you, I wanted to cry. But he really had no interest in helping and we weren't going to force the issue, that's not what the holiday is all about.  🙁
I don't have the pictures of the tree ready to share yet, but I do have a printable for all of you.  I'm stepping away from normal planner and organizing printables and decided to play around with one that was purely decoration only.  Instead of my usual combo of programs I opted to make this one PicMonkey, and oh my goodness was it so much fun to play with such a simple, easy to use photo editor/creator.  Here it is all framed.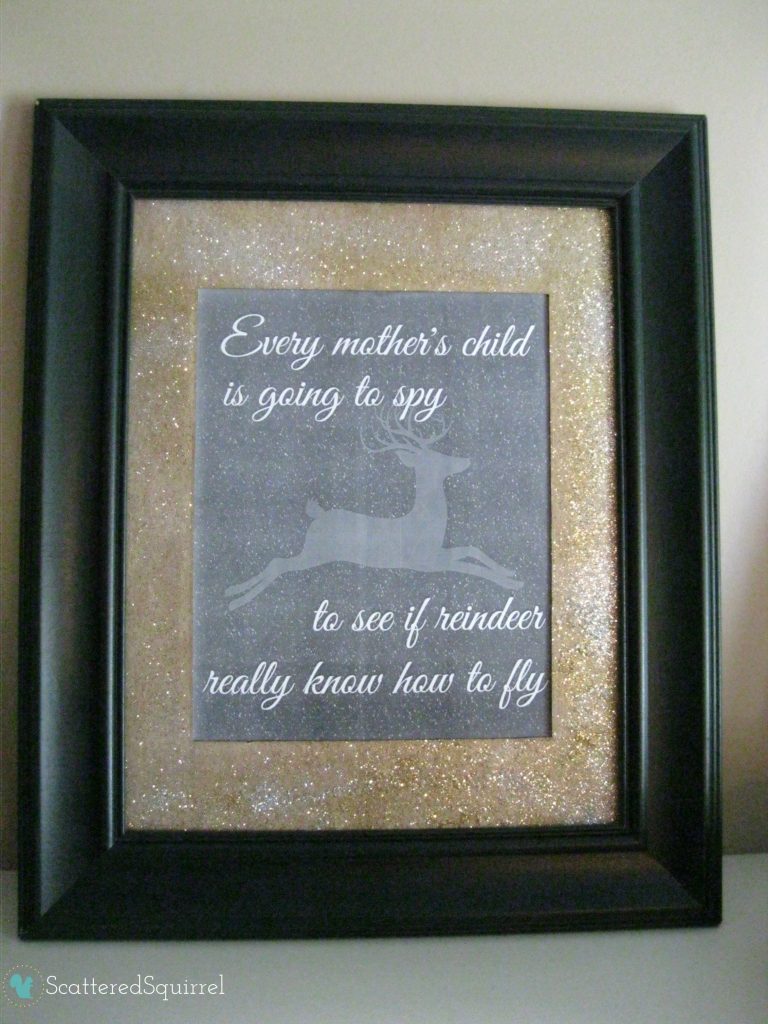 To make the matting, all I did was take an old mat and rub it with my bronze stamp pad.  Then a quick spray of spray adhesive and some glitter and it was done.  There's no glass for this frame so I figured it was safe to go with a little glitter.  I mixed silver and gold, though if I was to do it again I think I would stick with just one.
The print itself was done on normal paper on our old laser printer.  I just wanted an idea of what it would look like.  Then I got sick and never got around to printing it again on photo paper.  I will do that for next year though.
Here's what the mantel was looking like when my Mom and Dad got here.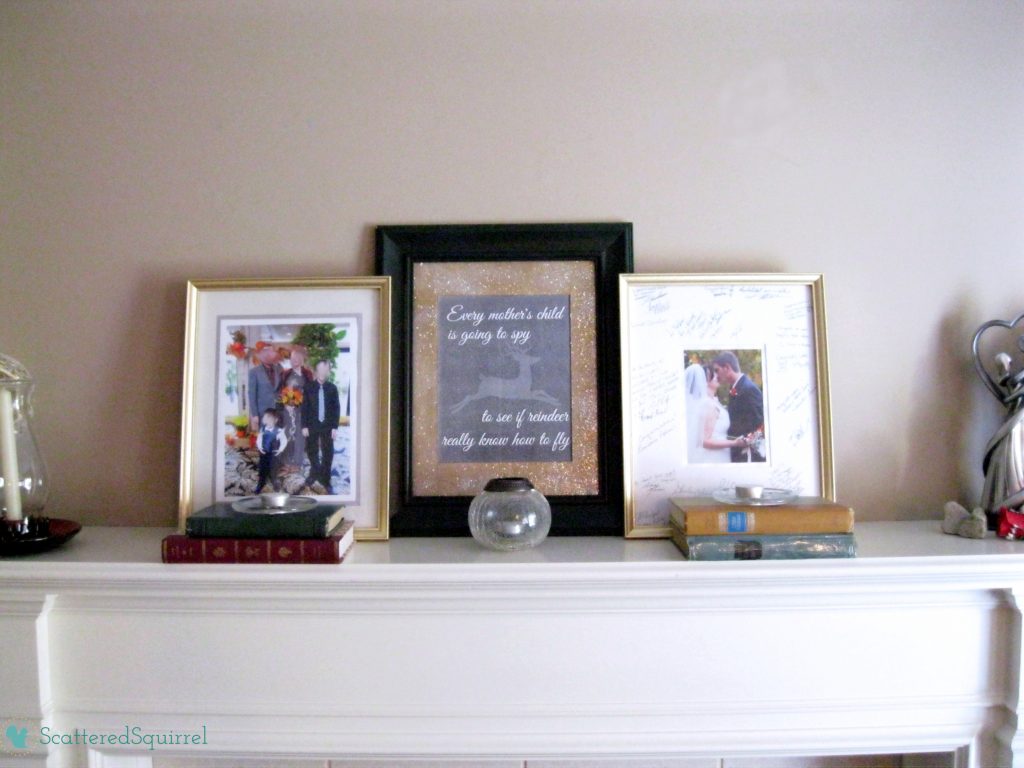 Nothing too fancy.  I'm toying with the idea of hanging the frames on the wall above, but I'm not one hundred percent sold on that yet, but time will tell.
And here is the print.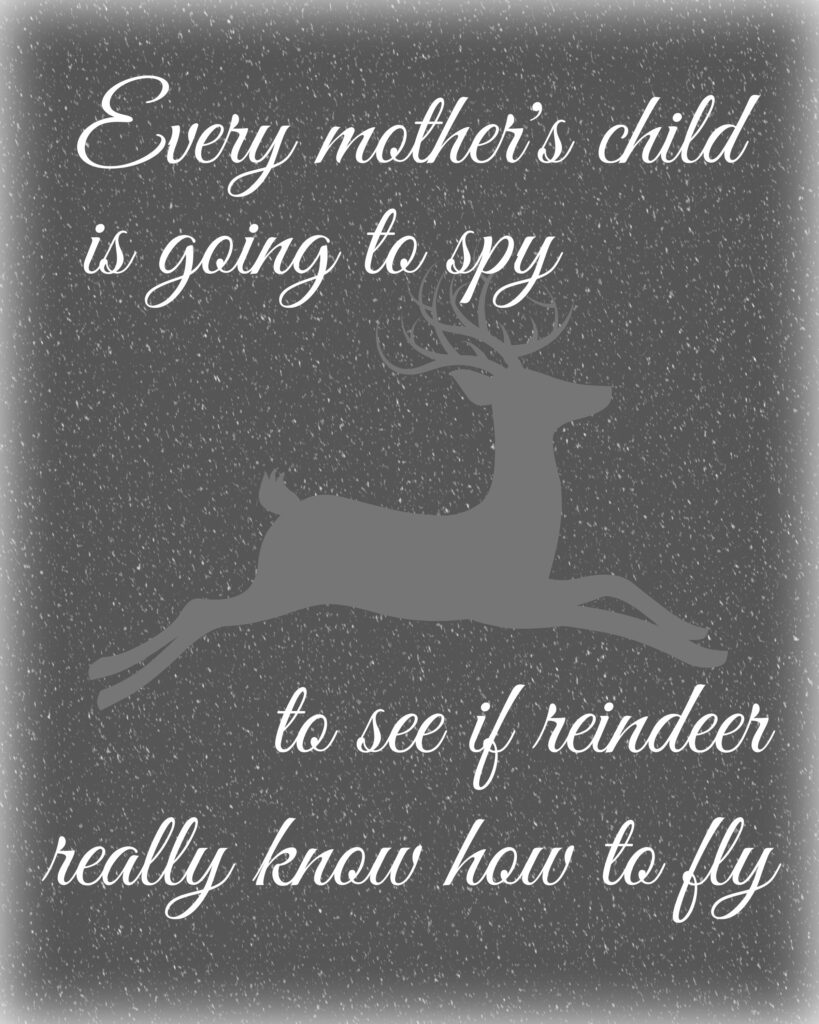 If you would like a copy for yourself, click the picture, this should open the picture in new tab.  You can then click the picture again to enlarge it.  Right click and select "Save Image As" .  I wanted something a little different, something with a little whimsy since this went into the family room.  The Christmas Song is one my favorites, and it just seemed to work.
Well, for now folks I'm going to go check on the Liam, who is home from school today due to a nasty cough, and try to get the kitchen put to rights before my energy level peters right out.  I hope that this post finds all of you well and healthy.   I'll be back on Monday to share our holiday decorating pictures.  I hope you all have a wonderful weekend!
What's your favorite Christmas (or other holiday) song?  What do you think of the print?  Should I do more of these?