HUGE Thank You to GoDaddy!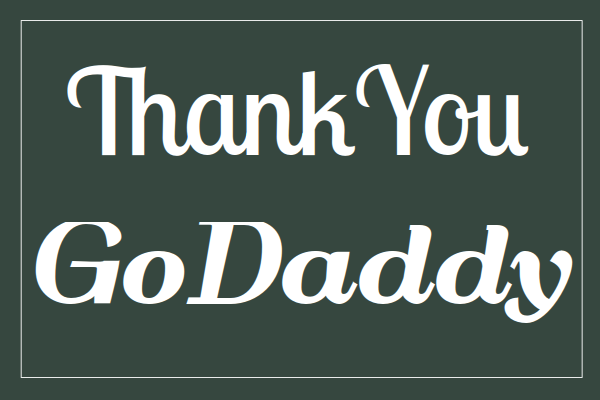 I just wanted to send out a HUGE thank you to the wonderful people at GoDaddy, especially their fabulous support team.  Each and everyone of you are angels!
So, why the shout out?  As some of you may have noticed, we've been having some technical issues.  Mostly they happened on the back end of things, but they did effect the front end of the site with excruciatingly slow load times.  On my side of things mostly, I saw a lot of screens like these:
E-V-E-R-Y, single time I clicked anything on the dashboard, or buttons like "Save Draft" and "Publish" I would wait almost a full minute, (sometimes more than that) and then get a screen like the ones above.  I have no idea why this happened, I only know that it did.  For almost a whole month now I've been trying to work around this issue.  Every time I worked on a post I would have to type it, hit save, and then go back and type some of it again, or reattach the pictures.  Everything was taking soooo long, and it was hard to get anything accomplished.  This is where the fabulous people at GoDaddy come in.  Not only did they help as best they could, but they very kindly responded to each an every email I sent.  Their patience and dedication to customer satisfaction is second to none!  So what happened?  Well…..
Numerous emails to our hosting company, GoDaddy, resulted in no real answers other than, everything was working fine on their end.  I tried everything I could think of on my end.  Installed the plug-ins I was told to, or made changes to the plug-in settings to get it to work right.  Nothing was helping.  I was getting really frustrated and I felt like I wasn't getting any support in fixing this problem.
And this is where I have to suck it up (like the princess I'm not) and eat a little crow!  .  Turns out, their support team, (who've been trained to deal with all this stuff that I know next to nothing about) actually was correct.  (who would've thunk it?)  In the end, I was able to fix the problem myself, and it had nothing, whatsoever, to do with their side of things.  I humbly apologize for being one of "those" customers, and hope that the entire GoDaddy support team knows that I appreciate each and every response they took the time to send me.  Even when it was just to tell me the same thing every time.
And I have to say a HUGE thank you to GoDaddy, for being an awesome company!  They could easily have made me feel stupid or treated me like the idiot I was behaving like, but they were kind and supportive through out the entire process.  They went above and beyond to provide ideas and places to look for a reason and solution to the problem.
My husband needs a huge thanks too!  For putting up with my whining, my witchiness, and general frustration.  For searching for answers, and even taking over the task of communicating with GoDaddy on my behalf when I thought I wasn't making myself clear enough for them.  Thanks my love, you are more than I deserve!
So, one more time, a HUGE thank you to GoDaddy, and once again, I'm terribly sorry for being such a pain!  I promise, cross my heart, if there ever is a next time (hoping not!) I won't be such a pain!