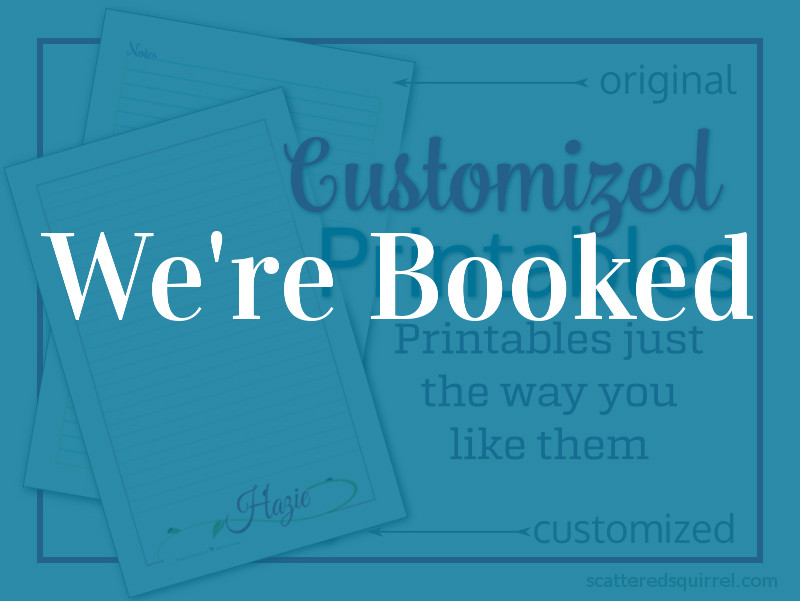 Welcome to the Customized Printables Order Page
Getting your own customized version of my printables is as easy as 1-2-3!
---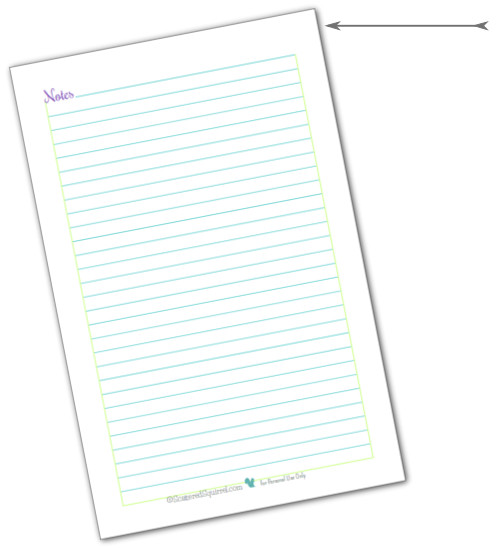 1.  Choose a printable
You can choose from any of the printables that have been offered here on Scattered Squirrel, including past "Printable of Month" printables.  
2. Tell me how you want it customized
change colours

change titles and other text

personalize them in some way

make minor changes to the layouts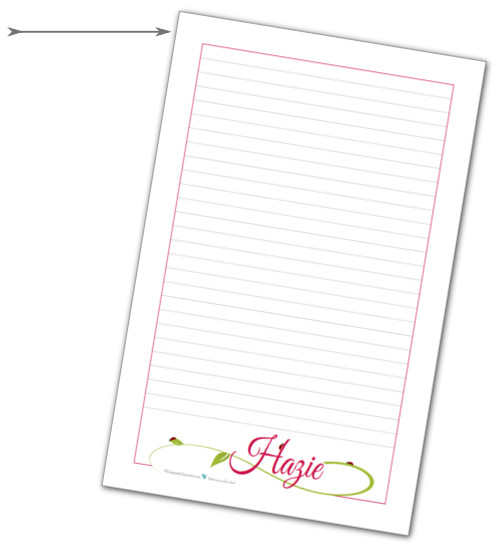 3. I'll make the changes and send you your new, customized printable
As soon I receive your order, I'll send you an email to let you know I've seen it, an estimated time for when you can expect to receive the review copy.
Once you've received the review copy and had a chance to check it out, I'll make any other changes needed and then send you the final PDF version.  
  It's that simple!
---
It's All in the Details
 Before you jump down to order, there are a couple things you need to know. 
Price
$5.00 (Canadian) for the first printable
$3.00(Canadian) for each additional printable

Dated Calendar will be priced on an individual request basis due to the number of pages in each of them.
Included with the price is all the customization options mentioned above.  They are:
colour

titles and other text

personalization

minor layout changes
Payment
Invoices will be emailed via PayPal. 
Once payment has been received, I'll begin work on your order.
It's simple!  Fill out the form below.  Tell me the name of the printable/printables you want customized or link to them in the form.  You can find most of the printables on the Printables Pages, 31 Days Page, or the Kitchen Binder Page.  
(These links will open in a new tab so you can browse without losing your place here.)
Tell me how you'd like them customized.  The more specific the better!  
Then wait for my email!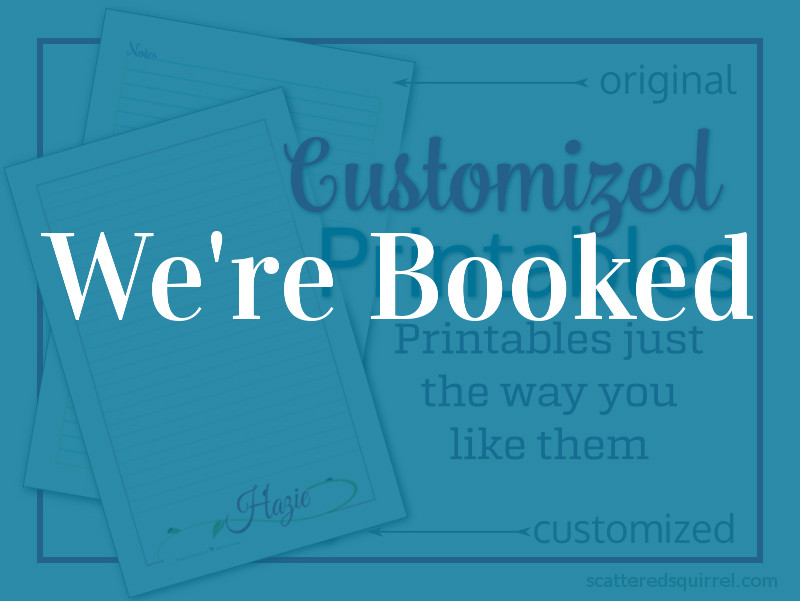 Things to Note
1. Email Addresses are required for the following:
so that we can communicate during the design process

so that I can send you your invoice

most importantly, so I can send you your printables
 You will not receive promotional emails from me.  Should I ever decide to do promotional emails, I'll make an announcement on the blog, and you can opt in at that point if you so choose.
I value your privacy!  You can check out my privacy policy here, but I'll sum it up – I will never share, sell, or use your information in any way other than those outlined above for the purposes outlined above.  
2. All Sales are Final
Due to the digital nature of the printables I am not able to accept returns or offer refunds.  I will, however, do my best to make sure the printables are customized to your specifications. 
3. Customized Printables are Still Only For Personal Use
If you would like printables customized or custom designed for commercial purposes hop on over to the Custom Design page or use the form below to let me know what you need.  I'm sure we can figure something out.
4. Revisions
You will receive one review copy or proof, at which point you can let me know what, if anything needs to be changed.  
Due to the time involved in making changes to the printables, if you need more than one revision there may be an additional charge, but we'll discuss it if/when that is needed.  
5. Questions, Comments and Feedback
If you have any questions, comments or feedback please feel free to get in touch!  You can email me at scatteredsquirrelprintables@gmail.com
Thank you so much for stopping by!