Custom Designed Printables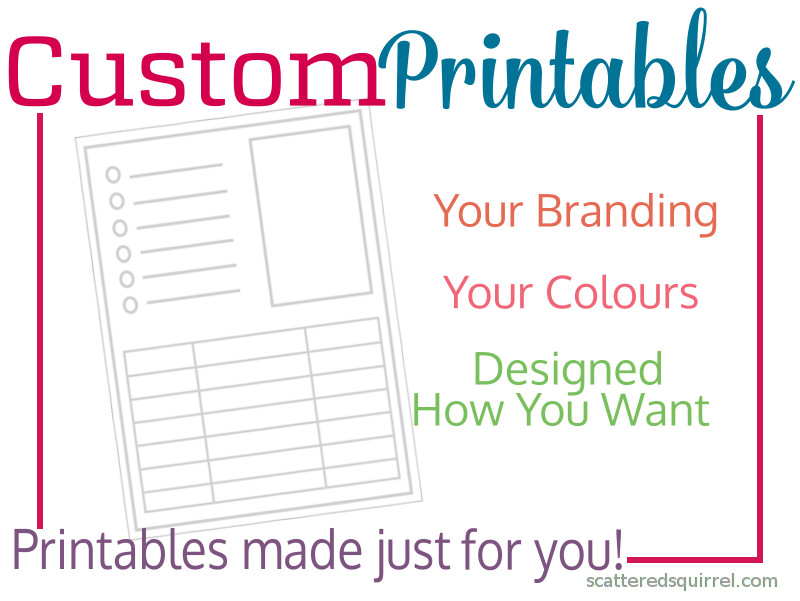 Welcome to the Custom Printables Order Page
Printables can take a lot of time to design.  When you're a busy business owner, blogger, crafter, or just plain busy, that time isn't always available.  That's where I come in.  
I'll work with you to create printables that
Match Your Brand
 Fit Your Needs
Are Designed to Your Specifications
These printables become your own as soon as they are finished so you're free to do with them what you will.
Sell them on your site
Include them in an e-book
Add them to your Etsy store
Use them as a tool for your coaching service
Use them as a freebie for your email subscribers
Include them as part of your e-course
Send them to the printer and sell hard copies
Keep them for yourself to organize your business 
From planning pages to educational worksheets; from checklists to labels – the sky is the limit.
I know you're busy so let's get right to the important details.
Use the order form below to tell me what you need.  Good information to include is how many printables you need, what you need them to do, (ie – organizing labels, weekly planner, printing practice worksheet, appointment book etc…)  The more information I have at the start, the better I can predict how long it will take.
Once I've received your order I'll email you to let you know I've seen it and we can discuss more details about the printable or printables you need then.
Price
$60

.00

 for 1 printable
$80.00 for 2 printables
$100 for 3 printables

$120 for 4 printables 

$140 for 5 printables
Larger orders are accepted.
All Prices are in Canadian Dollars
Included in the cost:
design of the printable/printables

print test page for colours (to make sure they print how you want them too)

up to four revisions to make sure the printables are just how you want them
Payment
Invoices will be emailed via PayPal. 
[wpforms id="14569″]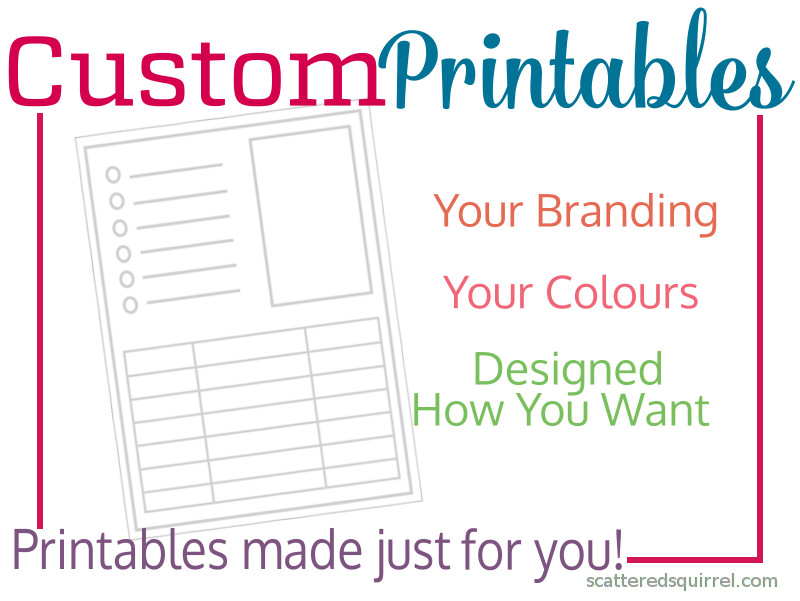 Things to Note
1. Email Addresses are required for the following:
so that we can communicate during the design process

so that I can send you your invoice

most importantly, so I can send you your printables
 You will not receive promotional emails from me.  Should I ever decide to do promotional emails, I'll make an announcement on the blog, and you can opt in at that point if you so choose.
I value your privacy!  You can check out my privacy policy here, but I'll sum it up – I will never share, sell, or use your information in any way other than those outlined above for the purposes outlined above.  
2. All Sales are Final
Due to the digital nature of the printables I am not able to accept returns or offer refunds. However, I am committed to making sure your printables are designed to your specifications.
3. Custom Designed Printables Become Yours Once They are Finished
This means you are free to use them for commercial purposes, in whatever way you see fit.  
4. Revisions
You will receive up to four review copies or proofs, at which point you can let me know what, if anything needs to be changed.   
Due to the time involved in making changes to the printables, if you need more than four revisions there may be an additional charge, but we'll discuss it if/when that is needed.  
5. Fonts and Images
At this point in time I only use fonts and images that are free for commercial use.  If you require one that isn't, we can address that if it comes up.  
6. Questions, Comments and Feedback
If you have any questions, comments or feedback please feel free to get in touch!  You can email me at scatteredsquirrelprintables@gmail.com